Baker Mayfield Has Already Accomplished a Troubling Stat No Quarterback Has Achieved Since 2018
Baker Mayfield was drafted by the Cleveland Browns in 2018. The former Oklahoma quarterback was the number one overall draft pick, and he's been in Cleveland ever since. Browns fans seem to love him, and Mayfield has settled in well at Cleveland. There is still one thing, though, that remains a troubling stat for him — and fans probably would like for Baker Mayfield to not be a number one overall when it comes to throwing interceptions.
Baker Mayfield has thrown more interceptions than any other quarterback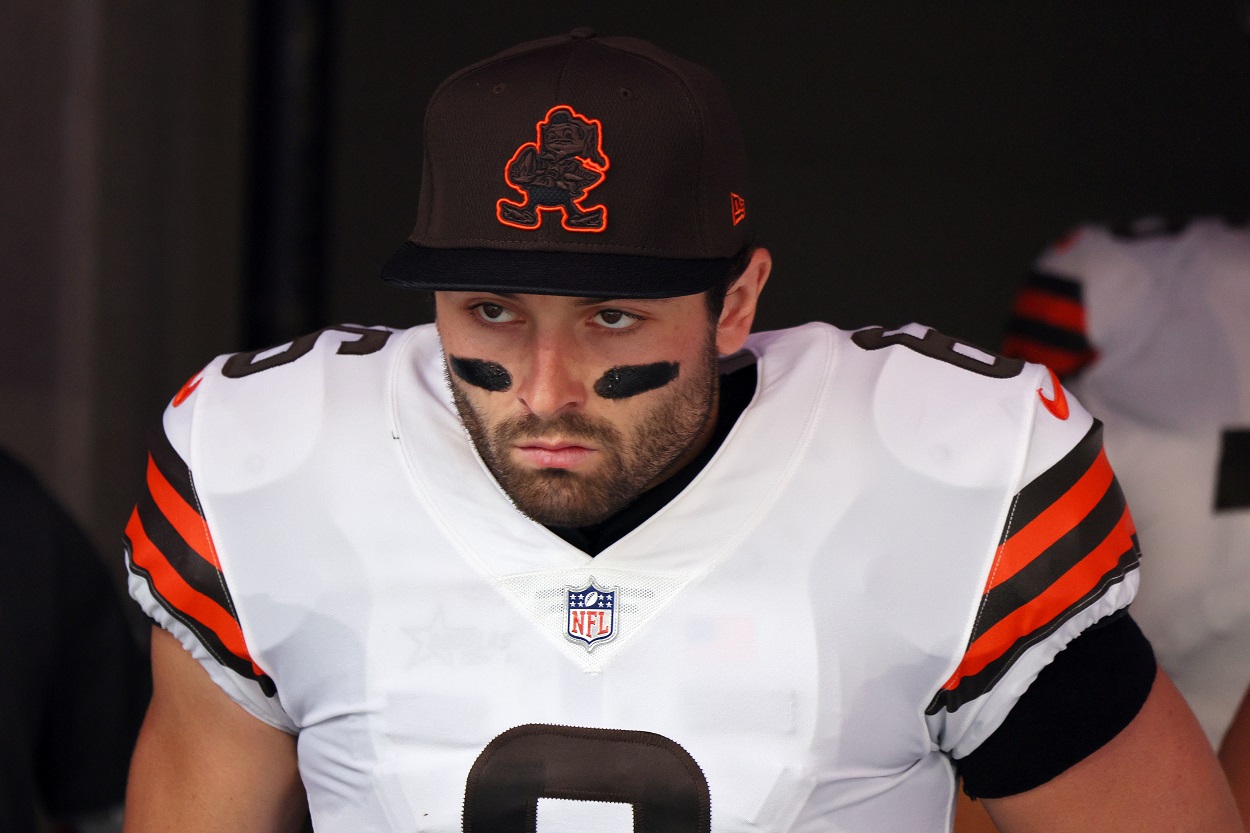 The NFL on CBS posted an interesting statistic on Twitter. Baker Mayfield has thrown more fourth-quarter interceptions than any other quarterback since he was drafted in 2018. 
That's a troubling statistic. Oftentimes, games are decided on plays in the fourth quarter. Turnovers like that can swing the momentum of a game on a dime, and lead to unanswered points. Giving up good field position to the other team isn't the only thing that interceptions lead to. You can't score if you don't have the ball. And a one-possession game can be decided on a fourth quarter interception, as any football fan well knows. 
Fourth-quarter interceptions have been troubling for Mayfield. This highlight from NFL.com shows exactly what happens. If he can't figure out how to settle in and play just as well, or better, in the last quarter of the game, he may not be winning many games that come down to the end of regulation.
Fans love him, anyway, and for good reason.
Cleveland Browns fans love Baker Mayfield
Even with that troubling statistic haunting him, Mayfield still has a special place in the heart of many Browns fans. It seems odd, maybe, when looking at it. Who wants a quarterback that has trouble coming in clutch when the chips are down in the last minutes of the game?  Evidently, Browns fans do. 
Mayfield has proven that he has the grit and talent needed to play the game, and Cleveland loves him for it. He played through an injury during the home opening against the Houston Texans in Week 2. In the first quarter, Mayfield threw an interception. He hurt his left shoulder — his non-throwing arm — while making the tackle on the interceptor. Mayfield left the field in obvious pain, was checked out by medical staff, and returned to play. He had a torn labrum in his left shoulder.
Afterward, Mayfield completed the next 10 passes, and hit 19 of 21 of his passes. The Browns won that game, and fans loved it. 
Mayfield has proven that he can play through tough circumstances, and has shown that he can work through injury. Despite his troubling interception problem, fans seem to see a lot of potential in him.
What's next for the Browns?
Mayfield's injury may trouble him in weeks to come. In fact, he's already dislocated his shoulder again. In Week 6 against the Arizona Cardinals, Mayfield dislocated his shoulder when he was sacked by J.J. Watt. His torn labrum was worse after the dislocation. Still, Mayfield intends to play through. It's his left shoulder, so he doesn't depend on it to throw, but any hit or sack could make the injury worse, or take him out of the game. 
Cleveland has to make allowances for that, and hopefully can find ways to protect Mayfield. If Mayfield can stay on his feet, then the Browns have a chance of having a good season.
If Mayfield dislocates his shoulder again, though, the Browns may be without their starting quarterback for the rest of the season. Mayfield's shoulder injury will require surgery in the off-season as it is.
Running back Kareem Hunt was also injured in Week 6, and is likely to miss several weeks, if not the whole season. Receiver Odell Beckham Jr, was also injured, but should be back soon.
RELATED: Baker Mayfield and Patrick Mahomes' Epic 2016 College Game: They Threw for a Combined 1,279 Yards and 12 Touchdowns Passing