Baker Mayfield Must Avoid Another Odell Beckham Jr. Situation With Amari Cooper
Amari Cooper is going to be a member of the Cleveland Browns, which means that once again, Baker Mayfield is going to have an elite wide receiver to throw to. Can Cooper avoid the fate of Odell Beckham Jr., though? 
He left Cleveland in the middle of last season labeled as a malcontent, clearly unhappy with his chemistry with Mayfield. Leaving Cleveland worked out swimmingly for OBJ. It was less so for Mayfield and the Browns, who finished the season 8-9 and third in the AFC North. 
Baker Mayfield has to void another Odell Beckham Jr. situation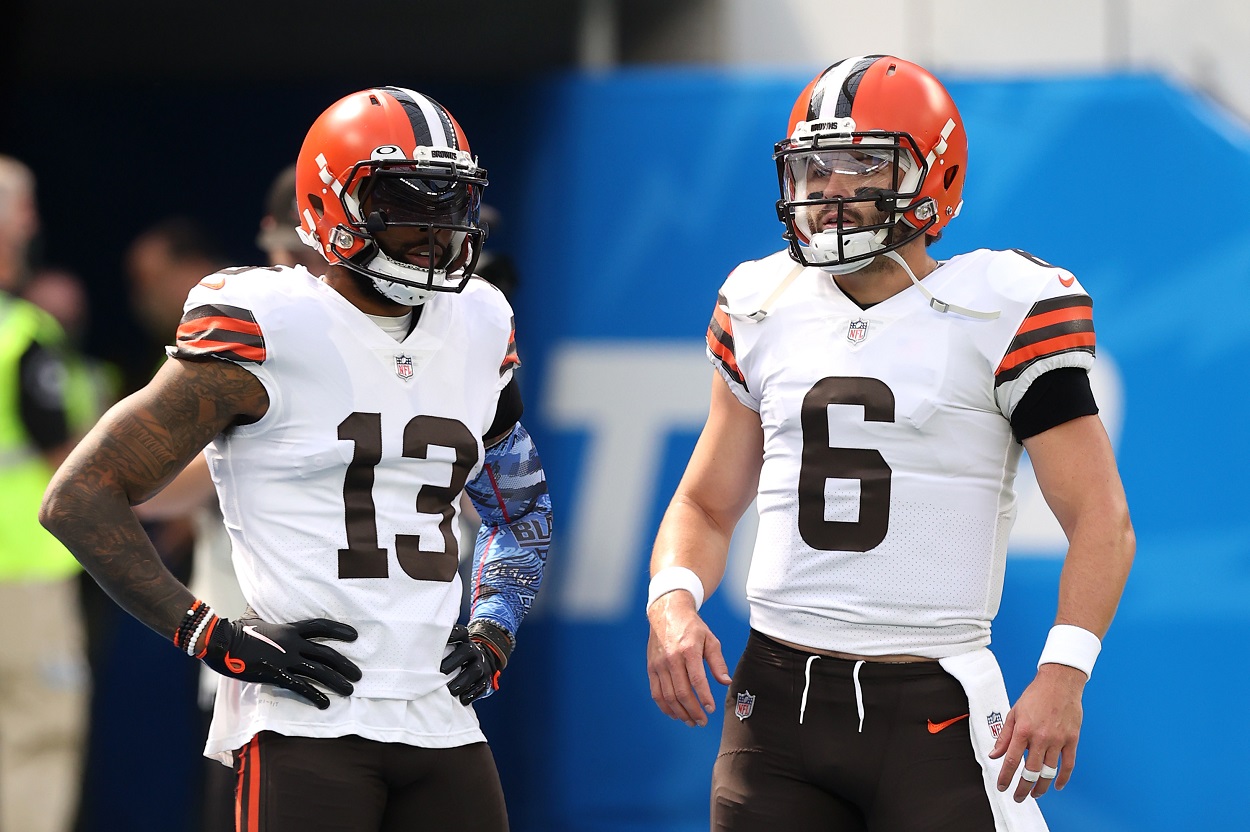 The biggest issue for Mayfield and OBJ was a lack of chemistry. Beckham proved during the second half of the season with the Los Angeles Rams that he's still plenty talented. Sure, he may not be the superstar he was in his first five NFL seasons with the New York Giants, but he finished 2021 with seven touchdowns, including one touchdown reception in LA's Super Bowl win.
The number of touchdowns he caught in six games with Mayfield and the Browns in 2021? 
Zero.
The issue in Cleveland clearly wasn't Beckham. That's not to say that it was fully the fault of Mayfield either, but the chemistry that OBJ quickly displayed with Matthew Stafford in LA was completely absent with Mayfield and the Browns. Stafford and Mayfield are on two different planets skill-wise, though ironically, they're both former No. 1 overall picks. Still, Mayfield deserves to shoulder the blame for not making it work with OBJ in Cleveland.
Whatever Mayfield does this offseason, learning from his missed opportunity with Beckham has to be priority number one.
Amari Cooper is a tremendous pickup for the Cleveland Browns
Cleveland is filling the void left by OBJ and likely Jarvis Landry (who the Browns are allowing to seek a trade) by bringing in Cooper. 
Frankly, the trade could technically be considered a steal for the Browns. Yes, the Cowboys were likely going to have to cut Cooper anyhow because of their challenging cap situation. Still, he's widely considered one of the best receivers in the game, and the fact that Cleveland general manager Andrew Berry was able to snag him (and a sixth-round pick) for just a 2022 fifth-round pick and a sixth-round pick? 
That's pretty good work by the Browns.
With Landry soon likely out the door, Cooper immediately becomes Mayfield's number one option downfield. Donovan Peoples-Jones should be able to step up and take more targets, and the Browns would be wise to snag a receiver or two in the draft. Cleveland's offense is clearly going to feature a heavy dose of Nick Chubb and Kareem Hunt, though, balanced out by a strong play-action game highlighted by Cooper downfield.
It's a plan that makes sense, and notably, it's a plan that insulates Mayfield.
It's also a plan that should work for Cooper. He was overshadowed a bit in Dallas last season by the emergence of CeeDee Lamb, but he still put up 865 yards and eight touchdowns despite missing two games due to COVID-19.
Cooper can still be a 1A receiver, even now entering his ninth NFL season.
He has the size (6-foot-1, 210 pounds), speed, and route-running ability to easily be a 1,000-plus-yard receiver again in 2022. Especially with defenses having to focus on stopping Cleveland's run game, it's easy to imagine Cooper running wild and getting behind cornerbacks and safeties at a steady clip.
Mayfield needs to get on the same page as Cooper ASAP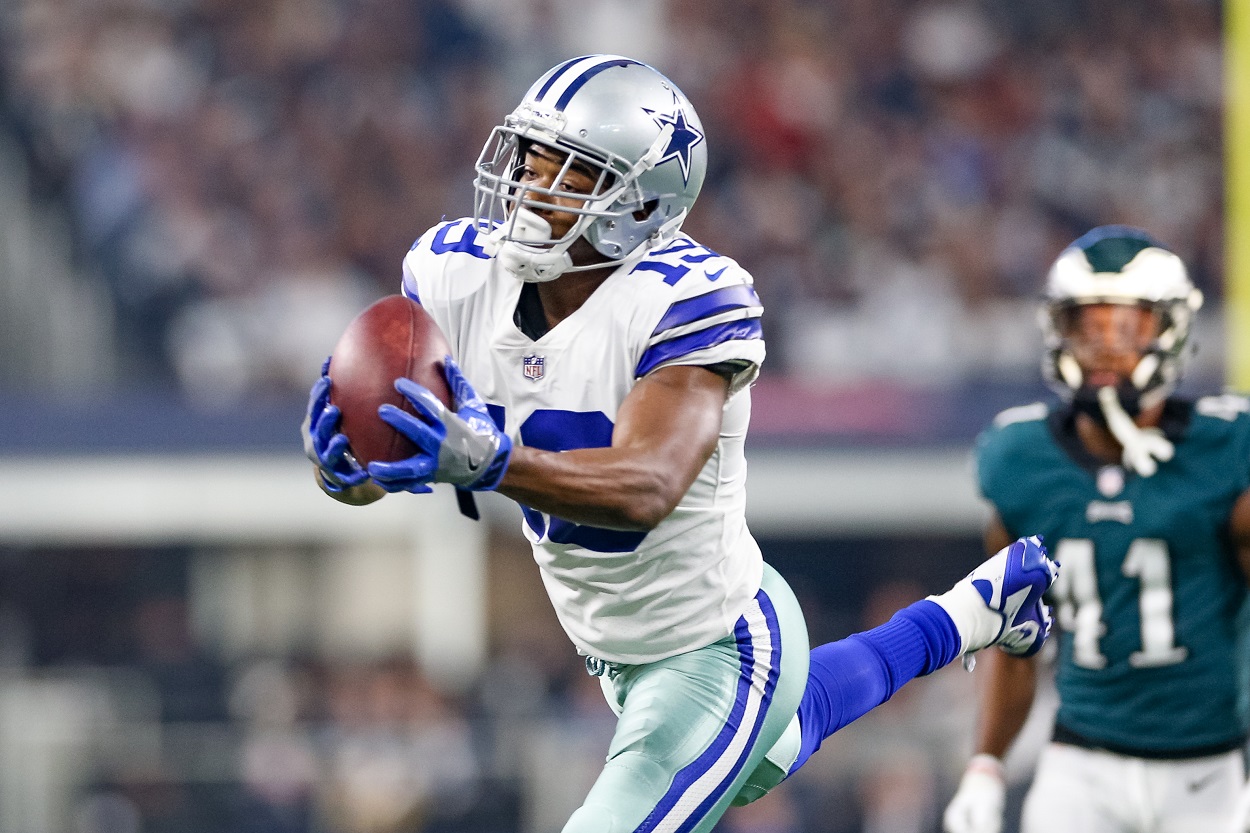 Mayfield is entering the final season of his contract after the Browns decided to exercise his fifth-year option for 2022 rather than give him a long-term contract extension. He's coming off a terrible 2021 season in which injuries were a major problem, but even when he was on the field, he wasn't all that accurate or effective. 
Mayfield played in 13 games, throwing for 3,010 and 17 touchdowns with 13 interceptions. His average QBR of 35.1 was the 27th worst in the league.
Frankly, 2022 is a do-or-die season for Mayfield, and he's lucky that the Browns threw him someone who can be a life-preserver in Cooper. He's already highly underachieved as a former top draft pick, and if he can't get the Browns back to the playoffs this season, Cleveland will likely move on from him. From there, who knows what Mayfield's NFL future will hold? He'll probably quickly become a journeyman and a has-been.
That can all be avoided, though, if Mayfield can turn Cooper into his anti-OBJ. That means putting in the work to get reps early and often with Cooper in the offseason. That means working out together and watching film together. That means becoming attached at the hip.
This is Mayfield's last best chance to prove that he can still be a quality starting quarterback in the NFL. Cooper is a legitimate top weapon, but Mayfield has to be able to get him the football, and he has to be able to do so consistently. Cooper's a pro and a veteran, but he's not above complaining about not getting enough looks. No wide receiver worth his salt is happy when the football is not coming his way.
No matter if they have to become best friends like Brennan Huff and Dale Doback or live together like Tom Brady and Antonio Brown…Mayfield has to find a way to quickly get on the same page and stay on the same page as Cooper.
Stats courtesy of ESPN and Pro Football Reference. Contract information via Spotrac
RELATED: Amari Cooper Trade: The Cleveland Browns Just Robbed the Dallas Cowboys