Baker Mayfield Believes in UFOs After His Date Night Close Encounter
Baker Mayfield has an important season ahead of him. Last season, he led the Cleveland Browns franchise to their first playoff appearance in 18 years and their first playoff win in 26 years. He and his team may very well be Super Bowl contenders in 2021. However, if he is to be believed, supernatural forces may have something to say about that.
Baker Mayfield's strange night
RELATED: Browns QB Baker Mayfield Just Destroyed Colin Cowherd Without Having to Say 1 Word
Last night, Mayfield and his wife, Emily, had dinner near their hometown in Austin, Texas. As they drove home, they both spotted what they believed to be a UFO. According to Mayfield, who tweeted about it just before midnight Thursday, it was a "very bright ball of light going straight down out of the sky toward Lake Travis."
The approximately 2,400 replies (as of this writing) have varied wildly between snark, intrigue, and theories as to what Mayfield actually saw. According to Cleveland's WOIO, at least one fellow Twitter user has claimed to see the exact same ball of light.
Cleveland-area comedian Mike Polk Jr. took advantage of the opportunity. "They said that you should sign a fair (but team-friendly) 5 year extension that allows enough salary cap space to secure solid free agents while you're here," he tweeted.
Just another Cleveland Browns day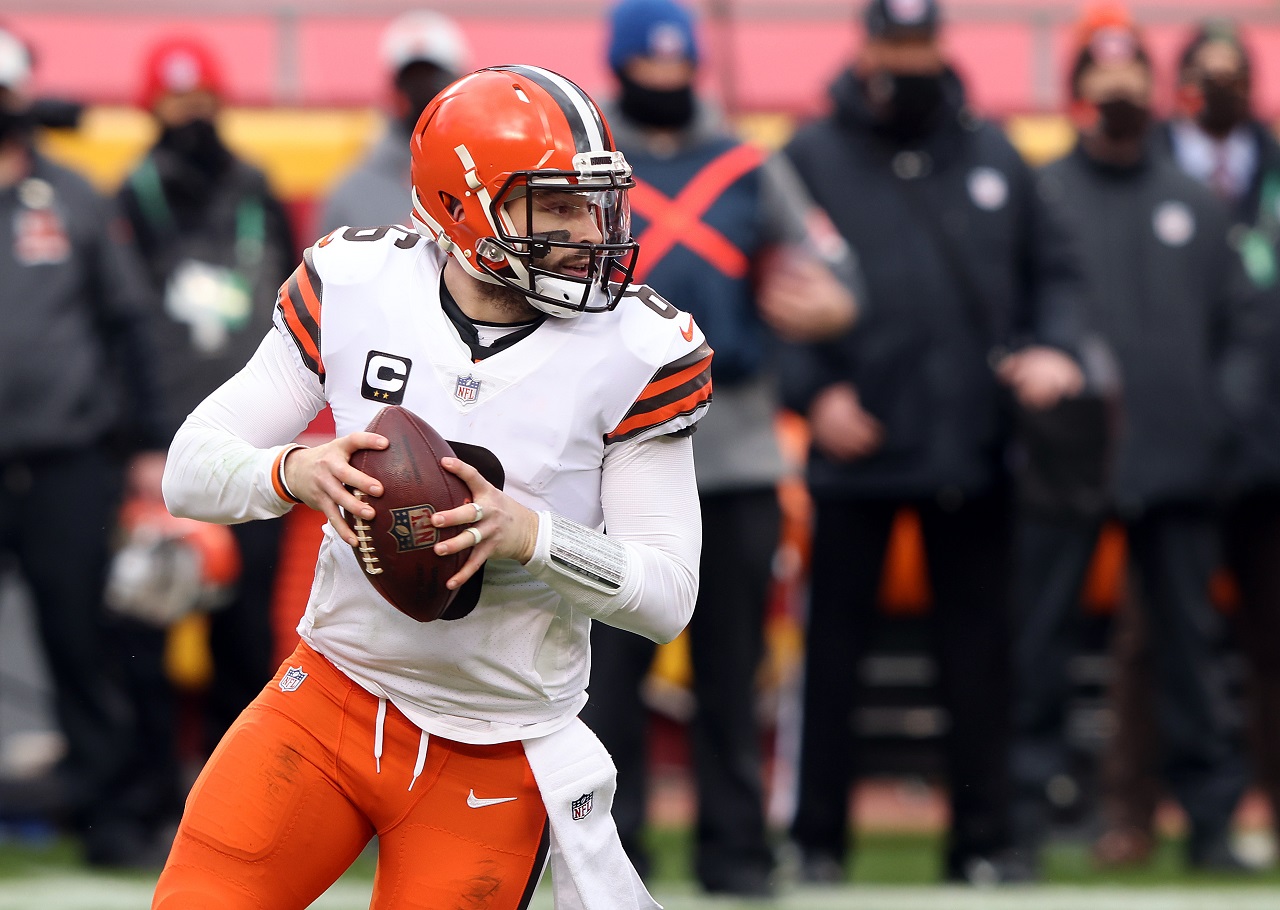 RELATED: Josh Gordon is Joining Forces With Johnny Manziel Again
When you think about it, it would only make sense if aliens really did come for Baker Mayfield. After all, it seems that every time something good happens to the Cleveland Browns, something comes to snatch it away.
During the very first season of their rebirth, in December 1999, offensive tackle Orlando Brown suffered the most bizarre injury in NFL history. Referee Jeff Triplette threw a penalty flag which accidentally struck Brown in the right eye by its weighted ball bearing. Brown lost over a season of his career waiting for that eye to heal.
In 2001, the Browns had a grand total of one Pro Bowl player, linebacker Jamir Miller. The following preseason, Miller suffered a season-ending Achilles tear. No Cleveland Browns would make the Pro Bowl again until 2007. (Ironically, the Browns somehow made the playoffs in 2002.)
Would it be that strange in Cleveland Browns history if Baker Mayfield, their first successful starting quarterback in decades, was abducted by aliens? Think about it.
In Baker Mayfield's defense…
Mayfield was not the only one who saw something strange in the skies over Texas last night. His sighting may — and we stress, may — have something to do with the fact that SpaceX launched its Starship SN10 the very same night from its launch site in Boca Chica, which is also in Texas.
It should be noted that Lake Travis is almost 400 miles away from Boca Chica, which is near the United States-Mexico border. That would be a six-hour drive. However, if Mayfield and his wife were driving southbound, that wouldn't completely discount this theory.