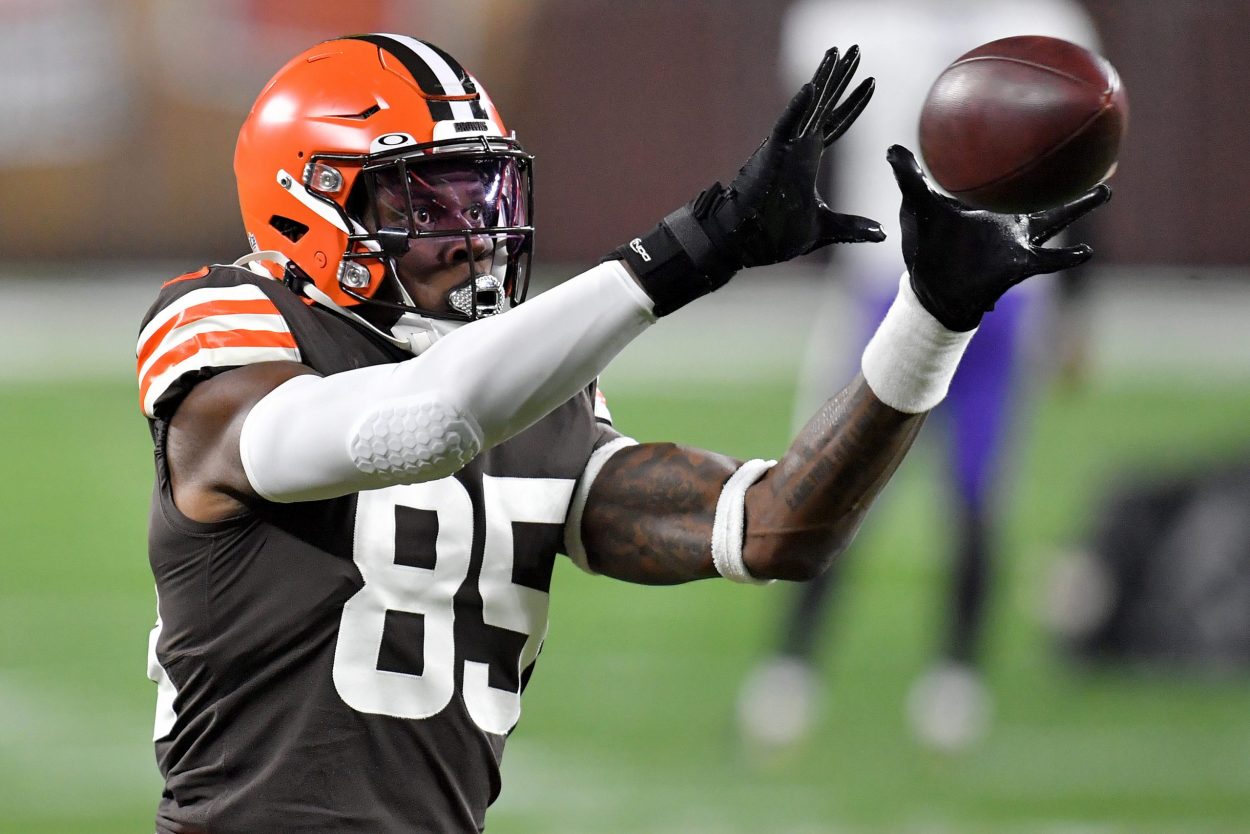 Baker Mayfield's Big Target David Njoku Could Be Back With Browns On Big Deal
The Browns are trying to get tight end David Njoku signed to a multi-year deal before free agency begins in mid-March.
The countdown of the ticking free agency clock is starting to get louder. The Cleveland Browns hear it loud and clear.
While much of the offseason attention in Cleveland has fallen on the status of wide receiver Jarvis Landry and the possibility of his leaving the Browns via free agency, the fate of another potential free-agent pass-catcher is on the Browns' front-burner.
Tight end David Njoku is eligible to become a free agent when the official process begins on March 16. But the real deadline for getting a new deal done is actually March 14, the legal tampering period when other teams can engage with free agents and when original teams' bid to retain their players is generally lost.
The Browns apparently do not want to wait for March 14 to strike.
Report: Browns preparing offer in 'double-digit millions' to keep Njoku
According to the esteemed Mary Kay Cabot of the Cleveland Plain Dealer on Sunday, the Browns are readying a multi-year offer to the fifth-year tight end, whose original rookie deal has expired, making him a free agent.
According to Cabot, the Browns are willing to give Njoku a deal in the "double-digit millions" he can expect to receive from other teams in free agency.
"[The Browns have] been talking to his agents for months, and are poised to try to get a deal done before or during the legal tampering period March 14-16," Cabot wrote. "Njoku has said he wants to finish his career here, and is completely bought in."
A deal for Njoku probably means the Browns will be willing to let fellow tight end Austin Hooper go. Cabot estimates that Njoku has a market value in the range of $11 million per year, which is more than Hooper's current $10.5 million annual salary. Releasing Hooper would free up valuable cap space to help pay Njoku's new salary, while also elevating Njoku to No. 1 tight end status on the depth chart.
Njoku struggled along with the rest of the Browns' passing game in 2021
Njoku seemed destined to be the main tight end on the Browns from the time he came into the league from Miami in 2017. Njoku started five games as a rookie and caught 32 passes for 382 yards and four touchdowns, then had his best season in Baker Mayfield's rookie year of 2018, with 56 receptions for 639 yards and another four touchdowns over 14 starts.
But his career has taken a backwards turn since. Injuries limited Njoku to four games in 2019 and he had 55 catches combined over the past two seasons. But despite the presence of Hooper, Njoku played in 16 of 17 games in 2021 and started 11 as his production began to steadily increase again.
Much of Njoku's struggles this past season were part of an overall backsliding of the passing game with Mayfield playing injured and struggling with his overall game. Mayfield had shoulder surgery in January and the team expects him to regain his form in 2022, which should naturally elevate the passing game as a whole.
One potential suitor for Nkoju came off the market this weekend
A pass-catcher who is also an outstanding run-blocker, Njoku would likely be a top free agent target if the Browns somehow fail to retain him in the next two weeks. One team that seemed a natural fit for Njoku took themselves out of the running over the weekend, as the Carolina Panthers re-signed Ian Thomas to a multi-year deal.
Other teams that could have an interest include the Miami Dolphins, who might be losing Mike Gesicki to free agency, and the New York Jets, who might appeal to the New Jersey native, especially with Robert Saleh as head coach, having been in the same San Francisco 49ers organization that made George Kittle the centerpiece of their offense.
Stats courtesy of Pro Football Reference