Baker Mayfield Calls out Browns Reporter as 'Clickbait' for Alluding to a Potential Offseason Trade: 'I'm Not Your Puppet'
Baker Mayfield is coming off a frustrating season. That much is obvious. Following a successful 2020 campaign for the Cleveland Browns last year, 2021 did not yield similar results. The Browns are eliminated from playoff consideration heading into Week 18, and Mayfield is coming off (arguably) his worst season as a professional.
Mayfield's shoulder injury is the primary reason Cleveland could not find its stride. According to Browns backup QB Case Keenum, Mayfield suiting up each weekend was a small miracle.
Offseason Baker Mayfield trade rumors are starting to pop up in Cleveland
With the 2022 offseason right around the corner, rumors of a blockbuster trade for the Browns are starting to pick up. According to Cleveland.com's Mary Kay Cabot, Mayfield is signaling he wants a trade this spring if the Browns cannot improve their play-calling.
Baker Mayfield must resolve his differences with Kevin Stefanski in case they need to co-exist next season.

Even if Mayfield does mend the fences, he might not be back if the Browns decide to upgrade, which seems likely at this point. But he and Stefanski can't run it back unless they hash things out and find a path forward.

Mary Kay Cabot, Cleveland.com
There's plenty of discourse surrounding who is more at fault for the Browns' struggles this past season. On the one hand, Kevin Stefanski's play-calling felt bland and vanilla on more than one occasion. His inability to get former WR Odell Beckham Jr. consistently involved in the offense was very concerning.
On the other hand, Mayfield did not play well and is already scheduled to undergo shoulder surgery this offseason. It's hard to properly evaluate the Browns' offense when their most important position (quarterback) was battling a severe upper-body injury all year long.
Baker Mayfield called Mary Kay Cabot 'clickbait'
While Cabot makes some good points regarding Mayfield and the Browns' potential lack of a future together, Mayfield quickly jumped at the opportunity to label the report "clickbait."
"Clickbait," Mayfield tweeted. "Clickbait. You and many other Cleveland local media continue to be drama-stirring reporters with no sources or facts. Don't put words in my mouth so you can put food on your table. I'm not your puppet."
Even if Mayfield is in the market for a new team this offseason, he clearly doesn't want to talk about it now.
What should Baker Mayfield, Browns want this offseason?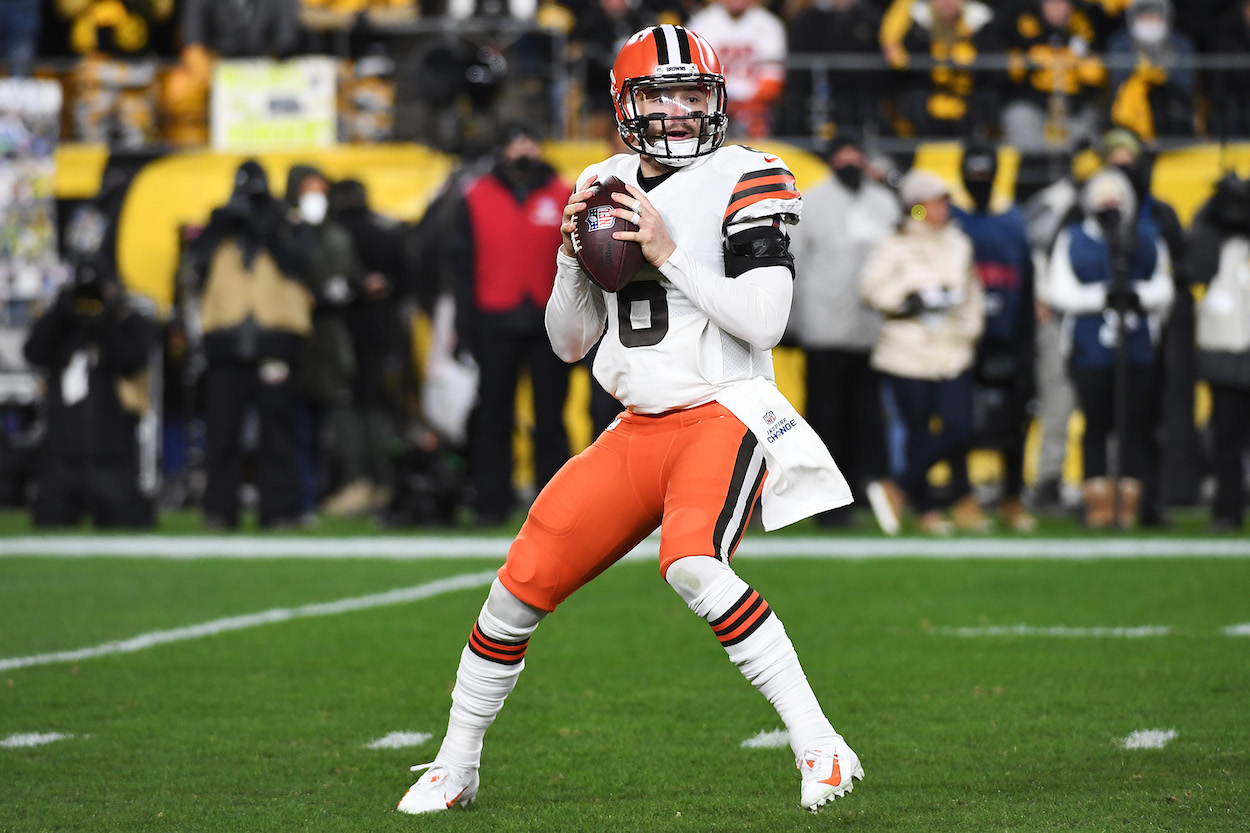 For Mayfield, he should ultimately want to be in a situation with a team willing to extend him sooner rather than later. His rookie contract is almost up — it's time to get paid. If the Browns are privately telling people close to Mayfield that a long-term extension isn't in the cards, then Mayfield should absolutely explore an offseason trade.
On the flip side of the argument, the Browns need to decide what they want out of their QB position moving forward. Do they want an above-average game manager who hands the ball off to Nick Chubb? Or do they want a true blue-chip talent capable of winning games with his arm? If they want the latter, they need to move off of Mayfield this offseason.
The Mayfield conversation will be an ongoing one this offseason, clickbait or not. Both parties have reason to want change.