Baker Mayfield Fires Shot at Cleveland Browns Fans in Stern One-Sentence Tweet
Baker Mayfield accomplished something that no quarterback had done in the previous 17 seasons — he led the Cleveland Browns to the playoffs. While Mayfield has certainly embraced the Dawg Pound ever since getting drafted by Cleveland in 2018, he still might not be too cool with some Browns fans. In fact, he recently sent a stern tweet to specific fans who are calling for their team to move on from Mayfield by trading for Houston Texans quarterback Deshaun Watson.
Baker Mayfield led the Cleveland Browns to the playoffs
RELATED: Baker Mayfield Puts the Entire NFL on Notice With a Strong Message About the Cleveland Browns After Their Loss To the Chiefs
When the Cleveland Browns selected Baker Mayfield with the No. 1 overall pick in the 2018 NFL draft, they did so with the hope that he would help turn the franchise around. He has ultimately done just that.
Mayfield had a nice rookie season in Cleveland. He threw for 3,725 yards, 27 touchdowns, and 14 interceptions in 14 games and 13 starts. However, he wasn't good at all during his second year. In 2019, Mayfield threw for 3,827 yards, 22 touchdowns, and an abysmal 21 interceptions. This led to the Browns taking a step back, too. They went from going 7-8-1 in 2018 to 6-10 in 2019.
In 2020, though, Mayfield improved significantly, and he helped lead the Browns to the playoffs for the first time since 2002. Mayfield ended up throwing for 3,563 yards, 26 touchdowns, and only eight interceptions. He also played really well in the Browns' wild-card playoff win over the Pittsburgh Steelers — the team's first playoff win since 1994. Mayfield had 263 yards, three touchdowns, and no interceptions in the 48-37 win.
Mayfield ultimately showed that he has what it takes to improve from season to season. He also proved that he can eventually become an excellent quarterback for a Browns franchise that seems to never have a competent QB.
Some fans, though, want more.
Deshaun Watson requested a trade from the Houston Texans
RELATED: The Houston Texans' Brutal Nightmare Could Soon Get Worse Thanks To J.J. Watt
Since getting drafted by the Houston Texans in the first round of the 2017 NFL draft — a year before the Browns drafted Mayfield — Deshaun Watson has become one of the best quarterbacks in the NFL.
After only playing in seven games due to injury in his rookie season, Watson threw for 4,165 yards, 26 touchdowns, and nine interceptions in 2018. He also ran for 551 yards and five touchdowns. This all led to him earning his first of three consecutive Pro Bowl selections, and he led the Houston Texans to its first of two consecutive division titles.
Waston then had another nice year in 2019 (earning Pro Bowl honors and leading the Texans to the playoffs again), but the 2020 season was Watson's best year by far. His team was absolutely horrible as the Texans went 4-12. Watson, though, threw for an NFL-leading 4,823 yards to go with career-bests in touchdown passes with 33 and interceptions with seven. Watson also completed a career-high 70.2% of his passes and ran for 444 yards.
However, the Texans, who traded Watson's best weapon in DeAndre Hopkins last offseason, are a dumpster fire of an organization. The franchise's incompetence led to Watson reportedly requesting a trade, per ESPN.
Baker Mayfield sent a stern tweet to fans who want Deshaun Watson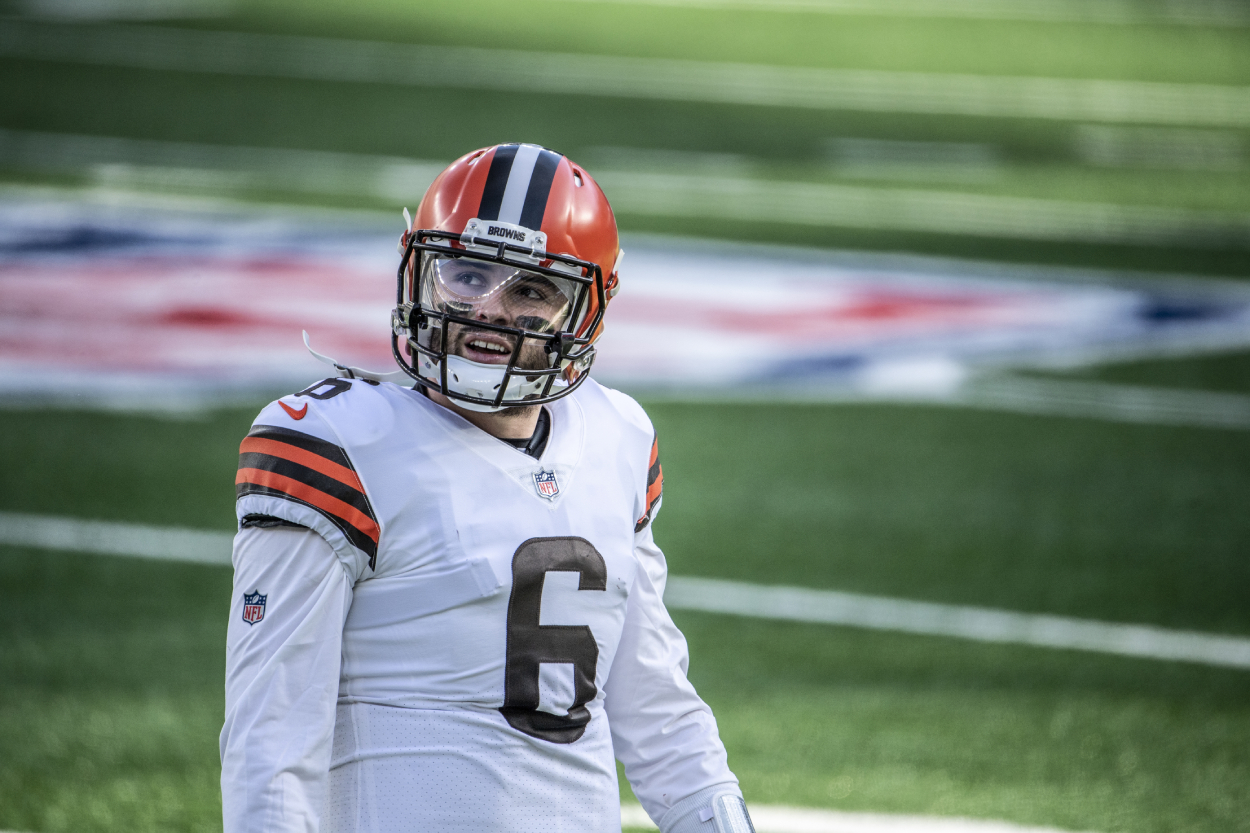 RELATED: Kareem Hunt Gives a Savage Response To JuJu Smith-Schuster and Chase Claypool's Controversial Comments
With Watson potentially getting moved, some Browns fans have said that they would like for their team to trade for him and move on from Mayfield. FanSided's site devoted strictly to Browns coverage even published a piece titled "It's time for the Cleveland Browns to think about Deshaun Watson."
The site also posted the story to its Twitter account. This led to Mayfield quote-tweeting the site's tweet and saying, "Some of y'all 'browns' are funny." 
He didn't say "Browns fans," but the article in question didn't talk to any of Mayfield's teammates. So, he is obviously directing this toward fans who would like the Browns to trade for Watson.
Mayfield would certainly be justified in feeling disrespected. He helped lead the Browns to the playoffs for the first time in nearly two decades. He is also their best quarterback in almost 20 years. The fans wanting to move on from him are acting a little ungrateful.
Browns fans just want to win a Super Bowl. Who can blame them? Almost every fan base would love to have Deshaun Watson, too. However, they better hope that they either get Watson or that they don't push their best QB in years away. They could ultimately end up with a guy like Brandon Weeden all over again.
Stats courtesy of Pro Football Reference