Baker Mayfield's Frightening Injury Scare Reminded the Cleveland Browns How Close They Are to Forever Suffering in the Factory of Sadness
It's not hyperbolic to say we're currently watching the most optimistic stretch in Cleveland Browns history. It certainly helps that Baker Mayfield, the No. 1 overall pick in 2018, has evolved into a capable and reliable starting quarterback.
However, one attempted tackle nearly destroyed the Browns' 2021 season and sent them back to the familiar territory of pain, suffering, and paper bags.
Baker Mayfield missed snaps in Week 2 following a frightening injury scare
Say whatever you want about Mayfield, whether it regards his personality or the media overrating him. You may even dislike him because you're tired of his commercials. But we can all agree the fourth-year quarterback has always been played with the physicality that some might not expect from a quarterback who stands 6-foot-1 and weighs 215 pounds.
Take what happened in a Week 2 victory over the Houston Texans as living proof. Mayfield threw an interception early in the second quarter and dove to tackle safety Justin Reid, who snagged the quarterback's pass. Not only did the Oklahoma product fail to take Reid down, but he remained on the field with a shoulder injury.
In a moment that surely frightened the packed crowd at FirstEnergy Stadium, Mayfield ran with trainers to the locker room. However, he returned in time for the next series and showed no ill effects from the injury.
According to Cleveland.com, Mayfield referred to the play and its aftermath as "not an ideal situation."
"I think [Reid] realized it was me standing right there, so he put his head down and ran right after me. It kind of popped in and out, but I will be good. Nothing too serious."

Justin Reid
Mayfield finished 19-of-21 for 213 yards, a touchdown, and an interception in the Browns' 31-21 victory. He also ran for a 5-yard touchdown late in the first half.
Mayfield's injury scare nearly sent the Browns back to the familiar territory of pain and suffering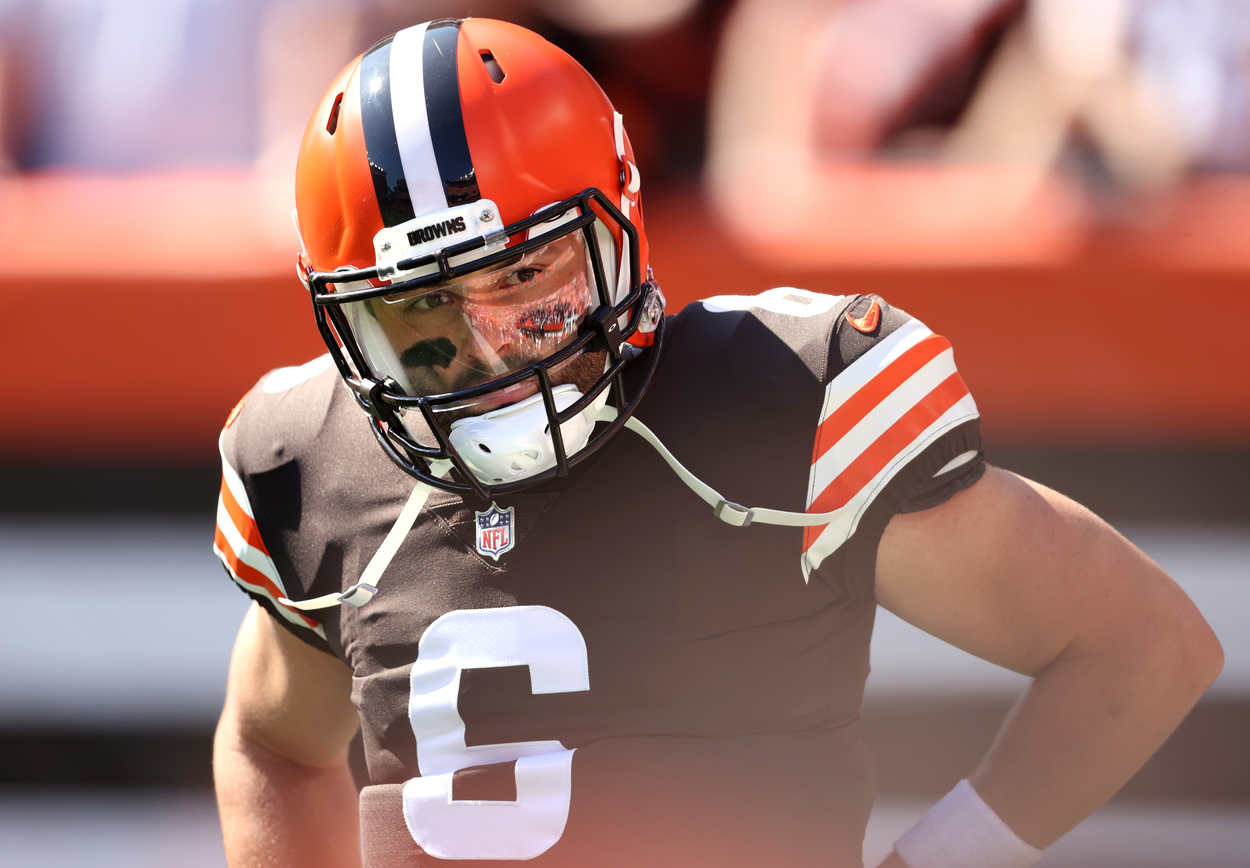 Every team has players that it can't live without, especially those who perennially compete for a Super Bowl title. The New England Patriots had multiple seasons where Tom Brady carried injury-plagued offenses into the playoffs and made deep runs in the process. The Baltimore Ravens' defensive duo of Ed Reed and Ray Lewis did the same throughout the 2000s and early 2010s.
As for what happens when those superstars are injured, just ask those who played for the Indianapolis Colts in 2011. A team with Super Bowl hopes finished 2-14 in large part because Peyton Manning missed the entire season following neck surgery.
The Browns nearly saw their entire season crumble when their star quarterback went to the locker room. With respect to the likes of Nick Chubb and Myles Garrett, this team belongs to Mayfield. He is an excellent game manager who commands respect and can rally his team to victories. There's a reason why the Browns, an organization known for its quarterback failures, finally resemble a competent NFL franchise.
Case Keenum, who would have entered the game if Mayfield couldn't return, is a proven backup who has flashed as a starter. If you had to pick who you'd want quarterbacking the Browns in an AFC where Lamar Jackson and Patrick Mahomes are still playing at a high level, our gut says you'd want Mayfield.
Simply put, a lack of Mayfield means a lack of winning. If he's not out there, the Browns effectively trade their ticket to the dance for a night of watching movies and eating Doritos.
The Browns won't go far without a healthy Mayfield leading the way at quarterback
Luckily for the Browns, Mayfield returned and looked sharp in clinching the team's Week 2 victory. No quarterback had a higher completion percentage than his 81.6% through the season's first two games.
The Browns team we've watched over the last 10 or so months has the looks and mold of a franchise on the rise. It finally appears the days of fans wearing paper bags over their heads in shame and holding signs calling for a new quarterback and a different head coach are over.
Mayfield might never post the gaudy numbers that Aaron Rodgers and Tom Brady do for the Green Bay Packers and Tampa Bay Buccaneers. He's mobile at times, but he's certainly not Jackson, the league's most athletic quarterback.
All the Browns need Mayfield to do is help the offense avoid turnovers and win games. His ability to do both — he's 12-6 with 27 touchdowns and 10 interceptions in the regular season since the start of 2020 — has the Factory of Sadness transitioning into the Plant of Optimism.
Like Sportscasting on Facebook. Follow us on Twitter @sportscasting19.
RELATED: A Surprising Turn of Events Should Make Baker Mayfield and the Cleveland Browns Even Scarier For Years to Come