Baker Mayfield Is Already the Best Quarterback in Modern Browns History
Baker Mayfield's third year in the NFL will be a make-or-break one for the former No. 1 overall pick. Can Mayfield put a tough sophomore season behind him, or is he doomed to become the Cleveland Browns' next middling quarterback?
Baker Mayfield has had plenty of highs and lows in his short NFL career. But it is hard to deny that through two seasons, Mayfield is the best quarterback in Cleveland Browns history — at least, since the franchise returned in 1999.
Baker Mayfield is one of the NFL's top young quarterbacks
When Baker Mayfield is on his game, it's easy to see why he won the Heisman Trophy at Oklahoma and went first in the 2018 NFL draft. Mayfield is still a brash gunslinger, but he has a powerful arm and oozes charm and charisma.
Unfortunately for Mayfield and the Browns, his second professional season didn't go as planned. Mayfield still displayed the strong arm, but threw 21 interceptions and completed just 59.4% of his passes.
Cleveland went 6-10 and missed the playoffs yet again.
Still, Baker Mayfield's potential and talent, as well as his best moments, put him near the league's top young quarterbacks. He certainly isn't Patrick Mahomes or Lamar Jackson, but Browns fans shouldn't write Mayfield off just yet.
Mayfield is the best quarterback in modern Browns history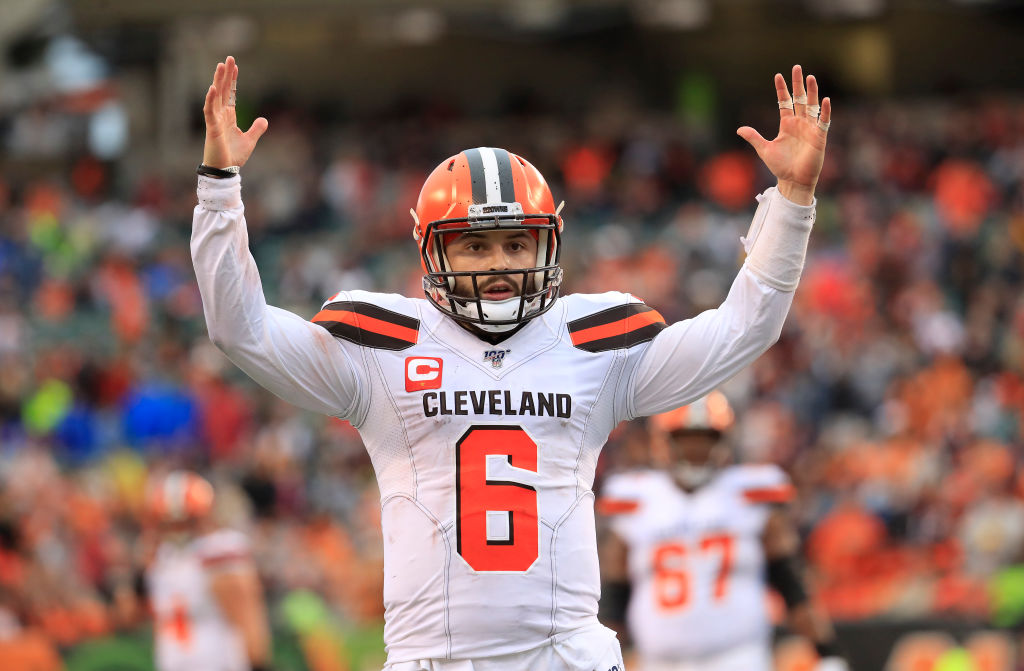 We'll spare Browns fans the jokes about all of their quarterback misses from Brady Quinn to Johnny Manziel. But it says something about the Browns that Mayfield has played two seasons and ranks near the top of the post-revival Browns quarterback stats.
Through two seasons, Baker Mayfield has a 12-17 record as a starting quarterback — he earned a 13th win off the bench as a rookie in 2018 — and has completed 61.5% of his passes for 7,552 yards, 49 touchdowns, and 35 interceptions.
The old Cleveland Browns became the Baltimore Ravens after the 1995 season. It wasn't until 1999 that these current Browns joined the NFL.
Mayfield's 7,552 passing yards are second behind Tim Couch's 11,131 among post-revival Browns quarterbacks. His 49 touchdowns, similarly, trail Couch's 64, although Tim Couch played five seasons and started 59 games with the Browns.
So why is Baker Mayfield better than Tim Couch? Differing play styles and eras aside, Mayfield has played far better with the talent around him and relied less on his defense.
A strong 2020 season will clinch Mayfield's spot as the best quarterback in Browns history. For now, he's certainly in that conversation and the odds are in his favor.
What should Cleveland Browns fans expect from Baker Mayfield in 2020?
The Cleveland Browns have a lot to prove in 2020, especially in the same division as Lamar Jackson and the Ravens. The Browns' playoff hopes ride on Baker Mayfield's shoulders.
Although Mayfield is on his third head coach in three years, he is entering his second year with Odell Beckham Jr. as a starting receiver. Nick Chubb is one of the NFL's best young running backs; the Browns also have former Chiefs star Kareem Hunt in the backfield.
Cleveland added tight end Austin Hooper in free agency and drafted Florida Atlantic's Harrison Bryant, the 2019 John Mackey Award winner, in April.
Cleveland also still has five-time Pro Bowl receiver Jarvis Landry, although he had hip surgery earlier this year.
Baker Mayfield has enough weapons around him to make a serious dent in the NFL this fall. The odds were against him at Oklahoma and if they're against him again, Mayfield will make the doubters pay.