Baker Mayfield May Become the Seahawks' Preferred Option to Replace Russell Wilson
Since Houston Texans star quarterback Deshaun Watson cleared the massive hurdle concerning his legal issues, his trade market has kicked up a notch. Several teams, including the Cleveland Browns, have expressed interest in acquiring the Pro Bowler. The Browns' desire to land Watson leaves Baker Mayfield's future uncertain.
The trade chatter has begun to ramp up around Mayfield, as a few teams may make a strong play to land him. Among those franchises could see the Seattle Seahawks hoping to make him Russell Wilson's replacement.
Baker Mayfield trade rumors are heating up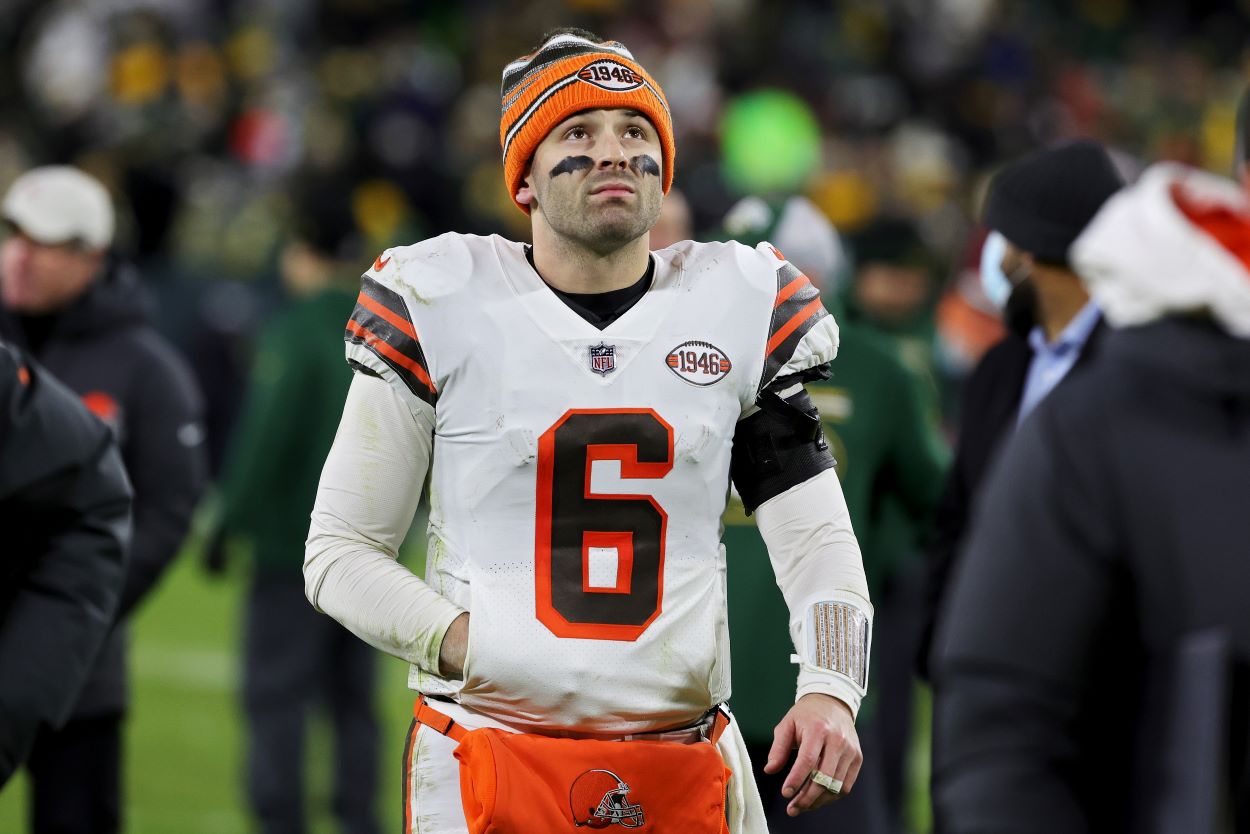 As the quarterback trade market heats up, the chatter has put Mayfield front and center as a potential option.
The Browns' increased push to acquire Watson may soon make the 26-year-old readily available. Reports have also emerged that his desired landing spot would be with the Indianapolis Colts. Mayfield further amplified the noise by posting an open letter thanking Browns fans for their unwavering support.
"I have no clue what happens next, which is the meaning behind the silence I have had during the duration of this process," Mayfield wrote via ESPN. "I can only control what I can, which is trusting in God's plan throughout this process. I have given this franchise everything I have. That is something I've always done at every stage, and at every level. And that will not change wherever I take my next snap. Whatever happens.
"I just want to say thank you to the fans who truly embraced who I am and the mentality that aligned so well with this city's hard-working people."
As Mayfield waits to see what the Browns do next, another potential landing spot has emerged.
Baker Mayfield may become the Seahawks preffered option to replace Russell Wilson
The offseason quarterback carousel began after the Seahawks traded Russell Wilson to the Broncos.
The massive move has set off a ripple effect that now has Baker Mayfield facing the realistic reality that he has played his final snap with the Browns. Pro Football Network's Aaron Wilson reported that Seattle could make a strong play to acquire the 26-year-old.
"Nothing developing, and will take time for Baker Mayfield trade market to shake out, but league sources predict Seahawks would be attractive option welcomed by Browns quarterback in addition to Colts as Browns, Mayfield work through expected divorce," Wilson tweeted.
The Seahawks acquired Drew Locke as part of the Wilson trade, but he's not viewed as the long-term solution. Meanwhile, Mayfield provides a significant upgrade over Locke despite his struggles with consistency and injuries.
He would also fit comfortably into head coach Pete Carroll's run-first offense. The former Heisman Trophy winner has worked with that approach with Cleveland over the last couple of seasons.
Seattle also wouldn't need to worry about taking on a hefty contract as he's making roughly $19 million for the 2022 season. However, the entire scenario depends on Cleveland's ability to land Watson.
If the Browns become firm with wanting to move the veteran quarterback, the Seahawks will certainly be among the teams making a strong push to land him.
Browns will have options with Baker Mayfield
The Browns haven't entirely burned their bridges with Baker Mayfield, but the two sides are heading toward parting ways.
Since last offseason, the 26-year-old has eyed a contract extension, but Cleveland chose to let him play the 2021 campaign without a new deal. Mayfield struggled to stay healthy, and his substandard performance resulted in an uncertain future.
If the Browns fail to land Watson, the franchise could still mend the relationship with Mayfield. Any new contract discussion would likely center on a short-term extension. Cleveland would likely not offer him anywhere near the annual salary of the top quarterbacks in the league.
The front office could go the clean-slate approach by moving him to the Colts, Seahawks, or another team searching for quarterback stability. Much can change, but the writing is on the wall that Mayfield's stint won't go beyond his current contract if he's not traded this offseason.
Like Sportscasting on Facebook. Follow us on Twitter @sportscasting19.
RELATED: Amari Cooper Trade Intensifies Pressure on Browns Head Coach Kevin Stefanski