Baker Mayfield and Patrick Mahomes' Epic 2016 College Game: They Threw for a Combined 1,279 Yards and 12 Touchdowns Passing
Baker Mayfield quarterbacks the Cleveland Browns' often shaky attempt at becoming a perennial playoff threat. Patrick Mahomes is the QB who emerged as a major NFL talent almost instantly, leading the Kansas City Chiefs to two Super Bowl appearances and one win.
Their careers are in different places. But Mayfield and Mahomes' football careers are tied together by much more than a few NFL matchups
Baker Mayfield and Patrick Mahomes have followed different arcs to achieve NFL success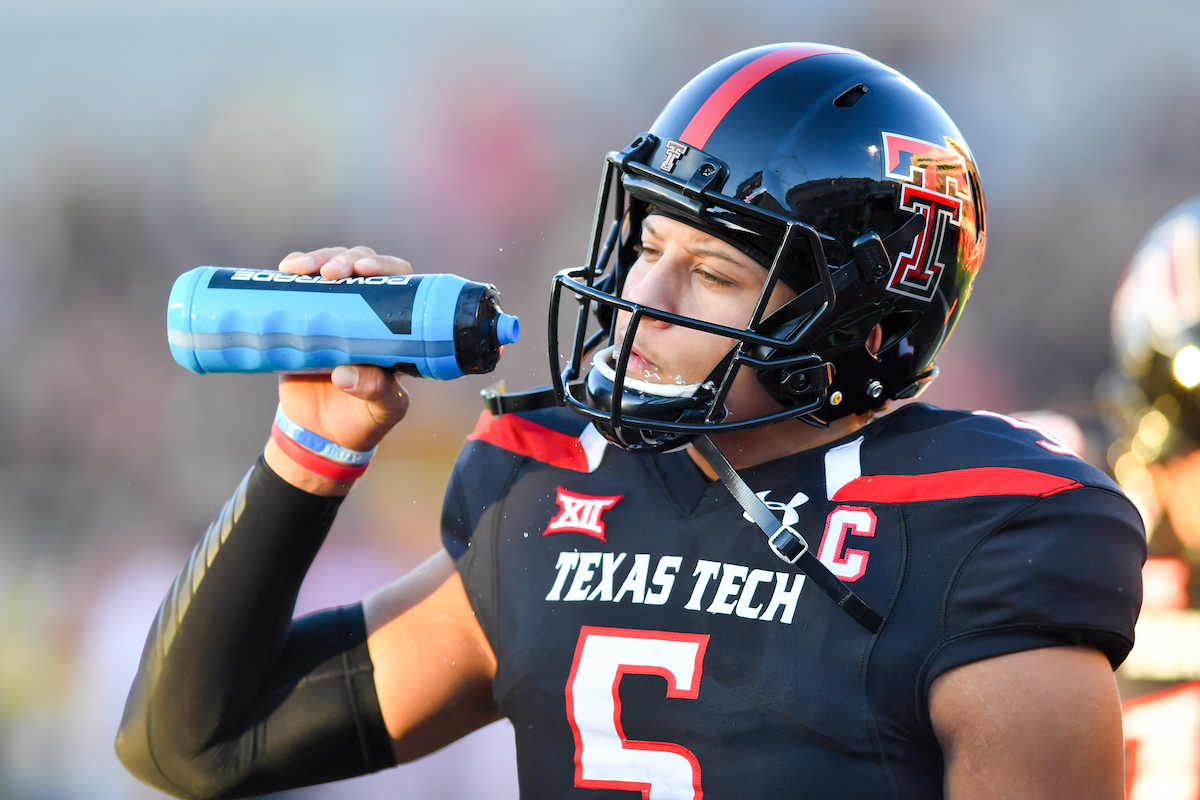 Mayfield and Mahomes, both 26, entered the NFL in 2017 and 2018, respectively. From there, the quarterbacks' careers diverged in interesting ways. While both have achieved the sort of pop culture presence that comes with being among the best-of-the-best in the NFL, one has clearly carved out a more definitive path of success.
The Browns found their nascent QB to be a bit of a work-in-progress. That's nothing unexpected; it's similar to what Justin Fields is experiencing with the Chicago Bears after his strong Division I run. Mistakes, reactions under pressure, and minor maturity issues dogged Mayfield's early days in Cleveland. But he's always seen with clear year-over-year progress, according to BrownsNation.
Kansas City's 2018 draft pick, on the other hand, entered the NFL with a different sort of poise. He grew up around MLB ballparks and locker rooms, shadowing his father Pat Mahomes, Sr., which likely explains the young QB's quick adjustment to the NFL. A three-time Pro Bowl pick (annually from 2018 on), with a Super Bowl LIV win, his Chiefs are the gatekeepers of the league.
Mayfield and Mahomes had a record-breaking showdown in college
Mayfield and Mahomes' history with each other is more intertwined than NFL-focused fans might see. The current Browns star used to play with the Oklahoma Sooners. The man who will never pay for a drink in Kansas City again cut his teeth with Texas Tech.
It's also worth noting that Mayfield put in a year at Texas Tech. He apparently left due to scholarship issues, although Sports Illustrated reports that communication issues with his coaches encouraged him to look elsewhere.
According to ESPN, the two faced off in one of the most memorable and record-shattering Division I games of all time. The 2016 showdown saw an FSB record combined 1,708 yards of offense between the two teams. As for the future NFL QBs, they put in the most combined passing yards of any two QBs in college football history: 1,279. The epic ended in Mayfield's favor, with the Sooners crawling across the finish line for the 66-59 win.
What do Mayfield and Mahomes think about each other today?
The two young first-round picks most recently squared off in Week 1. The narrow victory went to the Chiefs, who struggled to stop the Browns for much of the game and capitalized off a mental error by Mayfield to seal a late victory. Their back-and-forth history hasn't led to any bad blood in between all the immensely entertaining play, however.
CBS Sports interviewed Mayfield on his feelings about his longtime rival. He had nothing but praise for Mahomes' approach to the game. "His arm strength is unbelievable, but just the different arm angles and things he is able to do," the Browns QB1 said. "To be able to change his arm angle, you can see why he was such an incredible athlete in baseball and basketball, as well."
Mahomes, for his part, relishes taking on his old college colleague. "Obviously it's cool to get to play against him," Mahomes told Pro Football Talk. "He went to Oklahoma, I went to Texas Tech. He got the better of me in college, so I'll try to do my best to win in the NFL."
RELATED: Baker Mayfield Credits His Recovery to His Business Investment in CBD