Baker Mayfield: Pros and Cons to the Browns Potentially Trading the Controversial Star Quarterback
Article Highlights:
The Cleveland Browns need to weigh the pros and cons of trading Baker Mayfield in 2022
The Oklahoma product is currently scheduled to become a free agent in 2023
Do the positives of the Browns possibly trading Mayfield outweigh the negatives?
Technically speaking, Baker Mayfield has been everything the Cleveland Browns envisioned when they selected him atop the 2018 draft. The Oklahoma product entered play on Dec. 20, 2021, with a career 29-28 record, and he has the Browns in the postseason hunt once again.
Considering the franchise's infamous history, the fact that Mayfield even has a winning record at this point in his Cleveland career is a miracle. However, his future beyond 2022 remains uncertain despite the winning; he's scheduled to become a free agent in the spring of 2023, and there have been no credible updates about him inking a long-term contract extension.
In the coming months, the Browns need to strongly weigh the pros and cons of trading the most successful quarterback in the franchise's modern history.
Mayfield and the Browns clearly need to consider getting a fresh start in 2022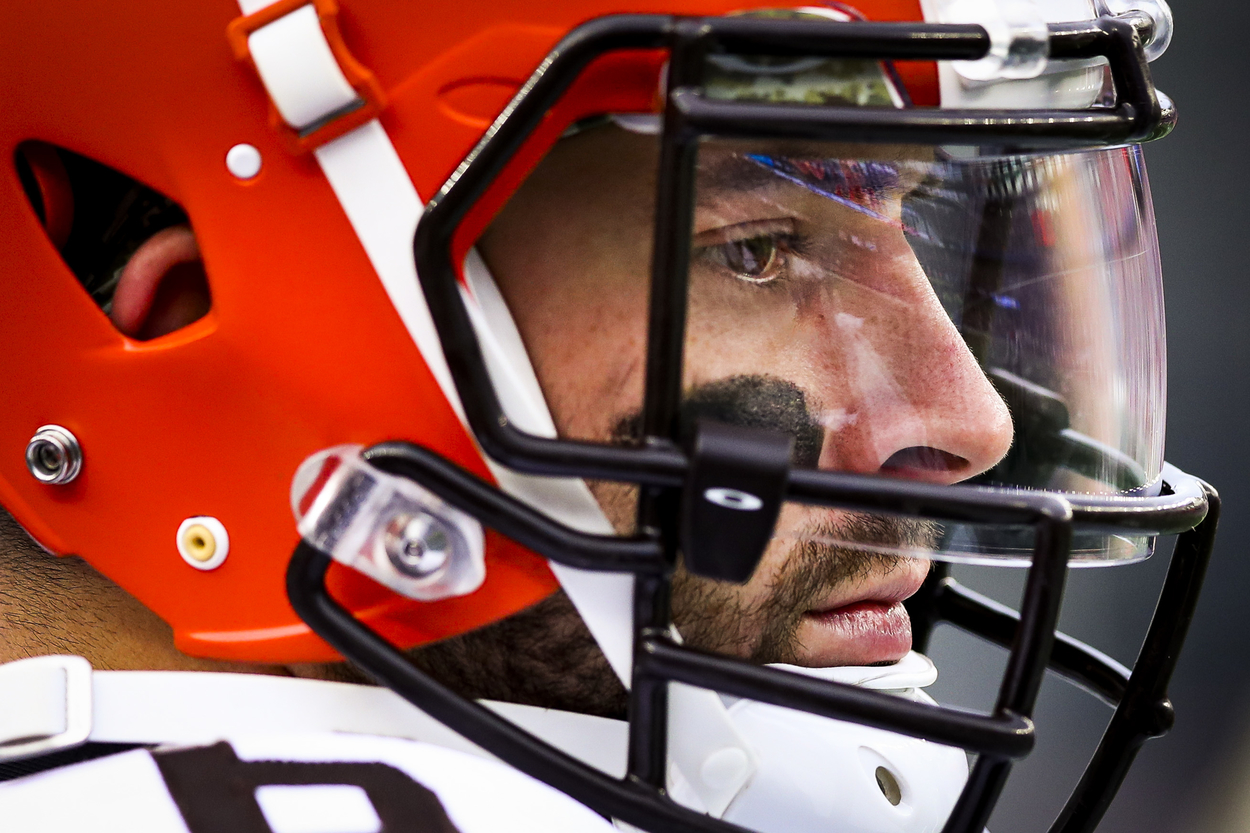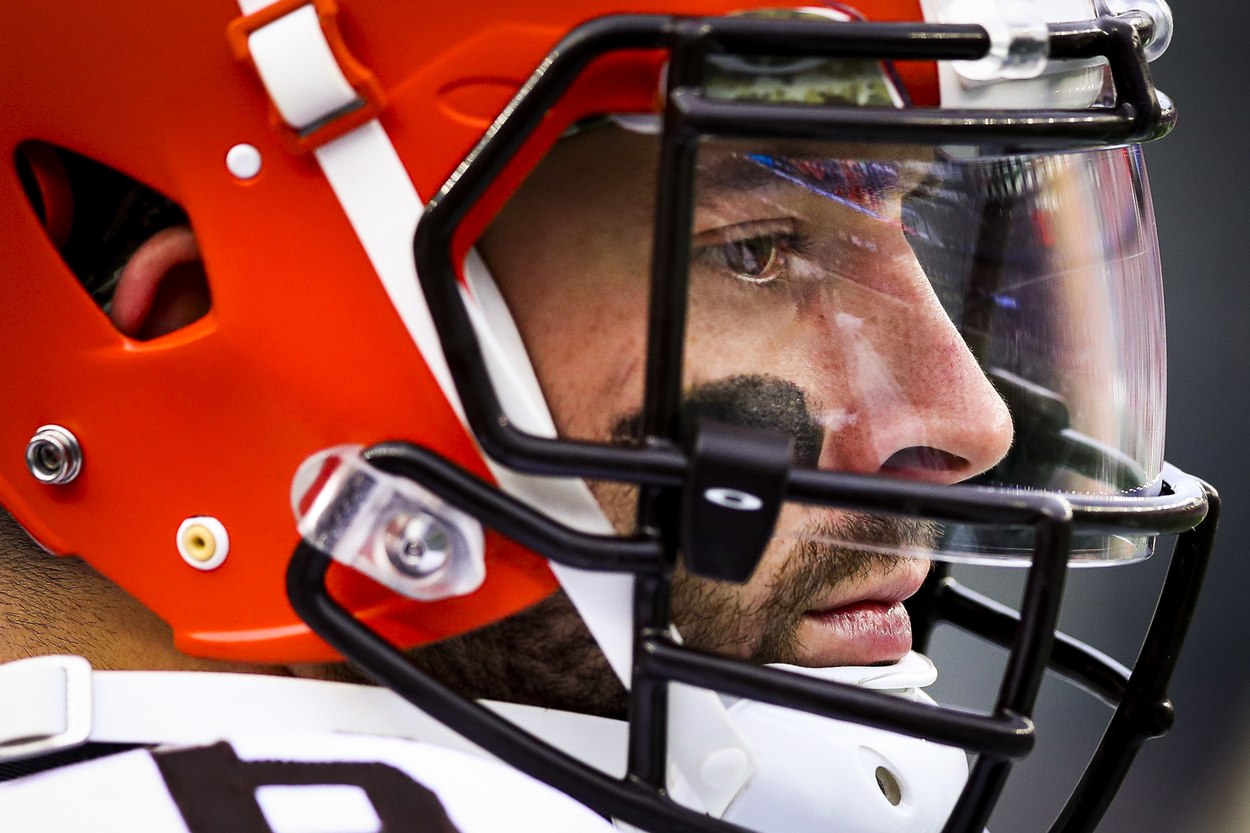 All in all, Mayfield has had a fine first four seasons in Cleveland. He entered Week 15 of the 2021 season owning a career 62.1 completion percentage, 13,718 yards, 88 touchdowns, and 50 interceptions. Perhaps most importantly, he's only tossed 15 picks since the start of the 2020 campaign.
However, the end of his time in Ohio could nonetheless be nearing.Mayfield has struggled with injuries and taking advantage of his weapons throughout the 2021 season. The fathers of wide receiver Odell Beckham Jr. (now with the Los Angeles Rams) and running back Kareem Hunt each publicly criticized the fourth-year quarterback for his play and decision-making.
Earlier this year, Cleveland picked up Mayfield's fifth-year option and guaranteed his $18.8 million salary for 2022 in the process. When the Browns made that decision, though, they envisioned him building off a stellar 2020 campaign and turning the long-suffering organization into one of the AFC's top teams.
Although he deserves credit for playing through injuries, Mayfield has looked limited as a passer, and the 7-6 Browns have suffered. Opponents outscored Cleveland 289-278 through the season's first 14 weeks.
As of publication, the Browns still had an opportunity to win the AFC North for the first time in franchise history. Cleveland last earned a division title in 1990 when they won the AFC Central, the division that became the North in 2002. Regardless, that accomplishment might not be enough to keep Mayfield in Ohio for the long haul.
Can the Browns guarantee having a better quarterback situation in 2022 if they trade Mayfield?
As with any significant decision, the Browns need to weigh the pros and cons regarding moving on from Mayfield. For what it's worth, the 26-year-old hasn't helped his case in recent months, and his play is only part of the problem. He's fired shots at fans, and his wife, Emily, has repeatedly made controversial comments on social media, including one earlier this season implying the quarterback's teammates lacked toughness.
Fair or not, those comments and seeming lack of chemistry and overall respect could – and should – open the door for Mayfield's departure. There will always be players who complain about not getting targets or wanting more snaps. However, problems understandably arise when a quarterback goes after the fans, especially those in Cleveland who have survived many cold days at the Factory of Sadness, and his wife doesn't know when to stop posting on Instagram.
On the other side of the coin, Mayfield has played well at times, and he's learned how to avoid turning the ball over. He's only had three games with two interceptions in 30 games (28 regular-season, two postseason) since the 2020 season began; Tom Brady, for all his positives, has done it eight times in 34 total games during that span.
At his core, Mayfield is a game-manager quarterback who hasn't learned to keep quiet – or how to convince his wife to put her phone down. Unless he throws all of her electronic devices into Lake Erie, there's no reason to believe either will change so long as both reside in Ohio.
Should the Browns trade Mayfield, or should they keep him for another year?
For the sake of time and sanity, we're not going to discuss a trade package here. The objective is to determine whether or not the Browns should consider trading Mayfield, not what the organization should demand in return.
At this point, we feel the Browns should only trade Mayfield if they can guarantee having a better option in place next year. Aaron Rodgers and Russell Wilson are each superior quarterbacks, even if they're significantly older than the Oklahoma product. While both are accomplished backups, Case Keenum and Colt McCoy are not the answer. If Wilson becomes avaliable and wants to play in Cleveland, the Browns need to pursue that move.
As for the draft, the Browns don't stand to lose much by using a non-first-round pick on a quarterback. Cleveland currently holds eight 2022 draft picks, including two in the fourth round, and could afford to use one on a developmental player who could open next season behind Mayfield.
Obviously, things can change in the coming months. The situation becomes far more different if Mayfield wins a Super Bowl or, conversely, if his wife goes on a five-post diatribe about how Cleveland is a disgusting city and Michael Jordan is a far superior player than LeBron James. 
Well, some in Cleveland might agree with the latter take, but our point stands.
Like Sportscasting on Facebook. Follow us on Twitter @sportscasting19.