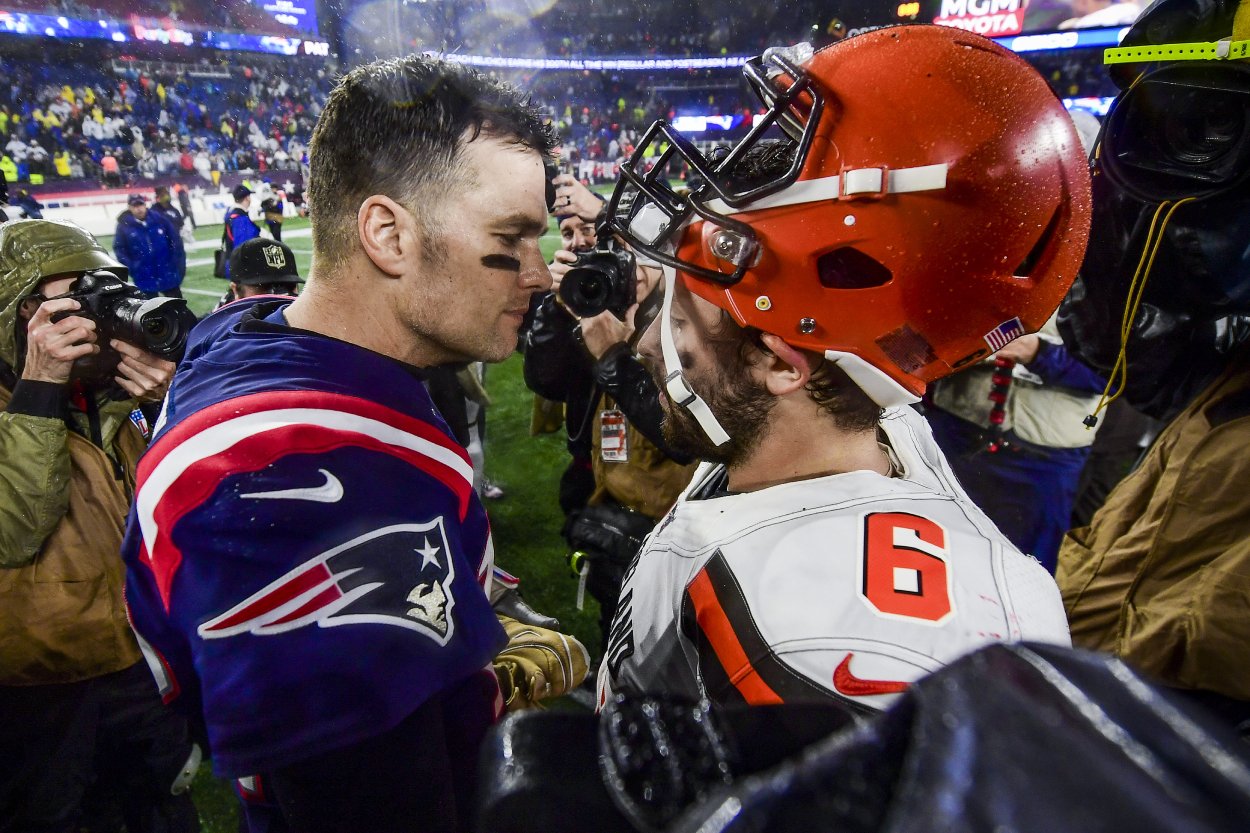 Baker Mayfield is Quietly Following the Same Path Tom Brady Took to Achieve NFL Greatness
Cleveland Browns quarterback Baker Mayfield is learning from what Tom Brady did at a young age.
At face value, comparing Cleveland Browns quarterback Baker Mayfield's first three NFL seasons as a starter to Tom Brady's is a ridiculous idea. We'll fully admit it.
Mayfield, the top pick in 2018, has come a long way in establishing himself as the Browns' future at quarterback. That's still nothing compared to Brady, who won Super Bowls in two of his first three seasons as a starter. So what has Mayfield following the path that made Brady arguably the greatest quarterback in NFL history?
Baker Mayfield has quietly become the quarterback Tom Brady was at a young age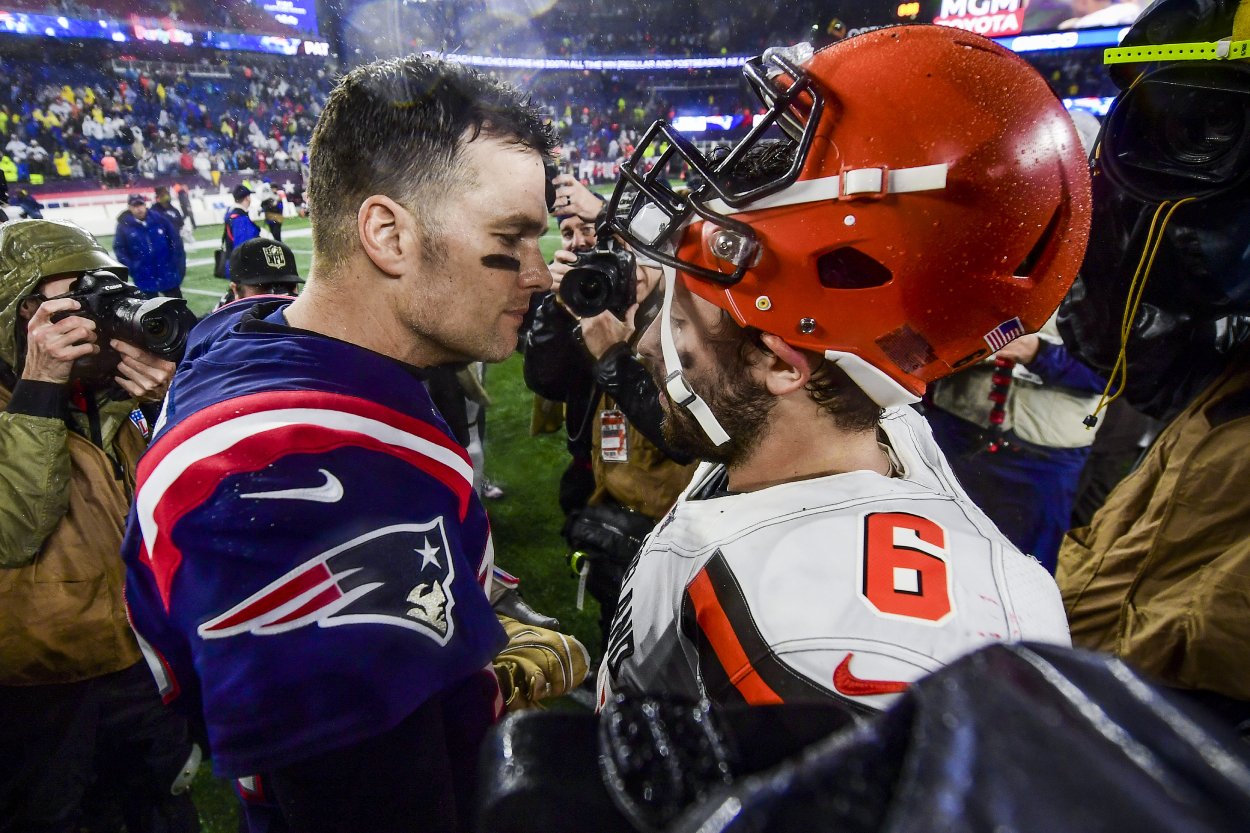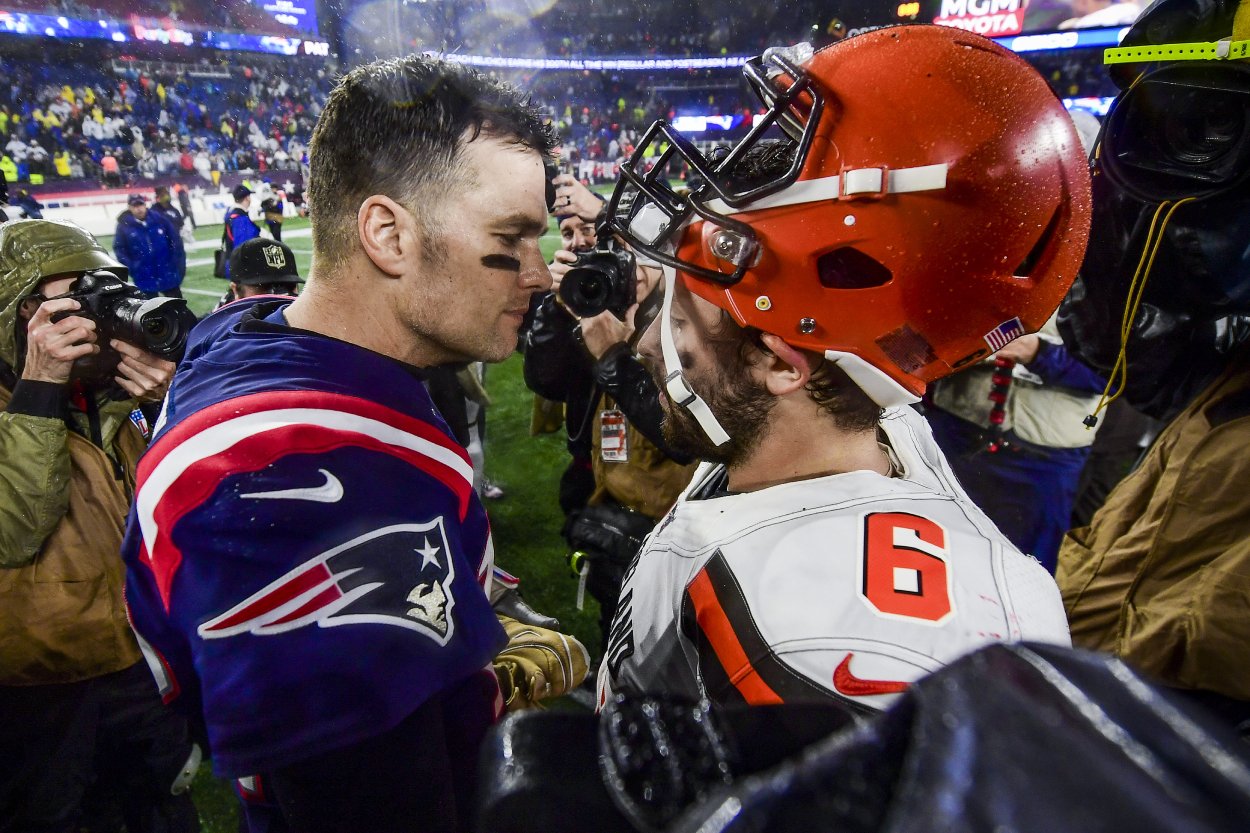 Anyone who watched the Browns late in the 2020 season, especially in the postseason, saw a much different Mayfield. The player who shredded defenses at the University of Oklahoma became a distributor and game-manager, someone who avoided turnovers and used his running backs to his advantage.
In the Browns' final nine regular-season games, Mayfield threw 11 touchdowns against only one interception in 288 pass attempts during that span. He also threw four touchdowns and a single interception in two playoff games.
Those aren't the flashy numbers that Aaron Rodgers or Patrick Mahomes posted, but it's what the Browns needed at the right time. It says something about a quarterback's development when they throw 13 fewer interceptions in their third season than they did as a sophomore.
Older Patriots fans will remember Brady playing similarly in the early 2000s. From 2001-03, Brady completed 61.9% of his 10,227 yards, 69 touchdowns, and 38 interceptions. He never threw for 30 touchdowns in a season until 2007, when he recorded an NFL-record 50 scores on a Patriots team that went 18-1.
At this point in his career, Mayfield has already realized his potential path to success doesn't need to always involve 450-yard games or 35+ pass attempts. Brady followed the same approach earlier in his career and had three Super Bowl rings by the time he was 28.
It is easy to forget Brady played the game-manager role earlier in his career
From 2001-06, Brady completed 61.9% of his passes and averaged 3,593 yards, 25 touchdowns, and 13 interceptions per year. In 2020, Mayfield completed 62.8% of his passes for 3,563 yards, 26 touchdowns, and eight interceptions.
Seeing Brady's statistics look so pedestrian or average might come as a significant surprise. Remember, this is someone who averaged 4,117 yards, 31 touchdowns, and eight interceptions per season from 2007-20 and is still going strong as he approaches age 44.
So what changed? The Patriots gave Brady better weapons along the way, for one. There's a major difference between having Deion Branch and Troy Brown as a duo instead of throwing to Randy Moss and Wes Welker.
Rob Gronkowski arrived in 2010 and immediately turned into a frightening matchup both in coverage and in the red zone. Brady naturally evolved as a quarterback and took more risks, and the Patriots needed him to do so. Only having one running back top 1,000 rushing yards in a season since 2013 goes a long way in needing a quarterback to throw as much as he can.
Mayfield and the Browns are poised to go a long way in 2021
Mayfield doesn't have the Super Bowl rings, but he's nonetheless in a much better situation than he or the Browns might have imagined when he arrived in 2018.
The Browns are back for more after nearly reaching the AFC championship game last season. Nick Chubb and Kareem Hunt are a formidable duo at running back, and Mayfield isn't selfish enough to forgo using them for him to have the numbers and the glory.
If Mayfield continues emulating Brady, it doesn't sound unrealistic to consider the Browns a Super Bowl contender. That's surely not a sentence one might have ever imagined reading in their lifetimes.
If the Browns do reach Super Bowl 56, maybe a matchup with Brady and the Buccaneers is what will await them. It'd make for an incredible story if Mayfield led the Browns to a Super Bowl title by using Brady's tricks against him on the world's biggest stage.
Like Sportscasting on Facebook. Follow us on Twitter @sportscasting19.