Baker Mayfield's Wife Passionately Defends Her Husband, Blasts Fans Who Blame Him for the Browns' Latest Loss: 'You Truly Don't Know What You Have'
They seem like such a happy-go-lucky couple when watching them in the Progressive commercials, but it appears Cleveland Browns quarterback Baker Mayfield and his wife Emily Wilkinson Mayfield have some fire to them.
Baker and the Browns suffered a devastating loss in Week 5, falling 47-42 to the Los Angeles Chargers, and although the QB played well, he still received his fair share of criticism after the game. Emily, though, didn't want to hear it, and she has since taken to Instagram to voice her frustrations with fans.
The Cleveland Browns lost to the Los Angeles Chargers in Week 5
Baker and the Browns took part in a back-and-forth affair with the LA Chargers in Week 5. They first led 20-13 at halftime, but the action really started heating up in the second half.
Cleveland took a 27-13 lead in the third on a Nick Chubb touchdown run, but LA made it 27-21 before the fourth. The Chargers then reclaimed the lead, 28-27, with 11:22 left when Justin Herbert found Mike Williams for a TD. Baker, though, then connected with David Njoku for a 71-yard touchdown pass to grab a 35-28 lead less than a minute later.
The teams then traded rushing TDs, as Cleveland led 42-35 with 4:45 left, but the Chargers scored on an Austin Ekeler touchdown catch with 3:15 remaining, making it 42-41 after a missed extra point.
The failed kick didn't hurt LA too badly, though, as Ekeler ran for a touchdown again with 1:31 remaining, and the Chargers won 47-42.
Both quarterbacks played well. Baker threw for 305 yards, two touchdowns, and no interceptions, while Herbert recorded 398 passing yards, four touchdowns, and no picks.
However, it appears some Browns fans didn't think their QB played well enough.
Baker Mayfield's wife Emily blasted fans on Instagram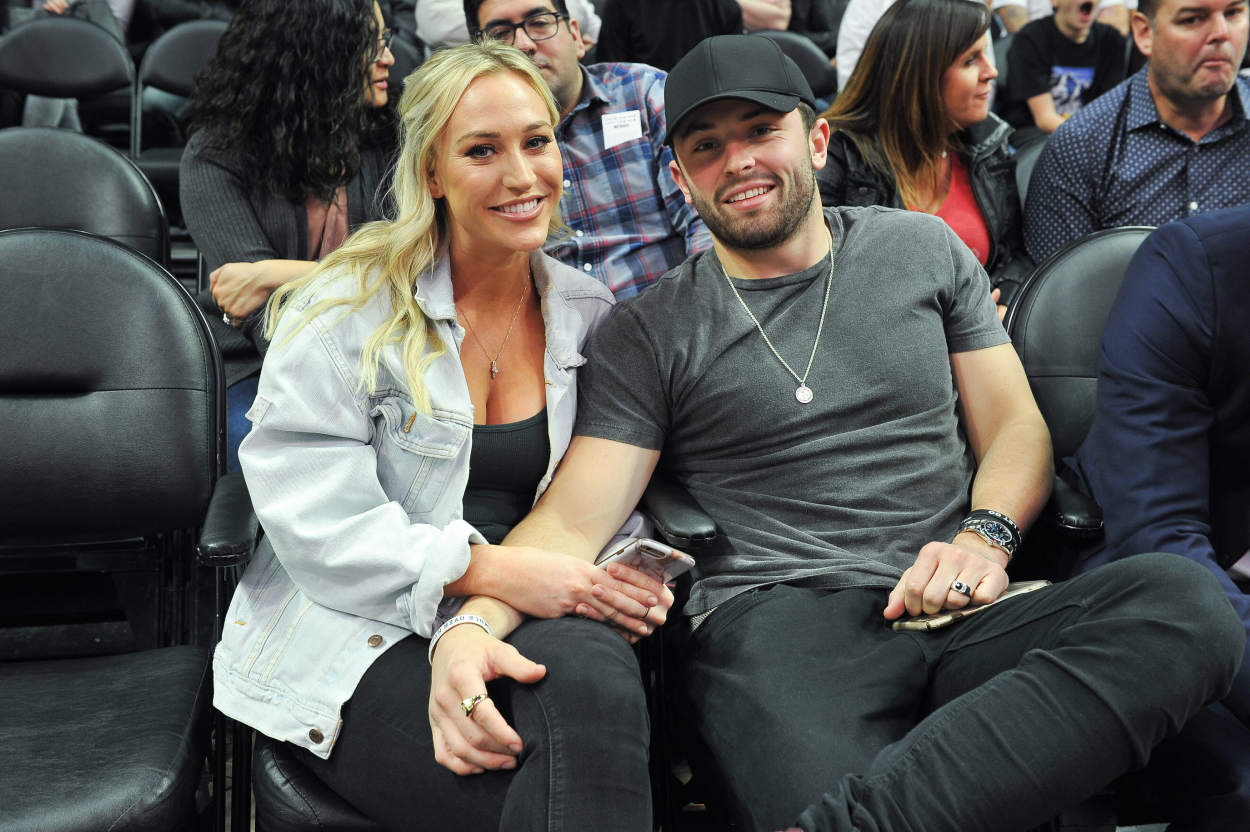 All fan bases want their team to win every game, and despite Cleveland's storied history of losing, Browns fans are no different. So, some die-hards apparently blamed Baker for the team's loss to the Chargers, and his wife Emily Mayfield didn't take kindly to the criticism.
"For all of you 'fans' who are blaming yesterday's loss solely on Baker, wake up," she posted on her Instagram story, per Cleveland's Fox 8. "It was one hell of a game and that game could have gone either way. He left it all on the field."
Emily didn't stop there, though. It seems that she wants fans to be grateful for what her husband has done for the Browns' organization.
"You truly don't know what you have. I have watched him give his all and change the entire culture in CLE, yet he gets so little credit for it," she wrote. "He never asks for recognition and continues to carry the weight day in and day out, despite the hate. If you're a true fan, SUPPORT our guys. Baker, and everyone else. The hate does NOTHING for them."
Whether Baker deserves any criticism or not, there are always fans who take things too far. Some of them likely did just that after the game, which drew out Emily's reaction.
But now, her husband needs to rally his team and bounce back.
Baker Mayfield still needs to step it up for the Cleveland Browns
Attacking Baker for his play against the Chargers was certainly the wrong time to do that. He played his best game of the season, completing nearly 72% of his passes and throwing no interceptions.
But he still needs to play better than he did in previous weeks.
The former Heisman Trophy winner has essentially been a game manager so far this year. He has thrown for under 250 passing yards in three of his five games, and Week 5 was the first time he had more than one TD pass in a game all season. In total, Baker has thrown for 1,240 yards, four touchdowns, and two interceptions this year.
Of course, he has played well enough to win in three of five games, and it helps that he has two excellent running backs in Nick Chubb and Kareem Hunt. But now that Cleveland sits at 3-2, which is tied for second in the AFC North with the Cincinnati Bengals and a game behind the 4-1 Baltimore Ravens for first, Baker needs to rally his team and step it up.
The Browns have a tough game in Week 6, as they play the undefeated Arizona Cardinals. The Bengals, on the other hand, play the 0-5 Detroit Lions while the Ravens play the Chargers, who are 4-1. Falling to 3-3 would put Cleveland in a brutal hole, especially if Baltimore wins.
Right now, the Browns are still in good shape. But losing in Week 6 would make things pretty difficult for them. If they want to beat the Cardinals, Baker needs to be much more than a game manager. He needs to step it up and prove why he was a No. 1 overall pick.
Stats courtesy of Pro Football Reference
RELATED: Baker Mayfield Lashes Out in Cryptic Instagram Post After Injury News: 'People Seem to Forget How I Got Here… Nothing Was Given'