Baker Mayfield Will Soon Be Bronzed by Oklahoma's Football Program
Any trip to Norman, Oklahoma, wouldn't be complete without a visit to Gaylord Family Oklahoma Memorial Stadium. And any visit to the home of the Oklahoma Sooners football team must include a tour of the Coaches Courtyard, which houses bronze statues of great coaches such as Barry Switzer, Bud Wilkinson, and Bob Stoops.
A short distance away sits Heisman Park, a tribute in bronze to Heisman Trophy winners who donned Oklahoma Sooner uniforms. A new addition is scheduled to be added to the likes of Billy Sims, Sam Bradford, and Jason White at some point, hopefully in 2021. A special spot is being designated for the 2017 Heisman winner, Baker Mayfield, who played for Oklahoma 2015-2017. The statue is expected to be completed this fall with an unveiling scheduled for Spring 2021 with a bronze likeness of 2018 Heisman Winner Kyler Murray to follow soon thereafter.
Baker Mayfield was a Texas high school football star
Baker Mayfield is a product of Austin, Texas' Lake Travis High School. Although QB Mayfield led his team to a state title in 2011, his low three-star recruiting status led to offers from the likes of Florida Atlantic, New Mexico, and Rice. Instead of accepting those scholarships, Mayfield paid his way to Texas Tech, where he played as a walk-on.
Projected 2013 Red Raiders starter Michael Brewer was injured before the start of the season, putting Mayfield under center as a true freshman. The first-year QB led the team to a 5-0 start to the season, but an injury sidelined him, and he never truly reclaimed his prime starting role.
"When I got hurt, there was no communication between me and my coach (Kliff Kingsbury)," Mayfield told ESPN at the time. "When I got healthy, I didn't know why I wasn't playing right away. At that time, we were losing a couple games in a row. I was still clueless as to why I wasn't playing. That was really frustrating for me because I started the first five games and we won. So, I just didn't really know exactly what he was thinking or what the situation was."
Next stop for Mayfield: Norman, Oklahoma
While somewhat in dispute, Mayfield claims he never was offered a scholarship for his sophomore year at Texas Tech. Given the NCAA's rules about collegiate athletes transferring, Mayfield sat out the 2014 season before joining Oklahoma's football team on a scholarship.
The length of Mayfield's eligibility did raise some questions. Because he was a walk-on and the fact that Texas Tech did not offer him a scholarship, the NCAA granted the new Sooners quarterback an extra year of eligibility. That ruling gave the Texas native more time to show off his prodigious collegiate skills.
In his three years at Oklahoma, Mayfield put up some video-game numbers: close to 13,000 yards passing that resulted in 119 touchdowns to go along with 893 yards rushing. In 2017, Mayfield won the Heisman Trophy ahead of Bryce Love and Lamar Jackson.
Baker Mayfield answers the question, "who's No. 1?"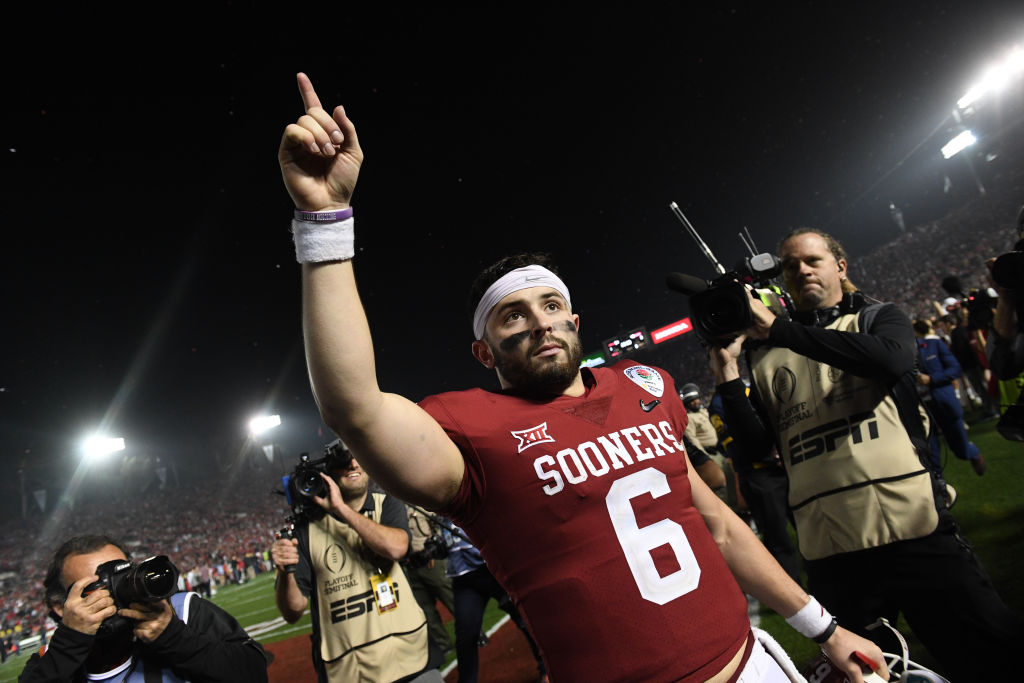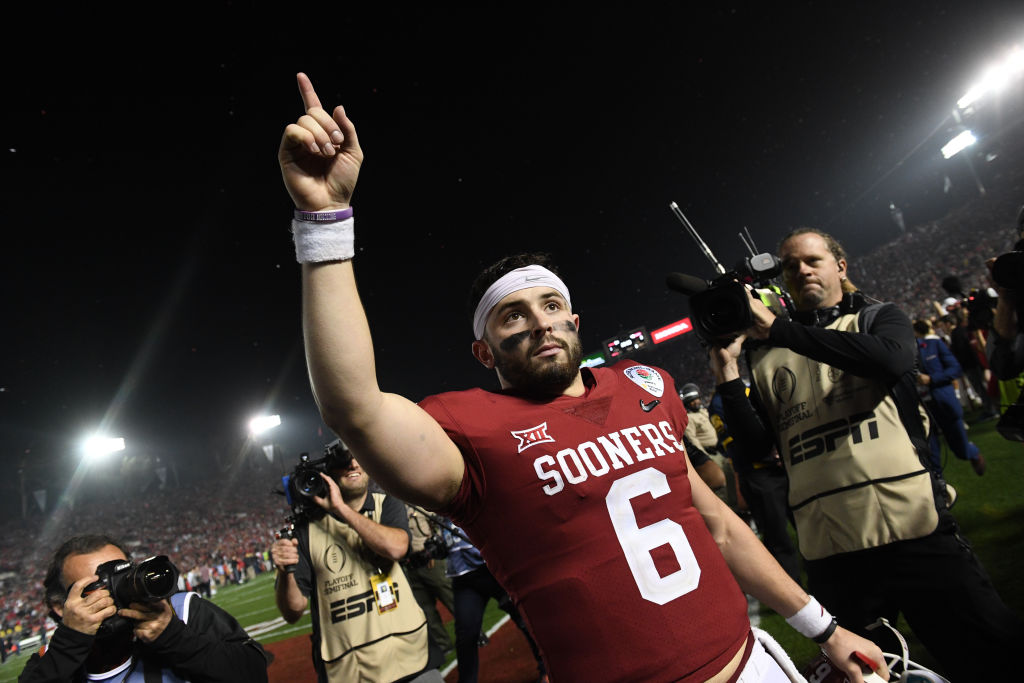 Mayfield was selected first by Cleveland in the 2018 NFL draft ahead of Saquon Barkley and Sam Darnold. After a solid rookie season with the Browns that earned him a 93.7 QB rating, Mayfield slipped in 2019 with more interceptions and fewer touchdowns than in his first campaign. The Browns signal-caller put up a disappointing 78.8 QB rating for his second season.
With another year under his belt, and an arsenal of offensive talent surrounding him (OBJ, Austin Hooper, Nick Chubb, Kareem Hunt), the 2020 season could be a nice bounce-back season for Mayfield when the team eventually kicks off against the Ravens in a tough opener.
Come what may for the upcoming season, Mayfield can take comfort in knowing he can return to his former glory years at Oklahoma in 2021. No matter what trajectory his NFL career takes, Baker Mayfield's bronze likeness will forever pay tribute to his time as a Sooner superstar.