Baker Mayfield's Biggest Critic Says Browns Have Made Million Dollar Decision: 'A Lot of Cleveland Players Just Don't Respect Him'
The Cleveland Browns have a massive decision to make on their quarterback, Baker Mayfield.
Now losers of two of their last three and coming off an ugly 16-10 loss to the Baltimore Ravens that saw Mayfield throw for just 247 yards and a touchdown while also losing a fumble, the Browns are 6-6 and perilously close to missing the playoffs.
Whether they miss the playoffs or make them, though, Colin Cowherd, noted Mayfield critic, thinks the Browns have already decided to move on from their No. 1 overall pick from 2018.
Colin Cowherd believes the Cleveland Browns are done with Baker Mayfield
Mayfield has battled injuries all season, but he's far from living up to the Browns' expectations in 2021. He's completed 194-of-312 passes for a 62.2% completion percentage that's near the worst in the league. He's thrown for just 2,413 yards and 11 touchdowns with six interceptions. He's also put the ball on the ground nine times, losing two.
It has been a tumultuous season for the franchise's supposed star quarterback, from seemingly calling out Cleveland fans to yet another father of one of his teammates criticizing him.
With Mayfield entering the last season of his contract in 2022, Cowherd believes the Browns have already decided to move on from him.
"The Cleveland Browns are not going to say this publically, [but] they've made their decision on Baker Mayfield. They're not paying him $30 or $40 million," Cowherd said on the latest edition of The Herd. "There's too much turmoil. There's too much ego. There's too much snark. There's too much agitation. He's battling with somebody constantly."
The radio host went on to compare Mayfield to Tom Brady and Peyton Manning. While it's somewhat unfair to compare him to two of the greatest quarterback of all time, Cowherd's point was that neither quarterback has ever had a teammate call them out.
"Baker Mayfield has had two in the last three weeks. Why? A lot of the Cleveland players just don't respect him," Cowherd said.
Cowherd's criticisms of Mayfield are hard to ignore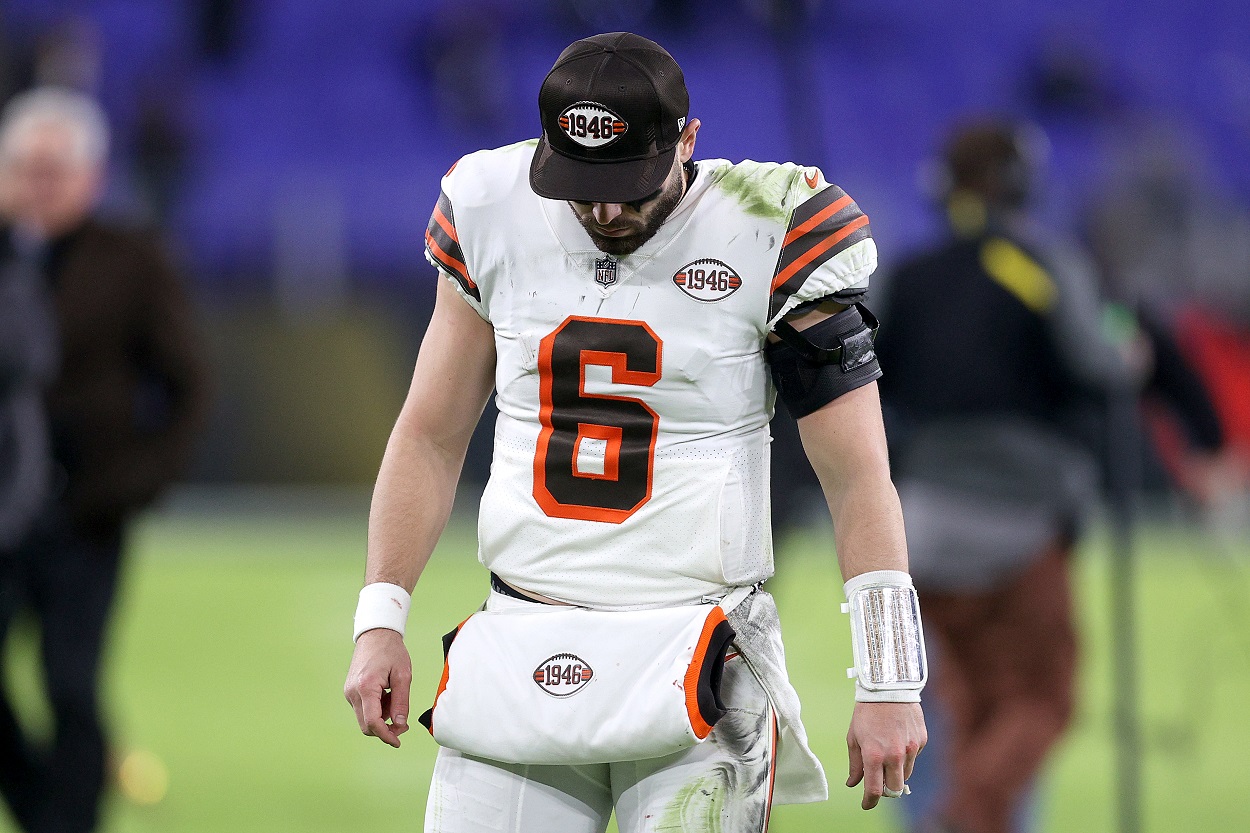 Cowherd is known to have sources within the NFL, but it's unclear whether or not he's reporting that Mayfield's teammates don't respect him or he's just reading the tea leaves.
It seems more like the latter, but there is undoubtedly a ton of smoke, so there must be fire surrounding Mayfield.
Before Odell Beckham Jr. was cut from the team, his father had gone on social media and openly criticized Mayfield. Running back Kareem Hunt's father also just took to social media to criticize the Cleveland quarterback.
"It's always something with Baker. It's calling out the medical staff. It's calling out Duke Johnson. It's calling out a teammate. It's a player's dad. It's an injury," Cowherd ranted. "He's on his fourth coach. I see all these Browns fanboys blaming Kevin Stefanki. He won coach of the year last year, and now he's a bum?"
To be fair to Mayfield, he hasn't received direct criticism from his teammates, and head coach Kevin Stefanski has said he won't bench Mayfield despite the quarterback openly playing injured.
"Why would we do that? We're not doing that," Stefanski said, per NFL.com.
Stefanski's thoughts aside, Cleveland has scored only 27 points over the past three games, and that includes just 13 points over the hapless Detroit Lions.
Though displaying great toughness, Mayfield has not played well.
Mayfield's maturity has often been questioned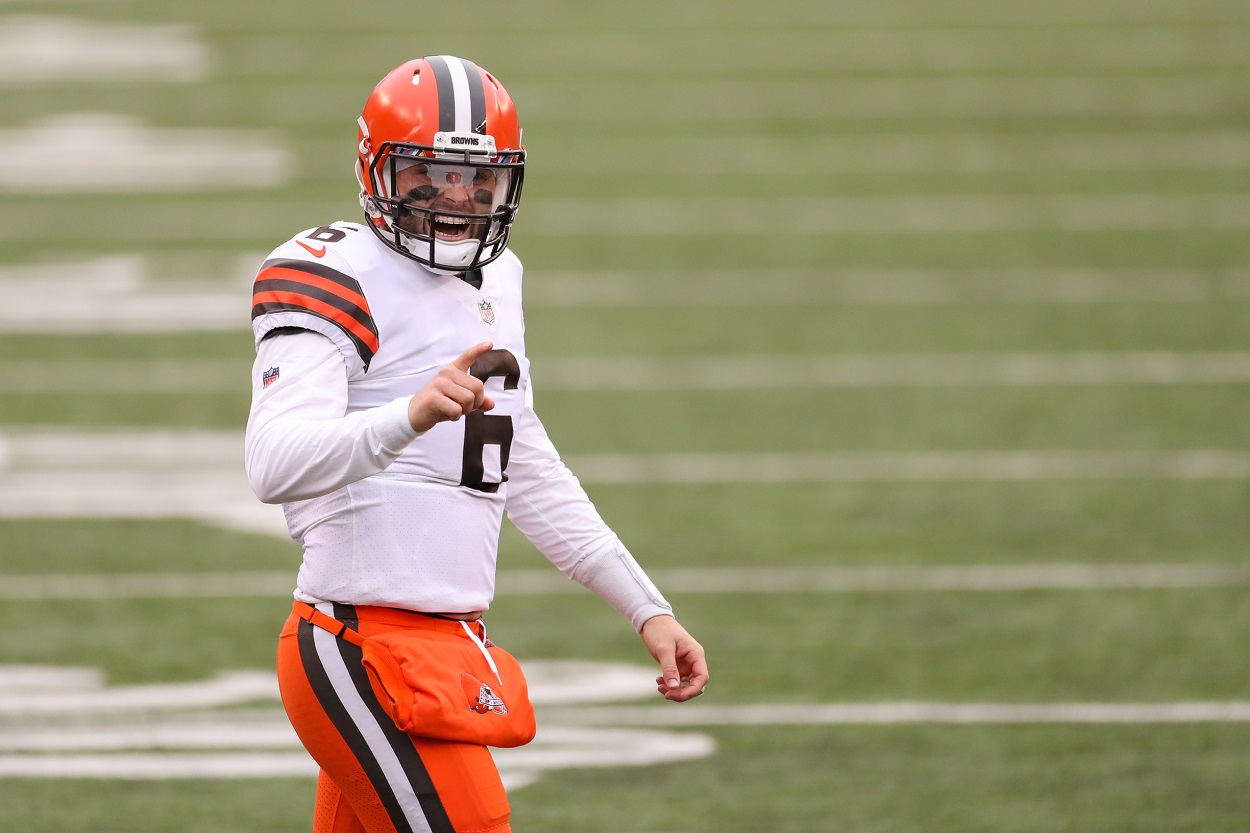 Mayfield has always been known as a polarizing player, but when he's on his game, there are few better. It's what made him so special for the Oklahoma Sooners. It's what made him a Heisman Trophy winner. It's what made him the No. 1 overall pick in the draft.
There have been open questions bout Mayfield's maturity, though. No, he's never been on the Johnny Manziel path to self-destruction, but there seem to be little things that make you think twice in a league where the quarterback is basically the face of the franchise.
.
"Maturity is a huge component to quarterback. It's unfair, but you've got to be as mature as a 32-year old at 22," Cowherd explained.
Cowherd brought up several "off-field" instances from Mayfield, including a time in college when he was tackled by a police officer while drunkenly trying to make a run for it.
"He's not talented enough to overcome all the noise you get," Cowherd continued. "With Baker, I get all the agitation, and I get no upside. If you're going to give me all this nonsense, you've got to burst through the ceiling and give me five touchdown games."
Playoffs or not, Cleveland has a pivotal decision to make on Mayfield, soon.
If Cleveland believes he can still lead the franchise, they'll give him a big contract extension past 2022, and he and the Browns will move forward together. If the Browns are over Mayfield, though, all sorts of options are on the table, including a trade. Moving on makes the most financial sense for Cleveland, though. Mayfield will want a significant contract extension, but the Browns don't have to give him one.
If you believe Cowherd, all those decisions have already been made by Cleveland. The Browns are simply just running the clock out on the Mayfield era.
"They made their decision," he said of the Browns. "They're just not going to say it publically."
Stats courtesy of ESPN and Pro Football Reference.