Baker Mayfield's Shoulder Injury Was Far More Serious Than Anyone Realized, According to Case Keenum
Baker Mayfield's shoulder has been a consistent talking point in Cleveland this year. The controversial quarterback injured his non-throwing shoulder early in the season and was forced to wear an awkward-looking harness for the remainder of the year.
For the most part, the Cleveland Browns found ways to trot Mayfield out under center every week. He only missed two starts between Weeks 1 and 17.
This cast some uncertainty on the severity of Mayfield's injury. Several fans and NFL analysts alike started speculating if the shoulder was more so a way for Mayfield to excuse his poor play. One can reasonably argue 2021 was Mayfield's worst year in the NFL — anyone in his shoes would presumably be looking for a way to explain his struggles.
Browns QB Case Keenum shed some important light on Baker Mayfield's injury struggles
The Browns officially shut Mayfield down after their Week 17 loss, allowing him to undergo surgery on his injured shoulder. This was enough for most people to acknowledge the severity of Mayfield's situation. However, Case Keenum's (Browns backup QB) comments sealed the deal.
When asked about Mayfield, Keenum described him playing through pain as a "small miracle."
"One of the gutsiest, toughest performances from a quarterback in a season I've ever seen," Keenum said. "One of the toughest guys I know. He's a fighter and came to fight every day. … Tremendous amount of respect for him, and it grew."
"There were some weeks; getting [Mayfield] onto the field was a small miracle."
As someone who worked closely with Mayfield all season long, Keenum is no stranger to what the Browns' starter was dealing with daily. Clearly, Mayfield's shoulder situation was worse than we were all led to believe.
Does Baker Mayfield's shoulder explain his poor play?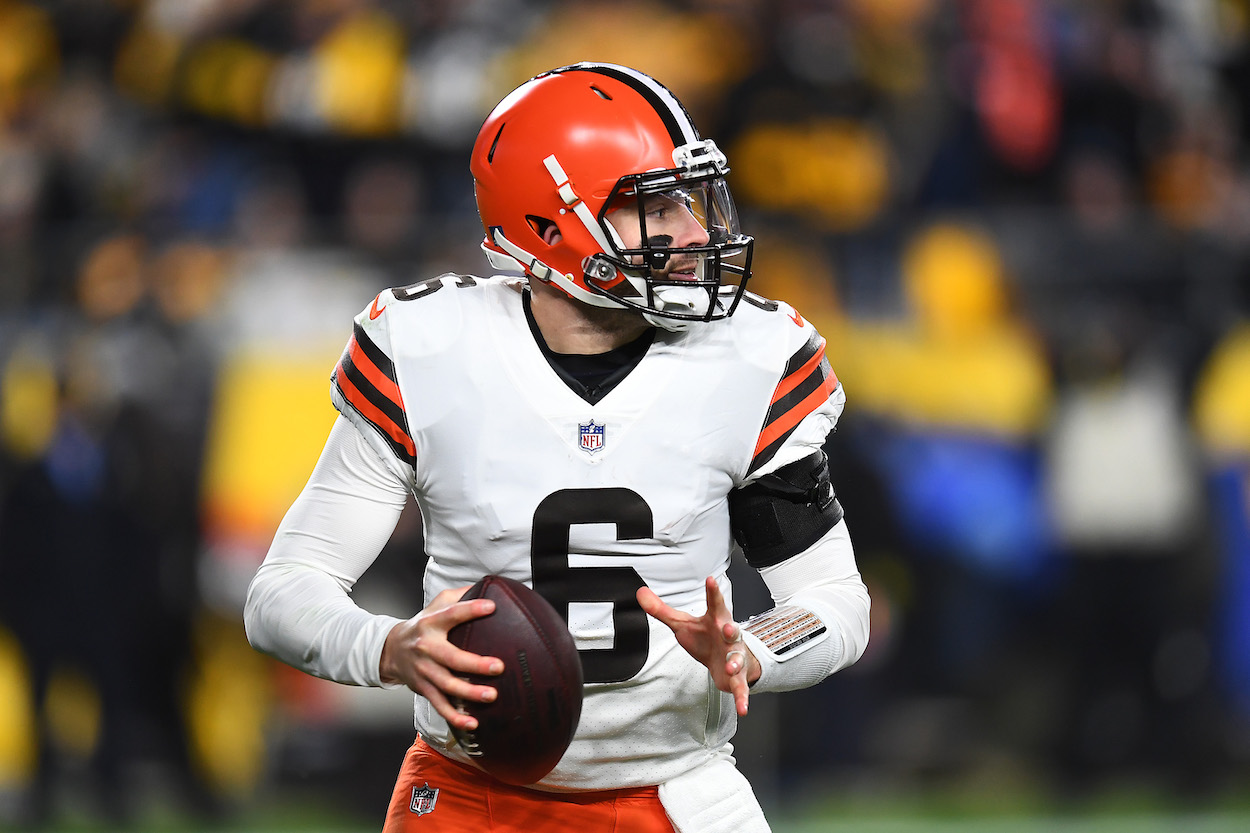 If Mayfield's shoulder was truly as messed up as Keenum describes, it's hard to ignore the role it played in him struggling this year.
Mayfield was coming off an exceptional 2020 season the year prior as well. The general expectation was that he would continue improving as he grew physically and emotionally.
Instead, Mayfield spent most of 2021 navigating through the NFL with a clunky harness on his left arm. Most quarterbacks would struggle under these circumstances.
What next for the Browns?
Exiting the 2021 season, the main question on everyone's lips in Cleveland is, "what's next?"
Does Mayfield get the shoulder surgery and return to his 2020-self next season? Or do the Browns begin looking elsewhere at the quarterback position?
Does Mayfield even want to return to Cleveland? It's hard to imagine him not being slightly frustrated with being forced to play all year long on a seriously injured shoulder. A more safety-focused organization likely would've told their QB to get operated on months ago.
Regardless, Mayfield's injury situation is critical to Cleveland and the rest of the NFL. His rehab process will likely dictate what the Browns do at QB next year. It could also play a role in QB-needy teams being interested in a potential Mayfield trade or not.
Like Sportscasting on Facebook. Follow us on Twitter @sportscasting19.