Baker Mayfield's Trash Talk Won Over His Cleveland Browns Teammates
Going 0-16 in 2017 gave the Browns the advantage of getting the No. 1 pick in the 2018 draft, and with that pick, they selected Oklahoma QB Baker Mayfield. The 2017 Heisman winner began his rookie season as the backup to Tyrod Taylor, but it didn't take long to show why the Browns took him at the top of the draft. Mayfield made an immediate impact once he got his first game action in relief of Taylor in Week 3, and he subsequently took over the starting role. He really impressed his teammates in that Week 3 contest against the Jets when he began trash-talking the opponents.

Baker Mayfield's trash talk
Former Browns offensive line coach Bob Wylie — who was the breakout star of the Browns' season of Hard Knocks — recalled a story of the team's offensive linemen returning to the sideline laughing during that Week 3 Thursday night game last season. ESPN's Dianna Russini shares Wylie's anecdote in a series of tweets. When Wylie asked the players what was so funny, they told him that one of the Jets defenders was trying to get Mayfield off his game by taunting "hey rookie. we are coming after you."

Mayfield responded to the lineman with trash talk of his own, saying "I don't even know who you are man." That was when the Browns' line knew that Mayfield was the right guy to lead the offense into the future.

Mayfield's rookie campaign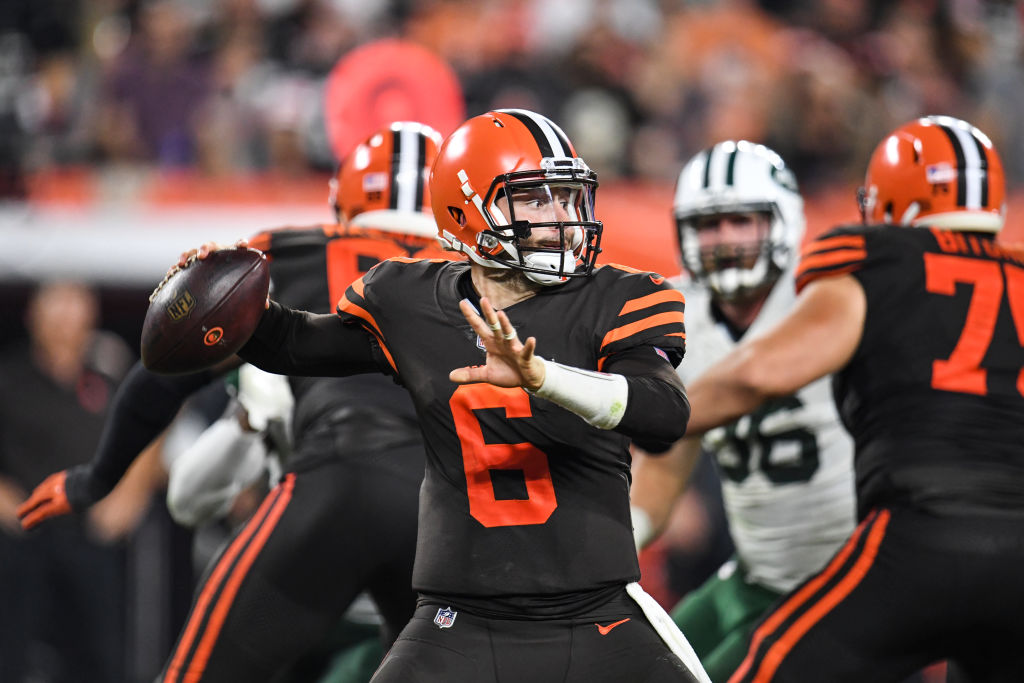 After entering the Jets game after Taylor suffered a concussion, Mayfield finished that game and started the final 13 of the season. He ended up having a good rookie season, throwing for 3,725 yards and 27 touchdowns with 14 interceptions. The Browns went 6-7 in Baker Mayfield's starts. He put up those numbers without a receiver catching more than 81 balls or totaling 1,000 receiving yards for the season. Mayfield's rookie season could have been even better if he had better weapons around him, which he should have this season.
Roster changes for 2019
The Browns made one roster change in particular that should help Mayfield in his sophomore season. In March, they made a trade with the Giants to acquire star WR Odell Beckham Jr. in exchange for a first- and third-round pick in this year's draft and safety Jabrill Peppers. Beckham hasn't played a full 16-game season since 2016 because of injuries, but when he's on the field, he's one of the best receivers in the league. In addition to trading for Beckham, the Browns added some running back depth behind starter Nick Chubb by signing Kareem Hunt, who is suspended for their first eight games of the season but should perform well in the second half.

Browns' 2019 outlook
Baker Mayfield had a good rookie season, and adding Beckham to the receiving corps should only help Mayfield put up better numbers in 2019. The Browns have a formidable one-two wide receiver duo with Beckham and Jarvis Landry, along with a good pass-catching tight end in David Njoku.
Running back Duke Johnson gives Mayfield another option in the passing game as he is one of the top pass-catching running backs in the NFL. Johnson has had more receiving yards than rushing yards in each of his four seasons in the league, with a career-high of 74 receptions in 2017. Thanks to what should be a potent offense, the Browns are a trendy pick to make the playoffs — which would be their first time there since the 2002 season. The AFC North looks to be a division that is up for grabs with the Steelers likely regressing without WR Antonio Brown or RB Le'Veon Bell, and the Ravens have some questions of their own, like how second-year QB Lamar Jackson perform in his first season as the full-time starter.