Baker Mayfield's Ugly Struggles Against the Winless Lions Proves Odell Beckham Jr. Was Being Scapegoated for the Browns' Struggles
Many initial reactions popped up when the Cleveland Browns first parted ways with enigmatic wide receiver Odell Beckham Jr. For starters, OBJ was a free agent for the first time in his NFL career, and all eyes were turned on him as he took his time making a decision. However, another side to the story envisioned Browns quarterback Baker Mayfield experiencing a second-half surge without Beckham Jr. on his roster.
Few out there deny OBJ's raw talent. However, the connection between him and Mayfield was questionable at best.
Baker Mayfield isn't loving life without Odell Beckham Jr.
Mayfield and the Browns kicked off the post-OBJ era with a commanding 41-16 win over the Cincinnati Bengals. Donovan Peoples-Jones racked up 86 yards on just two catches, seamlessly filling the void left by Beckham's departure.
However, fast forward to the next week, and things quickly started crumbling down around Mayfield and the Browns.
The New England Patriots crushed them 45-7. Mayfield passed for 73 yards, one touchdown, and one interception on 21 pass attempts and was eventually replaced by Case Keenum late in the ballgame. It was a brutal reminder for Cleveland as to just how far away it is from being a serious threat in the AFC.
The following week (Week 11), things barely improved for Mayfield and the Browns. They scraped by the winless Detriot Lions 13-10. Mayfield passed for a measly 176 yards on 29 attempts. He also threw an additional two interceptions, taking his season total up to six.
Baker Mayfield is dealing with injuries
While Mayfield has looked like a replacement-level player the past two weeks, it's essential to highlight he's playing through a torn shoulder. He suffered the injury early on in the season, and it's undoubtedly playing a role in his declining play.
However, this shouldn't be served up as an excuse for Mayfield's performance this season. If he were too injured to play, the Browns would presumably bench him in favor of Case Keenum — a backup QB with significant NFL experience.
Shoulder injury notwithstanding, Mayfield is struggling to complete NFL-caliber passes, which is something that frustrated Beckham during the first half of the 2021 season.
Odell Beckham Jr. was a scapegoat for the Browns' struggles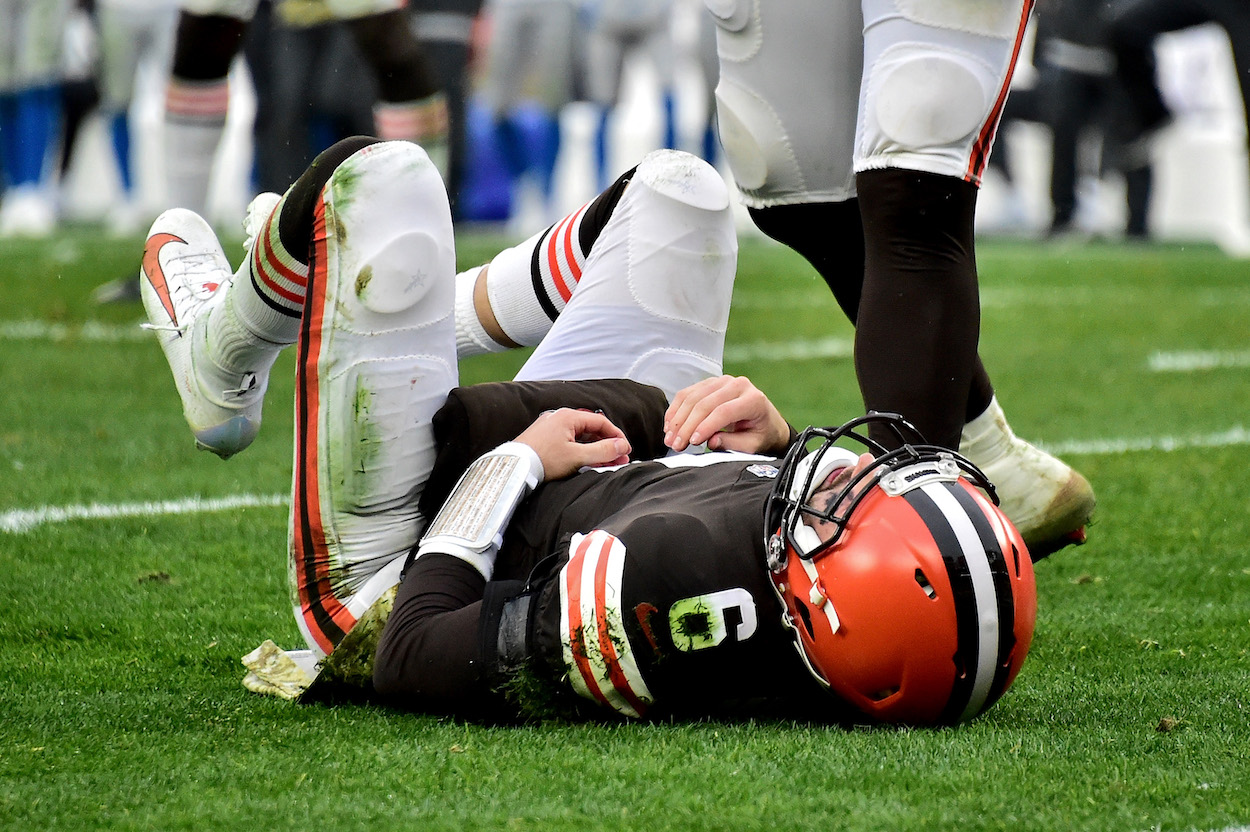 Beckham is not the easiest of players to play with. This has been well-documented throughout his career. He's a me-first type of player who demands a high number of targets.
However, that doesn't mean he's not an effective receiver. With the NFL becoming more and more pass-heavy over the past few seasons, one could reasonably argue OBJ's style of football is somewhat productive. Fellow WRs Davante Adams, Justin Jefferson, and Tyreek Hill all demand many targets per game, and their teams have no issue complying.
The issue in Cleveland wasn't just OBJ. Mayfield and the coaching staff were reluctant to use him as a proper WR1 week in and week out. If Beckham's presence was so distracting that it was causing the Browns to magically lose games, they should've improved upon his departure. This didn't happen. If anything, they've looked worse with OBJ off the roster.
Beckham still has work to do proving himself as a winning player with the Los Angeles Rams. However, it's becoming pretty clear he's not nearly as toxic as some Browns fans wanted to believe. He and Mayfield were simply a bad fit together. Nothing more, nothing less.
All stats courtesy of Pro Football Reference.