Either the Baltimore Ravens or Las Vegas Raiders Are Destined for the Super Bowl According to 1 Stat From the 2021 NFL Season So Far
Week 1 of the NFL season kicked straight into high gear. The Green Bay Packers' uncharacteristically disastrous debut was a major story, as was the debut of quarterback Justin Fields with the Chicago Bears. But the best game of the week was without a doubt the Monday Night Football overtime barnburner between the Baltimore Ravens and Las Vegas Raiders.
It turns out it was notable in one historically significant way, beyond the pure sports entertainment on display. Some fans think this nearly unique Monday night showdown points to bigger things this year, including a potential Super Bowl entrance for one of these teams.
The first Monday Night Football game of 2021 was a must-watch TV event
The evening saw Baltimore QB Lamar Jackson's newer, more pass-heavy approach square off against Derek Carr's long balls to an accomplished receiving corps. The game came to a slow boil. Then, it exploded in the second half as both teams cashed in on rushing and receiving yards, respectively.
Fans weren't wrong to be exuberant about this game. An NFL.com report points out that several unique moments emerged, details far more interesting than the happenstance of a MNF game going to OT in Week 1. The Ravens — in a losing effort — kept up their streak of 100+ rushing yards per game. They hit 40 consecutive games with their 189 yard performance, with the next closest teams stuck at seven.
As for the Raiders, Carr's touchdown pass to Zay Jones was bolstered by an incredibly rare play, the zero blitz. Eight rushers went in to make the magic happen. This particular play has only worked during OT one other time in the Next Gen Stats era. It put a bow on the long primetime bash, instantly handing a narrow 33-27 win to the Raiders. What a way for fans to inaugurate Allegiant Field with their raucous presence!
The only other time a Week 1 MNF game went into overtime
Week 1 is usually a slower start for NFL teams. So slow, in fact, that only a single other Week 1 MNF game has ever gone past regulation. The NFL's Media Research Team, which runs a Twitter account packed with interesting factoids in near real-time, pinned down exactly which game.
The Pittsburgh Steelers took down the New England Patriots 16-13 in that prolonged battle. That momentum apparently set the tone so strongly that the Steelers pushed through the rest of their matchups, culminating in a Super Bowl XIV victory.
Eagle-eyed fans, having fun with the historical precedent, hope to see similar momentum carry one of the teams from 2021's Week 1 game to Super Bowl LVI.
Baltimore Ravens and Las Vegas Raiders fans think this MNF showdown could be a Super Bowl preview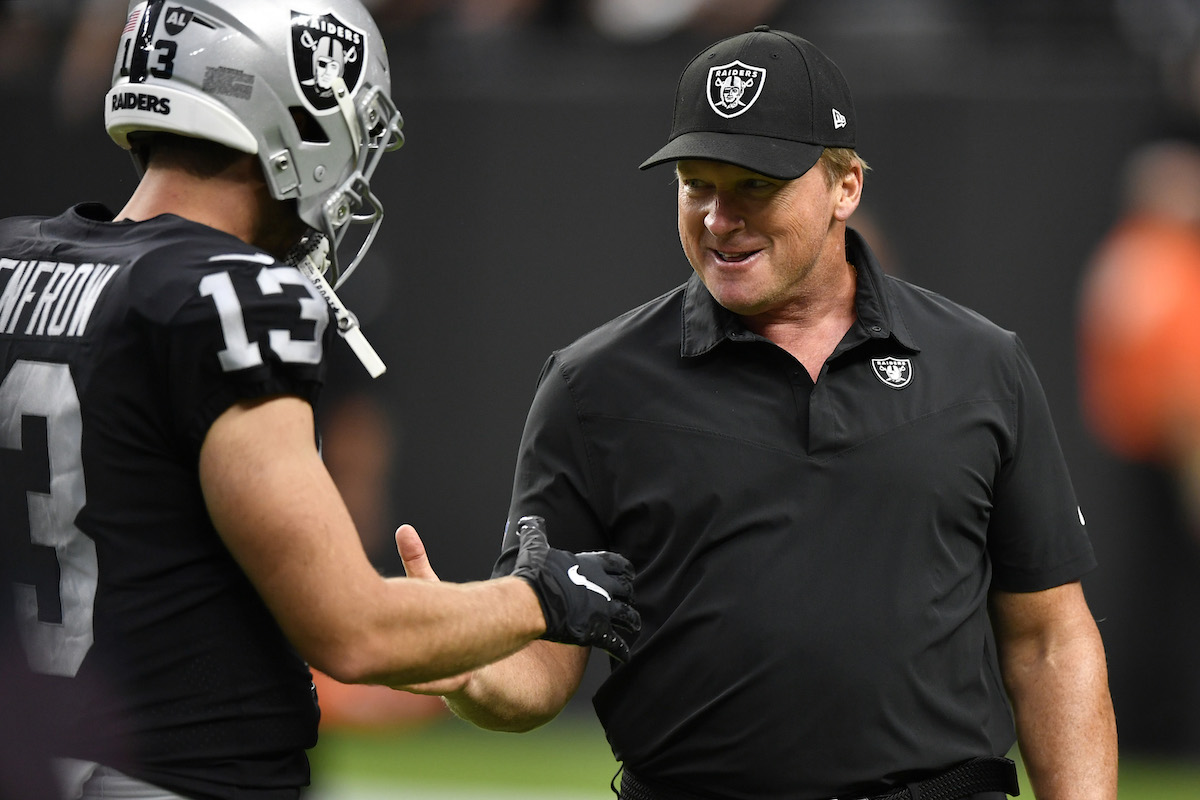 NFL fans on Reddit are having a lot of fun with the fallout from 2021's inaugural MNF. One Raiders fan simply announced, "The Super Bowl is on the menu." Another backed up the assertion with a bit of magical thinking, noting that Super Bowl LVI will take place in California — just like XIV did.
Spurned Raiders fans, not to be left out, also divined the Super Bowl's future. They pointed out that the Ravens last took a Week 1 loss in 2015, to the Denver Broncos. That Broncos team went on to defeat the Carolina Panthers in that year's Super Bowl.
In more grounded terms, it's not impossible. The problem comes from how incredibly competitive the field is this year. The Tampa Bay Buccaneers have firmly established themselves as real contenders. The Kansas City Chiefs, with a healthier Patrick Mahomes and the incomparable Travis Kelce, show signs of a repeat appearance. Still, if the Raiders fans of Reddit have any say in it, it could be a short trip from Las Vegas.
RELATED: Jon Gruden Praises Las Vegas Raiders' Unexpected MVP of Wild Week 3 Win: 'I Don't Hardly Know This Guy, but I Gave Him a Big Hug and a Game Ball'