Barry Sanders, Randy Moss Headline the 10 Best Thanksgiving Performances in NFL History
Thanksgiving Day is always an important day for the NFL, and it has led to some incredible performances in the process.
With the Detroit Lions and Dallas Cowboys both playing on Thanksgiving every year for over 40 years, those breakout performances have been on national television. Star quarterbacks like Peyton Manning and Tom Brady have shown off, while rookies like Randy Moss and Robert Griffin III had breakout games on national television.
Before watching the three Thanksgiving football games this year, here are what we believe to be the 10 greatest Turkey Day performances in league history.
10. Jason Garrett, QB, Dallas Cowboys (1994)
Before he coached the Dallas Cowboys from 2010-19, Jason Garrett served as the Cowboys' backup quarterback. Taking over for Troy Aikman and Rodney Peete against Brett Favre and the Packers, Garrett went 15-for-26 with 311 yards and two touchdowns on Thanksgiving Day 1994. Dallas won 42-31 after trailing 17-3 in the first half.
9. Robert Griffin III, QB, Washington Redskins (2012)
This was supposed to be Robert Griffin III's coming out party on a national stage. The 2011 Heisman Trophy Award winner completed 19 of his 27 passes for 304 yards, four touchdowns, and an interception in a 38-31 victory. Griffin also ran for 29 yards on seven carries.
8. Matthew Stafford, QB, and Calvin Johnson, WR, Detroit Lions (2015)
Detroit Lions receiver Calvin Johnson retired with an NFL-record 10 receiving touchdowns on Thanksgiving. Three of those came against the Philadelphia Eagles in 2015. Johnson shares this spot with quarterback Matthew Stafford, who ended the day with 337 yards and five touchdowns.
7. Tom Brady, QB, New England Patriots (2010)
In the process of growing his hair out, Tom Brady showed out on Thanksgiving Day 2010. Brady completed 21 of 27 passes for 341 yards and four touchdowns against the Detroit Lions. Brady ended the day with a perfect 158.3 passer rating.
6. Bob Griese, QB, Miami Dolphins (1977)
Hall of Fame quarterback Bob Griese shined on Thanksgiving Day 1977. Griese threw six touchdowns in three quarters in a 55-14 victory over the St. Louis Cardinals. No, Griese didn't cross over to baseball; the Cardinals were still in St. Louis and hadn't moved to Arizona yet.
5. Tony Romo, QB, Dallas Cowboys (2006)
In his first season as the Dallas Cowboys' starting quarterback, Tony Romo gave the hometown fans something to be excited about. Romo threw five touchdowns in a 38-10 rout of the Tampa Bay Buccaneers.
4. Barry Sanders, RB, Detroit Lions (1997)
Detroit Lions legend Barry Sanders figured to be on this list at some point. We chose Sanders' dominant performance over the Chicago Bears in 1997, when he ran for 167 yards and three touchdowns on 19 carries. Sanders was so good on Turkey Day that even The Sopranos mentioned him in "He Is Risen," the show's Thanksgiving episode from the third season. 
3. Randy Moss, WR, Minnesota Vikings (1998)
Speaking of The Sopranos, "He Is Risen" — filmed in 2000 and taking place in November of that same year — also referenced Randy Moss' three-touchdown game against the Dallas Cowboys in 1998. Moss dominated the Cowboys for 163 yards, all on three catches, in a 46-36 victory. 
2. O.J. Simpson, RB, Buffalo Bills (1976)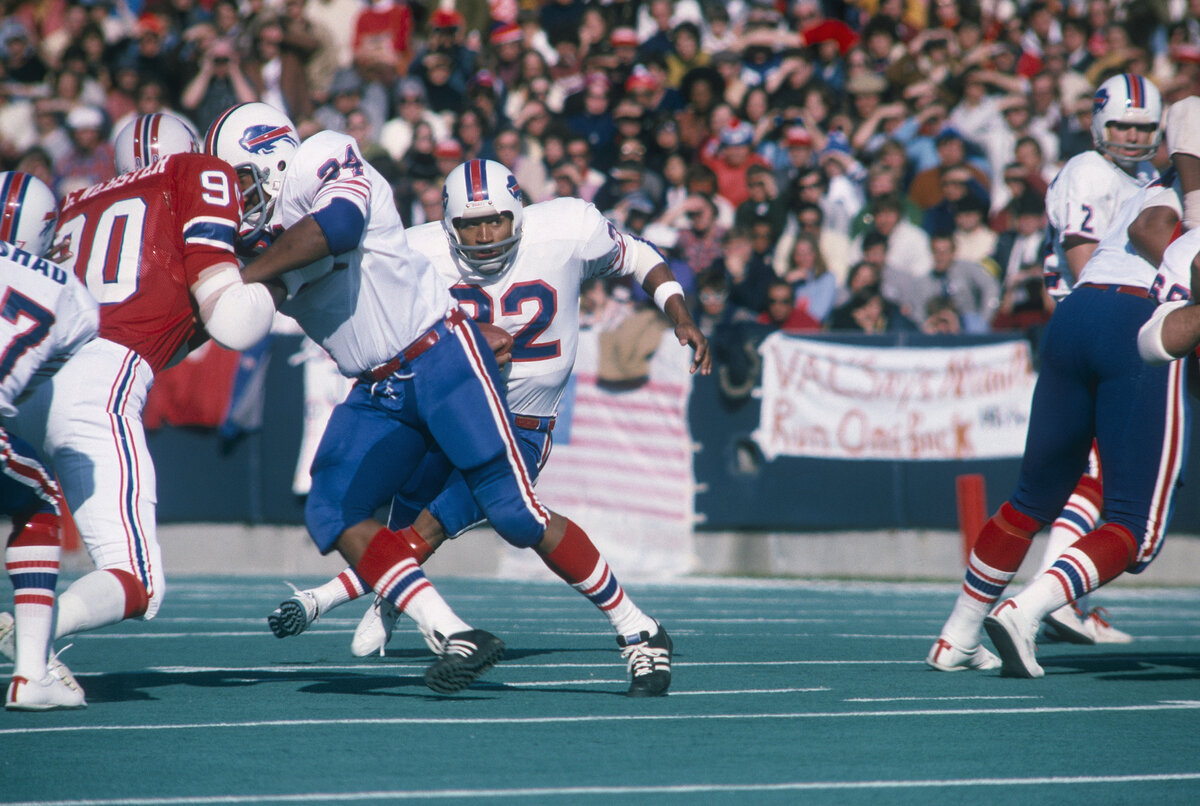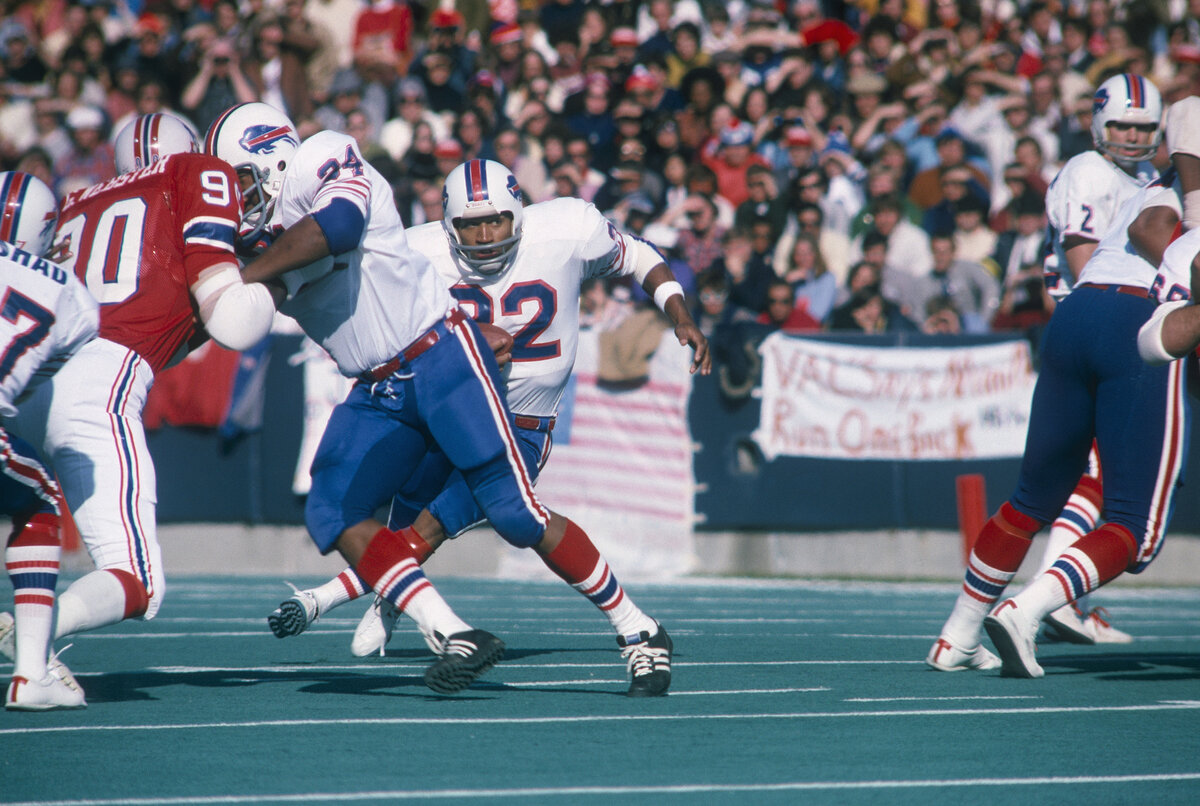 O.J. Simpson was must-see TV during his playing days. Simpson ran for a then-single-game record 273 yards in a 27-14 loss to the Detroit Lions. The dynamic running back held the previous record at 250, a total he reached in 1973.
1. Peyton Manning, QB, Indianapolis Colts (2004)
Peyton Manning's performance on Thanksgiving Day 2004 will forever be remembered in the annals of time. Manning threw six touchdowns in three quarters in a 41-9 rout of the Detroit Lions. Three of Manning's touchdowns went to explosive slot receiver Brandon Stokley, and the other three to future Hall of Fame wideout Marvin Harrison.
Like Sportscasting on Facebook. Follow us on Twitter @sportscasting19.