Bartolo 'Big Sexy' Colon Earned $117 Million in the Majors and Wants to Pitch Again
Even as he nears 47 years old, Bartolo Colon wants to make another MLB start. The former Mets fan favorite, nicknamed "Big Sexy" for his heavy frame, recently announced his intention of playing in the big leagues again.
Will Bartolo Colon achieve his hopes of an MLB comeback, and will he get that opportunity with the Mets? Or will another team want to employ Colon? Let's take a look.
Bartolo Colon had a long and memorable MLB career
RELATED: Derek Jeter Made so Much Money He Bought the Miami Marlins
For most of his career, Bartolo Colon was an average pitcher who had the occasional strong year. That included a 2005 season where Colon, then with the Angels, only won the American League Cy Young Award because of his 21-5 record, not his 3.48 ERA or 26 home runs allowed.
Injuries eventually took their toll on Colon, though, and he was out of baseball by 2010. The 2011 Yankees gave the 38-year-old Colon a chance, though, and he rewarded them with an 8-10 record and 4.00 ERA in 29 games (26 starts).
Bartolo Colon parlayed that season into a two-year deal with the Oakland Athletics. Although he served a 50-game suspension in 2012 for violating the league's substance-abuse policy, Colon recorded a 2.99 ERA in his two seasons there.
Bartolo Colon's career was off and running again. He joined the New York Mets in 2014 and became a cult hero for his excellent pitching and unique frame.
Colon's Mets stint isn't just known for his 44-34 record and 3.90 ERA. In May 2016, Colon hit his first career home run against the San Diego Padres and immediately went viral.
Colon wants to return to baseball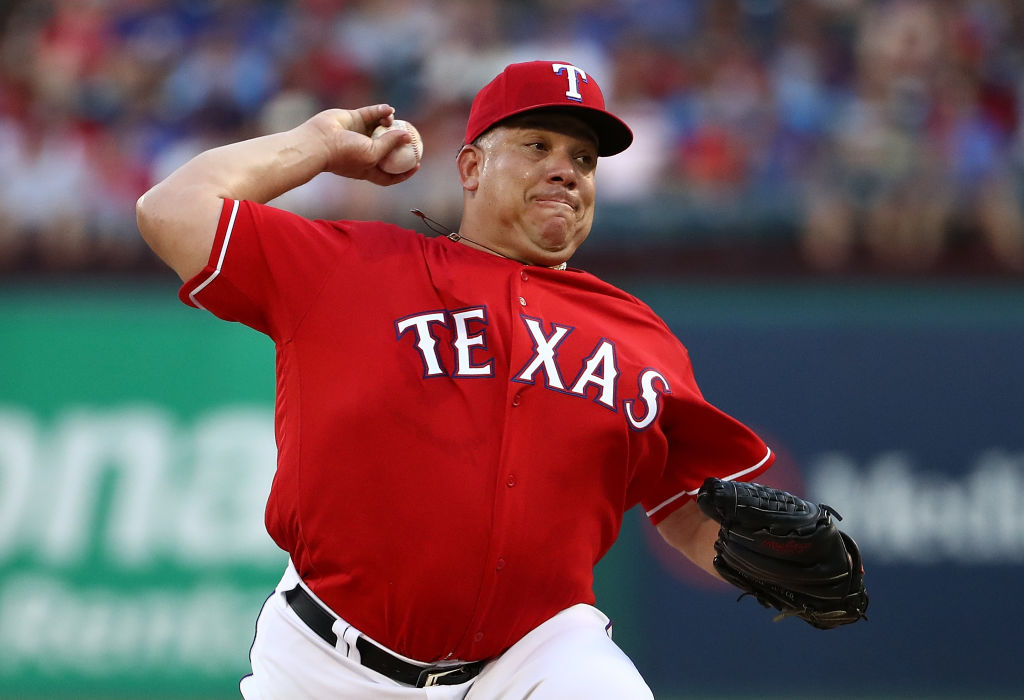 RELATED: After Todd Zeile Earned $40 Million in the Majors, He Went Into Business With Charlie Sheen
Bartolo Colon earned over $117 million in the majors and pitched in the 2015 World Series. At 46 years old, most people would be ready to finally call it quits and enjoy retirement.
Bartolo Colon doesn't fall into that category, though. Colon told ESPN he hopes to play this season in "any league" for any team that will give him a chance.
Of course, Colon hopes that opportunity comes in the Major Leagues. Colon hopes the New York Mets, his home from 2014-16, offer him that chance.
Colon correctly noted there is less of a demand for older pitchers in today's game. But that isn't stopping him from being optimistic.
Will any Major League team sign Bartolo Colon?
RELATED: What Happened to Former World Series MVP Josh Beckett?
Bartolo Colon turns 47 on May 24 and in an ideal world, the 2020 Major League Baseball season will start in early July. Colon would easily be the sport's oldest active player.
In a normal year, it would be much harder for Colon to find work. But the veteran pitcher has one thing working in his favor: potential holdouts.
Numerous MLB players have publicly said they either will not play this season or will consider holding out for financial or safety reasons. Tampa Bay Rays ace Blake Snell recently said he wouldn't pitch if he's asked to take a pay cut and make $3.5 million instead of $7 million.
If that is indeed the case and pitchers — both starters and relievers — refuse to play, that would open the door for minor leaguers and free agents. In theory, a team may prefer having Bartolo Colon pitch in a truncated season rather than a middle-of-the-road prospect.
Teams might be scared by Colon's cumulative 6.13 ERA from 2017-18, but he's an experienced workhorse. That may be enough to earn 'Big Sexy' one last opportunity in the majors.