Baylor and Gonzaga Knew They Would Meet Again After Their December Meeting was Canceled
All season long, Baylor and Gonzaga have been by far the two best teams in college basketball, and their performances in the tournament proved it. It seemed as though the two were destined to meet in Indianapolis for the national championship. In fact, when the Bears and Bulldogs played on Monday, they repaid each other for another game in Indianapolis that, sadly, never happened.
Baylor and Gonzaga had unfinished business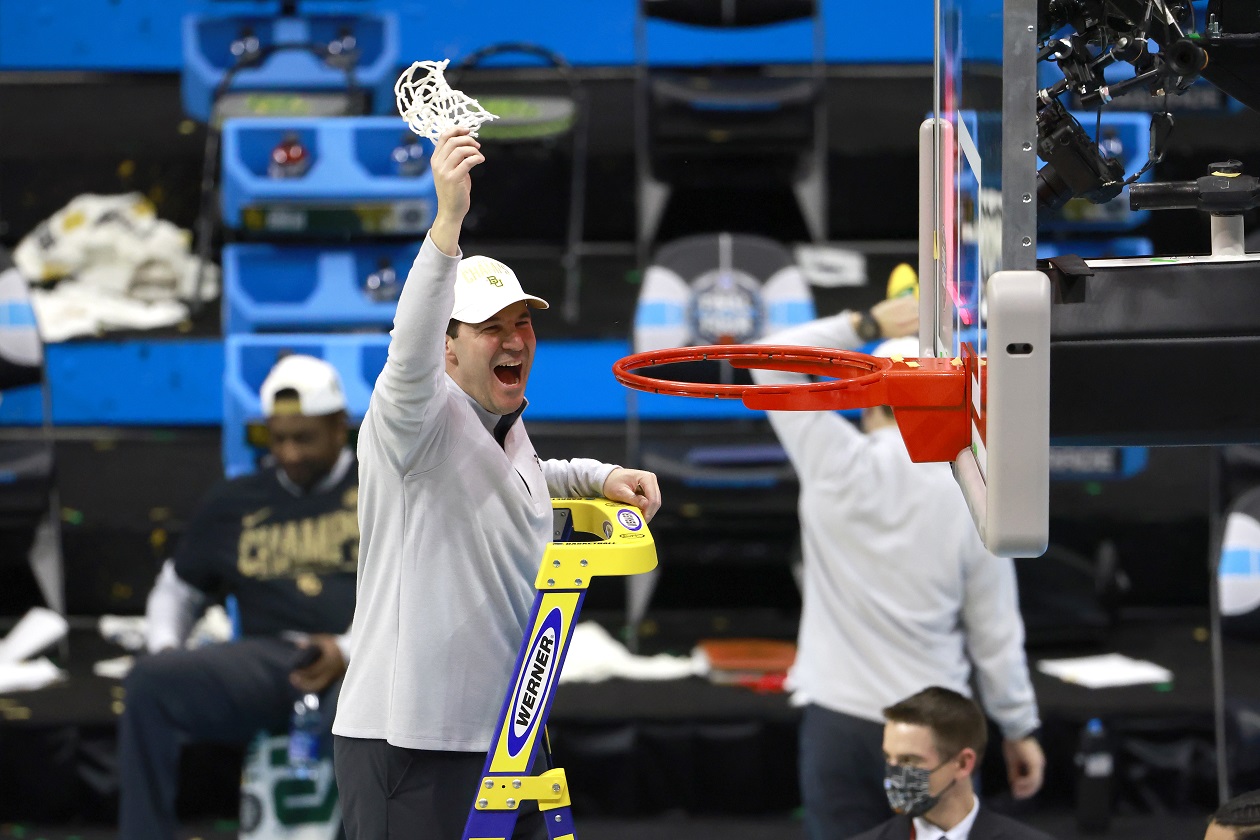 RELATED: The 5 Buzzer-Beaters in NCAA Tournament Championship Game History
Both Gonzaga and Baylor figured to be contenders for last year's national championship. Of course, the title dreams died for them and all 66 other teams who would have played at the tournament in Atlanta. Due to the oncoming COVID-19 pandemic, the 2020 NCAA Tournament was cancelled.
November promised to be a glorious return for college basketball. The season kicked off with a slew of early-season invitationals involving some of the sport's highest-ranked teams. Both the Maui Invitational and the Champions Classic went smoothly without any COVID-19 problems. It seemed that the Jimmy V Classic in Indianapolis would go the same way.
That event would feature a heavily-anticipated matchup between Baylor and Gonzaga, at Bankers Life Fieldhouse on December 5. It would be the marquee matchup of the young season, nationally televised on CBS. According to Spokane's KREM, the coaches of both teams, Baylor's Scott Drew and Gonzaga's Mark Few, scheduled it over the summer.
"This past summer we thought this was the right thing to do," said Drew. "We thought not only would it be good for our programs, but for college basketball, especially doing it this early in the year."
Baylor and Gonzaga vow to meet again in March
RELATED: How Did Gonzaga University Get Its Name and Who Is It Named After?
Unfortunately, the hotly-anticipated game in Indianapolis never came to pass. Before the game, an unidentified Gonzaga player and a member of his traveling party tested positive for COVID-19. Less than two hours before tip-off, the game had to be called off.
"At that point, we thought we might be able to still play the game," said Few, during a segment that aired on CBS before Monday's title game. "Then Marion County just shut it down. It was off."
While both teams walked off the court understandably disappointment, the prevailing sentiment was that they would eventually meet again.
"Scott and I made a pact then that we were gonna try to play the game, do everything we could," said Few.
The entire world of college basketball felt the disappointment. Still, it was a minor grievance compared to what happened next. The period of December through February was the worst point in the pandemic for the United States. Only the coming of multiple vaccines has stemmed the tide somewhat.
The Bears and Bulldogs finally have their date
Unfortunately, the cancellation left both teams in an awkward position schedule-wise. As more and more pandemic-related cancellations piled up, neither Gonzaga nor Baylor found any room to reschedule their matchup during the regular season. According to Sports Illustrated, the two coaches looked at several alternative venues, such as Las Vegas, Denver, and Phoenix.
"It didn't happen," said Few. "But it wasn't for lack of effort on everyone's part."
Still, neither coach lost faith that the two teams would meet when it mattered most.
"We both agreed on December 5th, 'Hey, you know what? What if we met back here for the national championship?'" Drew said to CBS. "And we said, 'Yeah, that's a deal for sure.'"