Jim McMahon Might Now Be Dead to Bears Fans After Outlining a Brutal Difference Between Chicago and the Green Bay Packers
It is impossible to tell a comprehensive story about the Chicago Bears without mentioning Jim McMahon, their charming and eccentric quarterback from the 1980s.
A forgotten chapter in McMahon's own tale is his tenure with Brett Favre and the Green Bay Packers at the end of his career. His comments about the two teams in a recent interview might make Bears fans want to ignore that he ever suited up for the home team.
Jim McMahon had powerful words about the Chicago Bears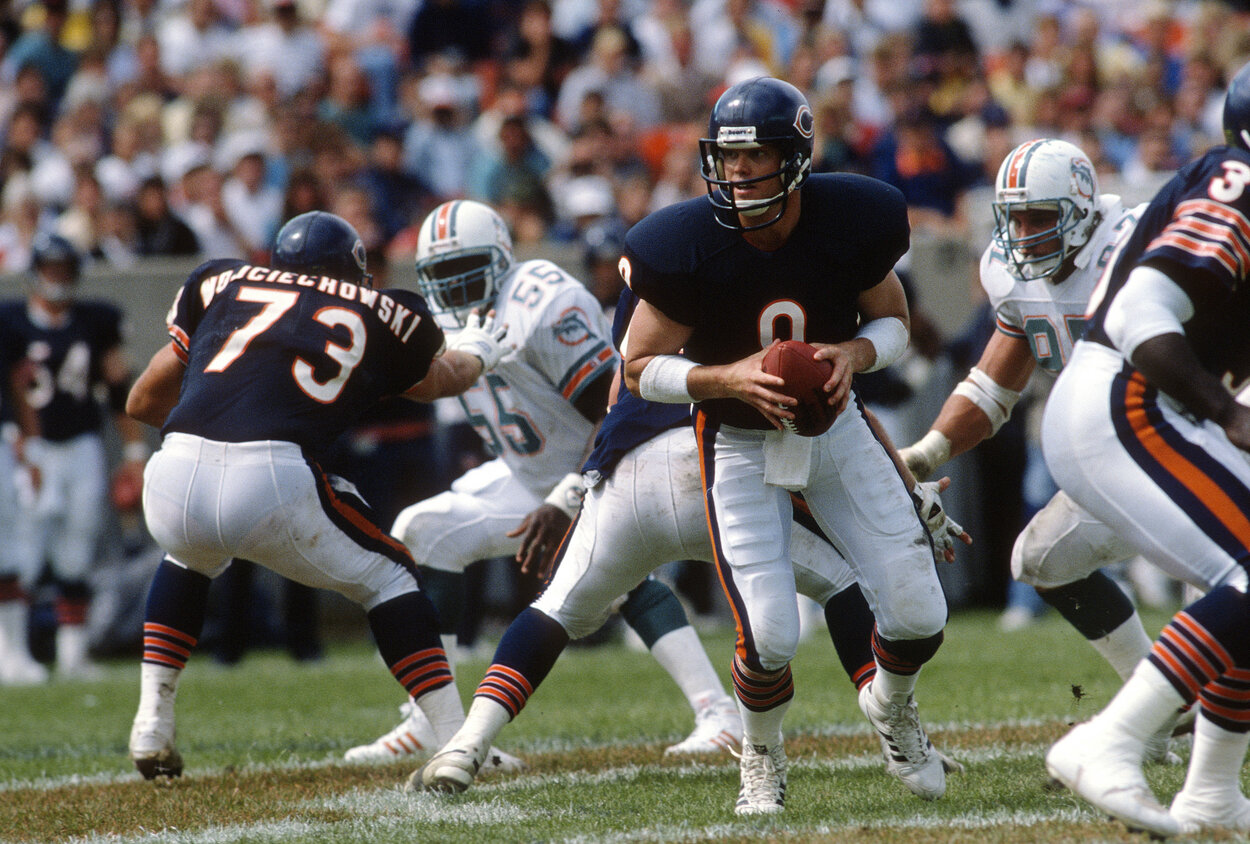 The days of Jim McMahon being a welcome sight at Soldier Field may be numbered.
McMahon didn't hold back when discussing the Bears' current state in a recent interview with 1252 Sports. The two-time Super Bowl champion said the Bears are where "quarterbacks go to die," a rough yet valid assessment given the team's historic devotion to defense and the ground game.
When the topic of the Bears' current roster situation came up, McMahon said he'd given up on his former team.
"I don't know, don't watch them, don't care. I wouldn't know what they need or who they're thinking of drafting."

Jim McMahon
Bears fans might find themselves agreeing with McMahon's comments. The Bears have made the playoffs only twice since losing in Super Bowl 41 after the 2006 season, and they just moved on from Mitchell Trubisky, the 2017 No. 2 overall pick who had an inconsistent career in Chicago.
However, those same fans could have a major issue with McMahon's commentary about another NFC North team.
McMahon also celebrated his time with the Green Bay Packers
Jim McMahon played for five teams after leaving the Chicago Bears, but his starting days were long over when he joined the Green Bay Packers in 1995.
McMahon, then deep into his 30s, spent the last two seasons of his career as Brett Favre's backup. He completed four of his five passes for 45 yards in that span and won a Super Bowl ring after the 1996 season.
During the interview with 1292 Sports, McMahon shared how much he enjoyed his time in Green Bay.
"It was the best team, or the best organization, that I've played for of the seven teams I've played for. By far. From top to bottom, it was great people."

Jim McMahon
So here you have Jim McMahon, the only quarterback to lead the Chicago Bears to a Super Bowl victory, ripping his former team and praising its hated rivals. That is not what fans of either team would have expected in 1985.
Jim McMahon may want to avoid Chicago for a bit
Jim McMahon has appeared at numerous Chicago Bears events and reunions over the years. Still, something tells us his phone may not be chiming with those invites anytime soon.
McMahon has valid criticisms of the Bears, especially when it comes to their quarterback situation. Chicago signed Andy Dalton, who struggled as the Dallas Cowboys' starter last year, in free agency and publicly committed to him as its starting quarterback for the 2021 season.
The Bears and their fans can't be pleased with McMahon openly praising the Packers the way he did. It might be best if each went their separate ways for a time.
As for the Green Bay Packers, the idea of McMahon showing up at Lambeau Field this fall for a socially distanced coin toss now doesn't sound so unrealistic.
Like Sportscasting on Facebook. Follow us on Twitter @sportscasting19.