The Bears' Shocking QB Power Move Proves the Team Has Lost All Faith in Matt Nagy
When the Chicago Bears' team name first flashed up on draft night, signaling they had traded up to No. 12 overall, most Bears supporters were over the moon. Their favorite team had traded up for fan-favorite quarterback Justin Fields, ushering in a new era of Chicago football.
Following the disaster experience that was Mitchell Trubisky, most Bears fans were anxious to see the team build around a new, exciting young passer.
However, it hasn't exactly been smooth sailing for the Bears during year one of the Justin Fields experience, and that's primarily the fault of head coach Matt Nagy.
Matt Nagy oddly resisted starting Justin Fields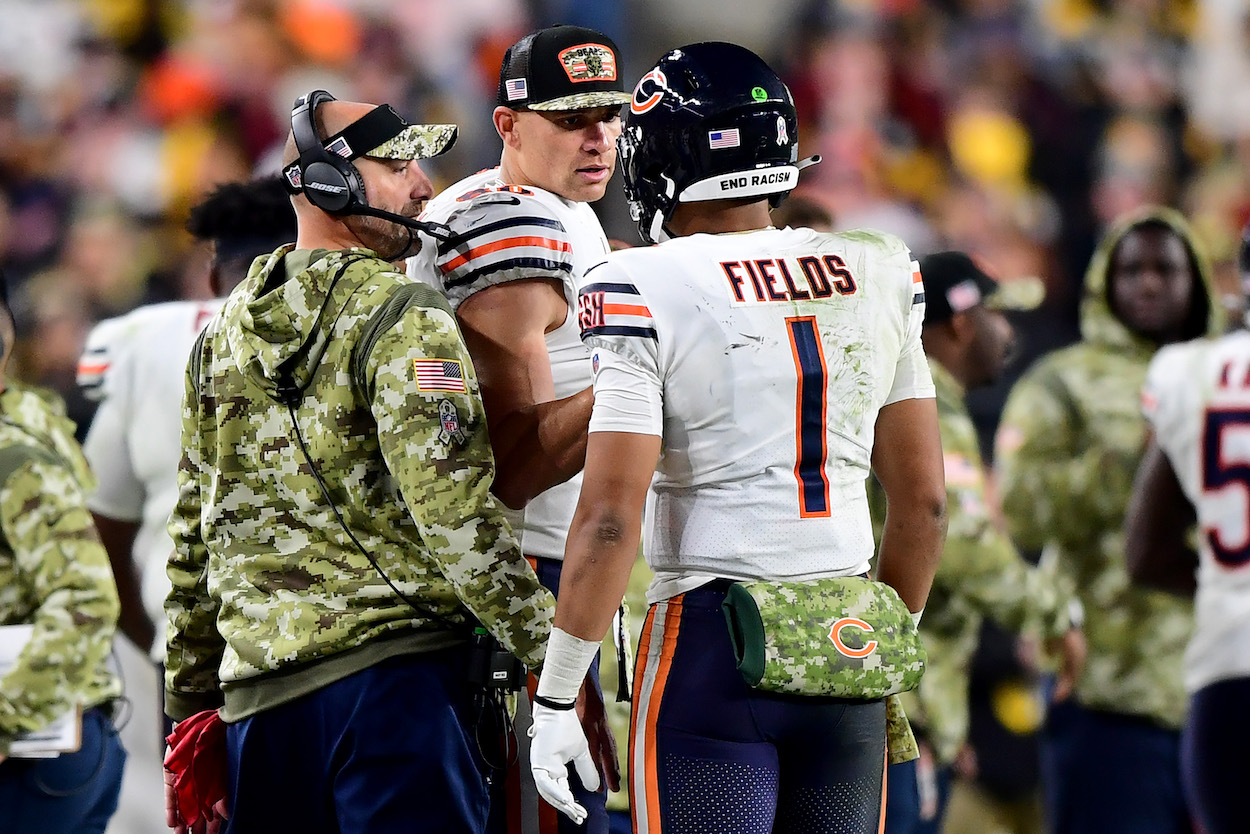 Before the Bears pulled the trigger on acquiring Fields during the 2021 NFL Draft, they signed veteran QB Andy Dalton to a one-year deal. They reportedly promised him the starting job as well, for reasons unknown.
After an impressive preseason for Fields, the general assumption around the NFL was that he would be named the full-time starting quarterback as soon as Week 1. However, Nagy resisted such an idea. He repeatedly reiterated that Dalton was his starter.
The Los Angeles Rams mercilessly blew out Dalton, Nagy, and the Bears during Week 1, followed by Dalton injuring his knee in Week 2 against the Cincinnati Bengals. Fields replaced Dalton and won the game, seemingly forcing Nagy's hand. However, the oft-criticized head coach continued to convey the message of Dalton being his QB1 once healthy.
Bears ownership forced Nagy to keep starting Fields
While the Bears' offense still struggled with Fields under center during Weeks 3 and 4, the team's owner, George McCaskey, wasted little time making his stance on the team's QB situation known. According to Pro Football Weekly's Hub Arkush, McCaskey told Nagy to continue starting Fields — regardless of Andy Dalton's health status — before the team's Week 5 game against the Las Vegas Raiders.
According to the station's long-time football insider, his sources have told him that George McCaskey made the call to name Justin Fields the permanent starter over Andy Dalton leading up to the Raiders game back in Week 5, not Matt Nagy. Nagy was ready to turn back to his plan of sticking with Andy Dalton for the time being, but McCaskey wanted the team's first-round quarterback under center moving forward.

Bleacher Nation
It's not uncommon for NFL owners to get involved when they feel their team is heading in the wrong direction. However, it's always a tell-tale sign that significant dysfunction is taking place. The Bears don't trust their head coach to coach.
Matt Nagy is on his last legs with the Bears
Nagy has been a betting favorite to be fired by season's end for quite some time now. However, it does appear the Bears are finally preparing for a split.
Rumors popped up after Week 11 regarding a potential Nagy firing, and now we're hearing how ownership doesn't trust him to pick a starting quarterback. These are all signs of a head coach operating on his last legs.
Andy Dalton ultimately returned to the Bears' starting lineup just in time for a nationally televised Thanksgiving game against the Detroit Lions due to Justin Fields cracking his ribs. However, Bears ownership is making their stance crystal clear. They care about Fields infinitely more than they do Nagy.
Like Sportscasting on Facebook. Follow us on Twitter @sportscasting19.