The Bears Suffered a Devastating Season-Ending Injury That Could Finally Spell the End of Matt Nagy's Chicago Career
Heading into the 2021 season, pressure was at an all-time high for the Chicago Bears. General manager Ryan Pace and head coach Matt Nagy were on their last legs, and the organization spent a hefty price to trade up and acquire rookie quarterback Justin Fields.
After the failed Mitchell Trubisky experiment, the Bears desperately needed Fields' career to start on a better foot. If it didn't, heads would presumably roll in the team's leadership group.
Unfortunately for Pace, Fields, and the rest of the Bears organization, momentum isn't exactly trending their way as of late.
The Bears are 3-6
Before even mentioning the Bears' recent season-ending injury, it's important to note the first half of their season didn't go according to plan. They're 3-6 after ten weeks of football, and Fields has not exactly impressed as a passer quite yet.
Fields ranks 33rd out of 34 qualified quarterbacks in passer rating and 33rd out of 34 in quarterback rating (QBR).
Those numbers are concerning for an organization that's essentially tied their future to Fields' ability to be, or not be, a franchise quarterback.
However, Fields' offensive struggles are the least of Chicago's concerns at the moment. According to several NFL reports, the team just suffered a massive season-ending injury that could easily cause their second half of the season to look far worse than their first.
Bears DE Khalil Mack is done for the year
Bears star pass-rusher Khalil Mack started missing games a few weeks ago in an attempt to heal a foot injury that had been bothering him for a few games. The hope was that some rest-and-relaxation away from the football field would be enough for Mack's foot to get healthy, allowing him to return to the Chicago defense later in the year.
However, this ended up not being the case. Mack's foot injury didn't heal on its own, and he's now set to undergo season-ending foot surgery.
Pro Football Talk's Myles Simmons has more on Mack's injury status:
Per Ian Rapoport of NFL Media, Mack will undergo season-ending foot surgery and will be placed on injured reserve.

Mack suffered the foot injury in Chicago's Week Three loss to Cleveland, but played through it for four more games before the Bears shut him down in Week Eight. Mack tallied 3.0 sacks while playing through the injury and will finish the 2021 season with 6.0. He also totaled six tackles for loss in seven games.

Prior to this season, Mack had never played fewer than 14 games in a season. That mark came in Mack's first campaign with the Bears back in 2018.

Myles Simmons, Pro Football Talk
Khalil Mack's injury spells major trouble for HC Matt Nagy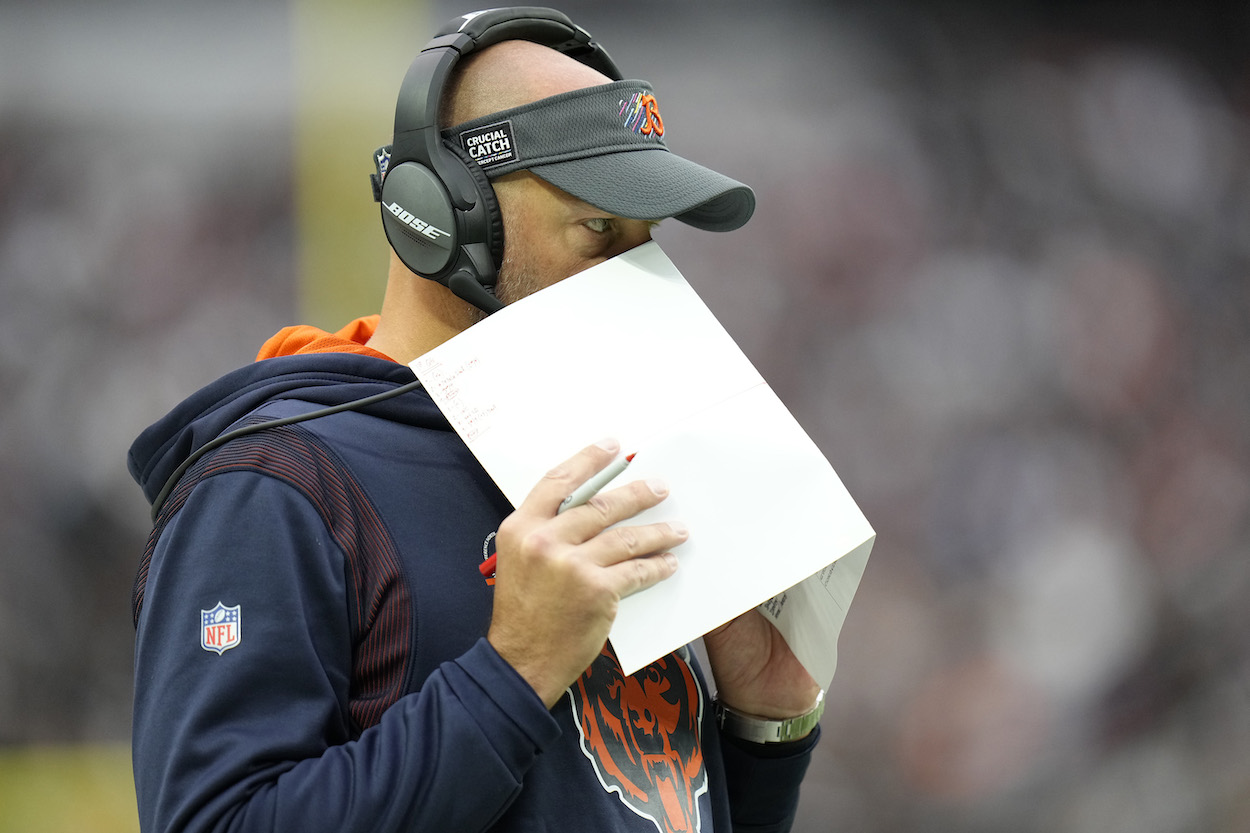 By no means is Khalil Mack's injury anyone's fault. However, head coach Matt Nagy is the one set to take the fall for it.
With the Bears already off to a sluggish start this season, and set to drastically decline following the loss of their best defender, Nagy's leash at HC will only get shorter. Cries for him to be fired were already loud due to Justin Fields' extended struggles. Now, an even bigger spotlight will be placed on his coaching with a weakened defense in tow.
Nagy was a hot candidate to be fired before Mack's injury. Now, it feels like a matter of time. Barring a miraculous turnaround from the veteran head coach, Chicago will likely part ways with him at the season's end.
All stats courtesy of Pro Football Reference.