The Bears Trading for a Struggling Dolphins WR Proves Matt Nagy Is Desperate to Help Justin Fields Succeed
Two things happened for the Chicago Bears following their Week 4 win over the Detroit Lions.
First, they traded for struggling Miami Dolphins wide receiver Jakeem Grant. Second, they named rookie QB Justin Fields the full-time starting quarterback moving forward.
Some dots need connecting here.
Jakeem Grant struggled to find a role in Miami
Before dissecting why the Bears pulled the trigger on a Grant trade, we first have to look at Grant's resume with the Dolphins. For the most part, it's a lackluster one.
Across six seasons with the Dolphins, Grant recorded 91 catches for 1,001 yards. He's consistently struggled with drop issues up to this point, possessing a measly career catch rate of 62.3%.
While Grant didn't offer much to the Dolphins in terms of actual receiving production, he was always viewed as a plus special teams player. He was Miami's go-to punt and kick returner for most of his Dolphins career, recording three special teams touchdowns in the process.
Still, Grant's special teams' ability wasn't enough to keep his roster spot safe with the Dolphins this year. He struggled again with drops and even fumbled a punt in his own red zone against the Indianapolis Colts during Week 4. It appears that was the final straw for the Dolphins front office.
This is where the Bears swoop in.
The Bears need more weapons for Justin Fields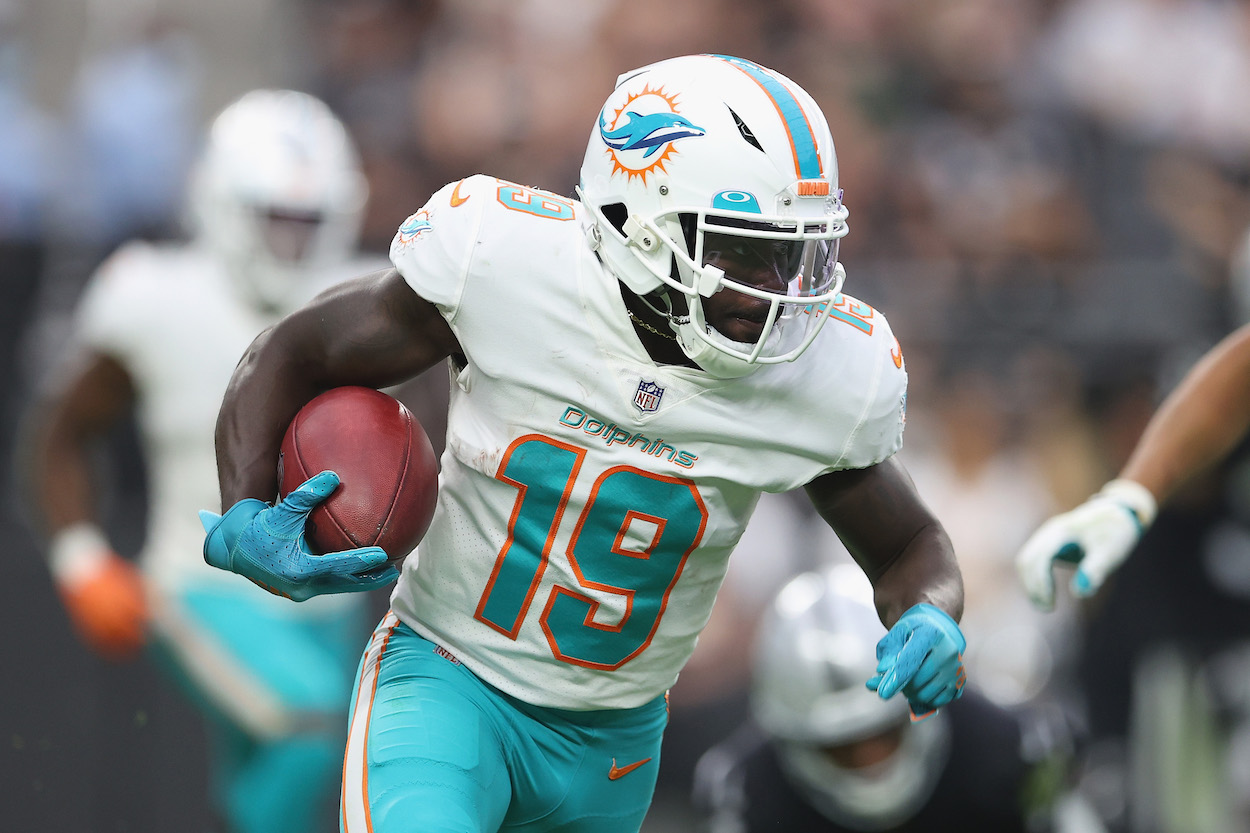 One of the biggest changes the Bears made during Week 4 with Fields under center was incorporating more deep shots down the field. One of Fields' best traits coming out of college was his arm strength — a stark contrast to the Bears' previous starting QB Andy Dalton.
While Grant will likely kick off his Bears career as a return specialist, there's a half-decent chance he's able to work his way into their offense as an occasional deep threat. Grant is genuinely one of the fastest players in the NFL, despite his shaky route-running and unreliable hands.
It's possible one of the reasons Grant failed in Miami was due to their respective QB's lack of arm strength. Tua Tagovaila has turned out to be more of a check-down artist since debuting in the NFL, unlike Fields, who is a more modern-day gunslinger.
Grant isn't going to come in and set the world on fire in Chicago. However, he could be good for one or two big shots down the field once he builds a relationship with Fields.
The Bears are showing early signs of desperation
There are plenty of ways to justify this Grant trade from a Bears' perspective. However, it's worth highlighting that giving up a sixth-round pick for a struggling return specialist is a tad aggressive.
For example, the Carolina Panthers just acquired CB Stephon Gilmore for a future sixth-round pick themselves.
A trade like this tells you that the Bears are desperate to help Fields succeed moving forward. Their offensive line is weak and their wide receiver room shallow — Grant offers an immediate (albeit small) upgrade to the team's offense.
As long as Matt Nagy is willing to utilize Fields' massive arm, Grant may be able to make an impact.
All stats courtesy of Pro Football Reference.
RELATED: The Chicago Bears Just Announced Matt Nagy's Eventual Demise With a Simple Play-Calling Change Against the Lions