Bears WR Allen Robinson Gets Real About Justin Fields' Slow Start, and It Should Have Fans Furious
Justin Fields has made five starts for the Chicago Bears this season, and they haven't gone according to plan in the slightest. Among qualified starting quarterbacks, Fields ranks dead last in passer ratings (61.8) and quarterback rating (16.7).
Fields is supposed to be the Bears' franchise quarterback of the future, so the blame is understandably being tossed around left and right. Chicago's struggling offensive line has allowed Fields to be sacked a league-leading 22 times, while head coach Matt Nagy continues to draw up uncreative plays.
Bears WR Allen Robinson chimes in on Fields' struggles
With everyone in Chicago trying to figure out why Fields is performing like the second-coming of Mitchell Trubisky, Bears WR Allen Robinson decided to chime in with his opinion. Robinson is supposed to be the Bears' number one wide receiver, yet his chemistry with Fields is noticeably off. His opinion on the matter is important.
"That's something that we're continuing to build on, again, continuing to get reps in practice," Robinson said. "There weren't many snaps that we took in training camp. A lot of these things, we're just trying to build on."
Fields spent training camp as the Bears' QB2, hence Robinson's complaints.
Matt Nagy should've let Fields get reps with the starters
Most Bears fans were frustrated Fields wasn't getting a chance to work with the starters this past offseason. Their concerns are now proving valid.
There's nothing wrong with the Bears wanting to take their time with Fields and ease him into an NFL-style offense. However, they should've foreseen the possibility of him starting games this season.
If Fields had gotten time during the offseason to build chemistry with the starters, as Robinson suggests, it's possible that he would have performed far greater through his first few starts in the NFL.
It's hard to imagine that first-team reps would have damaged his development in the slightest. Pretty much anything is better than how Fields is playing at the moment.
What next for the Bears?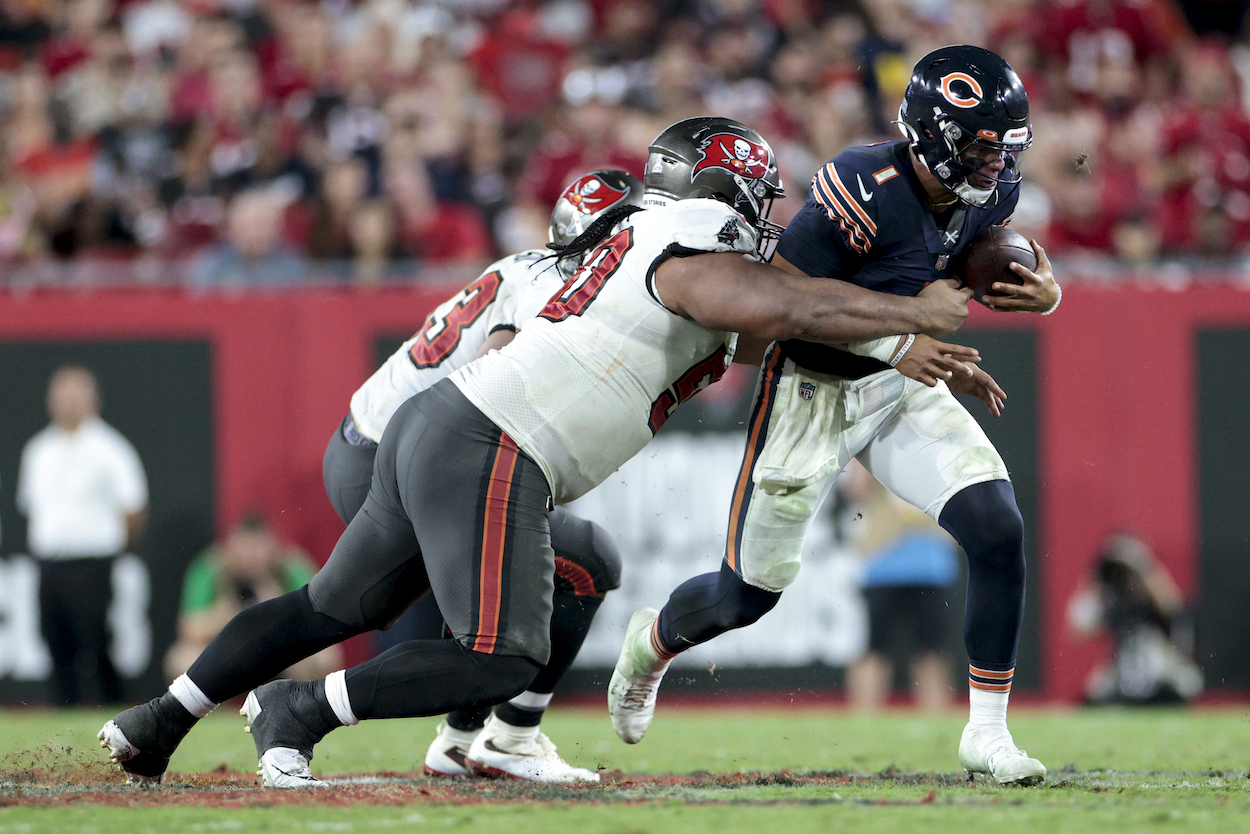 The Bears are 3-4 and quickly tumbling out of playoff contention in the NFC North. The Green Bay Packers are running away with the division again, and the Minnesota Vikings appear to be trending in a better direction. If Chicago wants to label 2021 a success at the end of the year, they need to focus more on building up Fields' confidence instead of making the postseason.
Right now, Fields looks like a shell of his former self. His three-interception game in Week mi7 is the latest example of him struggling to adjust to the NFL climate. Nagy can't go back in time and integrate his rookie QB into the first-string offense. However, he can start adjusting the play calls to make life easier.
Fields needs a few solid games to round out his rookie season, and the Bears should feel fine about his ability to bounce back in 2022.
Regardless, Robinson is 100% correct with his before-mentioned statement. The Bears were fools to wait till the middle of the season to train Fields as a starter.
All stats courtesy of Pro Football Reference.
RELATED: Mike Florio Prematurely Rips the 49ers for Their Controversial 2021 Draft Pick: 'The Trey Lance Experiment Has Indeed Been a Disappointment'