Before Colin Kaepernick, It Was Carlos Delgado Who Protested an American Anthem
San Francisco 49ers quarterback Colin Kaepernick's protest of an American symbol — the national anthem — went viral in August 2016. But Kaepernick wasn't the first professional athlete who took a stand against a patriotic song.
Over a decade before Colin Kaepernick knelt for the anthem, Toronto Blue Jays first baseman Carlos Delgado did something similar — and in New York, no less. Here's Delgado's story.
Carlos Delgado was an All-Star first baseman in the 2000s
RELATED: How Good Was the Late Toronto Blue Jays Shortstop Tony Fernandez?
Carlos Delgado had an excellent career but went under the radar partly because he spent most of that time in Toronto. Delgado hit .280 with 473 home runs and 1,512 RBIs in 17 big league seasons.
From 1996-2006, Delgado averaged a .286 average, 36 home runs, 114 RBIs and 86 walks to 128 strikeouts each year. He didn't reach the postseason until 2006, his first year with the New York Mets.
Baseball-Reference's Wins Above Replacement system measured Delgado's career WAR at 44.4. He received 21 Hall of Fame votes in 2015, though it wasn't enough to keep him on the ballot.
The Today's Game Committee, which covers players from 1988 to now, next meets in December 2021. The committee discusses players who have been retired for more than 15 seasons.
Carlos Delgado last played a major league game in 2009. He may find himself in the Hall of Fame within the next few years.
Delgado protested "God Bless America" in 2004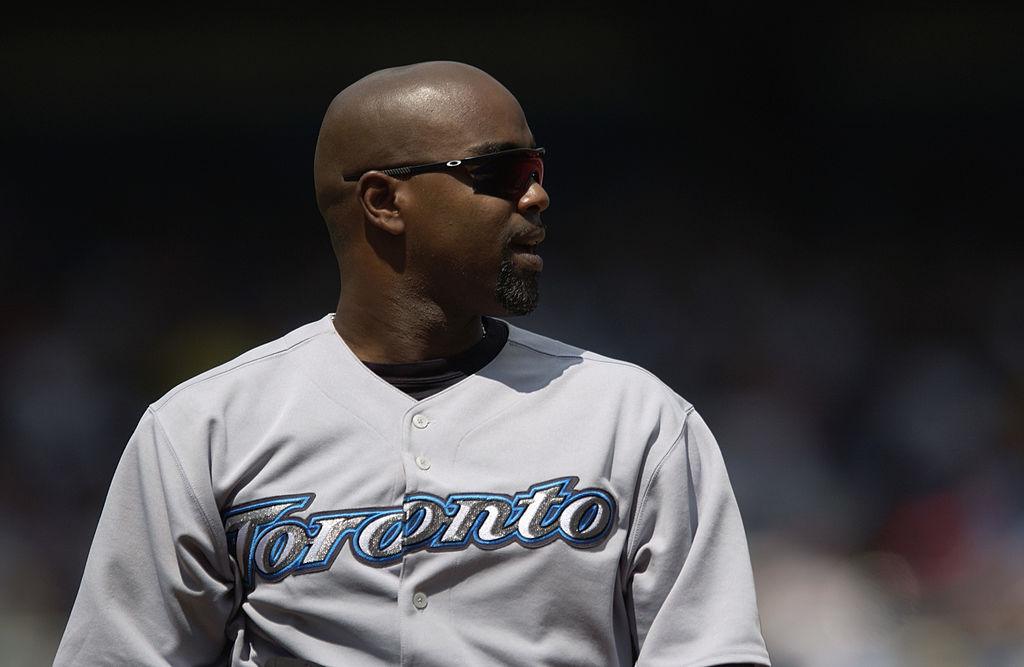 RELATED: Before Colin Kaepernick, There Was Mahmoud Abdul-Rauf Who Shunned the National Anthem
At many levels of baseball, "Take Me Out to the Ball Game" usually plays during the seventh-inning stretch. Several MLB teams used that time to instead play "God Bless America" after the 9/11 attacks in September 2001.
The New York Yankees were, and remain, one of those teams. Carlos Delgado was still playing for the Toronto Blue Jays in the summer of 2004 when, as Yankee Stadium played "God Bless America," Delgado retreated into the dugout.
The act wasn't new for Delgado, who had done it regularly throughout the 2004 season. Delgado protested the song because he was against the ongoing War on Terror.
Delgado's protest, which wasn't even three years after 9/11, incensed many fans. Yankees fans chanted "USA! USA!" when Delgado lined out in a game.
Carlos Delgado made it clear he didn't intend to disrespect America. Delgado remained in the dugout during "God Bless America" through the 2005 season.
The New York Mets traded for Carlos Delgado in November 2005. Delgado said at the time he would stand for the anthem and "God Bless America" so he wouldn't be a "distraction."
Carlos Delgado sympathized with Colin Kaepernick
RELATED: Hue Jackson Believes 1 NFL Team is A Good Fit For Colin Kaepernick
Carlos Delgado's quiet protests resurfaced in the summer of 2016 when 49ers quarterback Colin Kaepernick knelt during the national anthem.
Kaepernick wasn't protesting the anthem, he explained, but he was kneeling to bring awareness to racial injustice. The former NFC champion has not played in the NFL since the 2016 season ended.
There are both similarities and differences in why Delgado and Kaepernick had their stances. Delgado noted as much in a September 2016 interview with Puerto Rican newspaper El Nuevo Día.
In the interview, Carlos Delgado said he understood why Kaepernick knelt and he, from afar, supported the quarterback's movement.
Delgado made one thing clear: He didn't want people to protest for the sake of protesting or kneeling during the anthem for no reason. They needed to do so with a purpose, just like Colin Kaepernick did.
"I think it is important that athletes, who have this platform, where they can reach millions of people, they should use it. If your principles indicate that you want to do something or must do it, you should act, whether you act alone or with others."