Before DQ, Ty Dillon Creates Chaos During NASCAR's Clash at the Coliseum Qualifier: 'I'm Not Here to Play Around'
Back on the NASCAR Cup Series full-time after serving as a backup driver for three different premier series organizations last season, Ty Dillon served notice.
If his aggressive driving during the Clash at the Coliseum's second last-chance qualifying run is any indication, opposing teams should double-check their insurance policies.
When Dillon is running a rear fender, the opposing machine should expect to go for a spin.
Ty Dillon, back in premier series, intends to make his mark with aggressive driving tactics
After barreling his way through the session's nine-car field on Feb. 6, Dillon earned the checkered flag and appeared headed for the inaugural season-opening exhibition at Los Angeles Memorial Coliseum. But after NASCAR race officials huddled and reviewed the final restart, they determined Dillon had jumped the gun. He hit the gas before leader Bubba Wallace, and race officials issued a disqualification.
With a sudden opening, fourth-place finisher Harrison Burton earned a ticket to the glitzy showcase event, which Joey Logano won.
It was a bit poetic Burton, a rookie, earned the bid. He was, after all, one of Dillon's targets.
Fox Sports posted a video of Dillon's postrace interview. He was unapologetic.
"I'm not here to play around," he said. "That sets the tone for the year."
Dillon had an opportunity to run a clean mile to qualify for the Clash, but he took out Harrison Burton anyway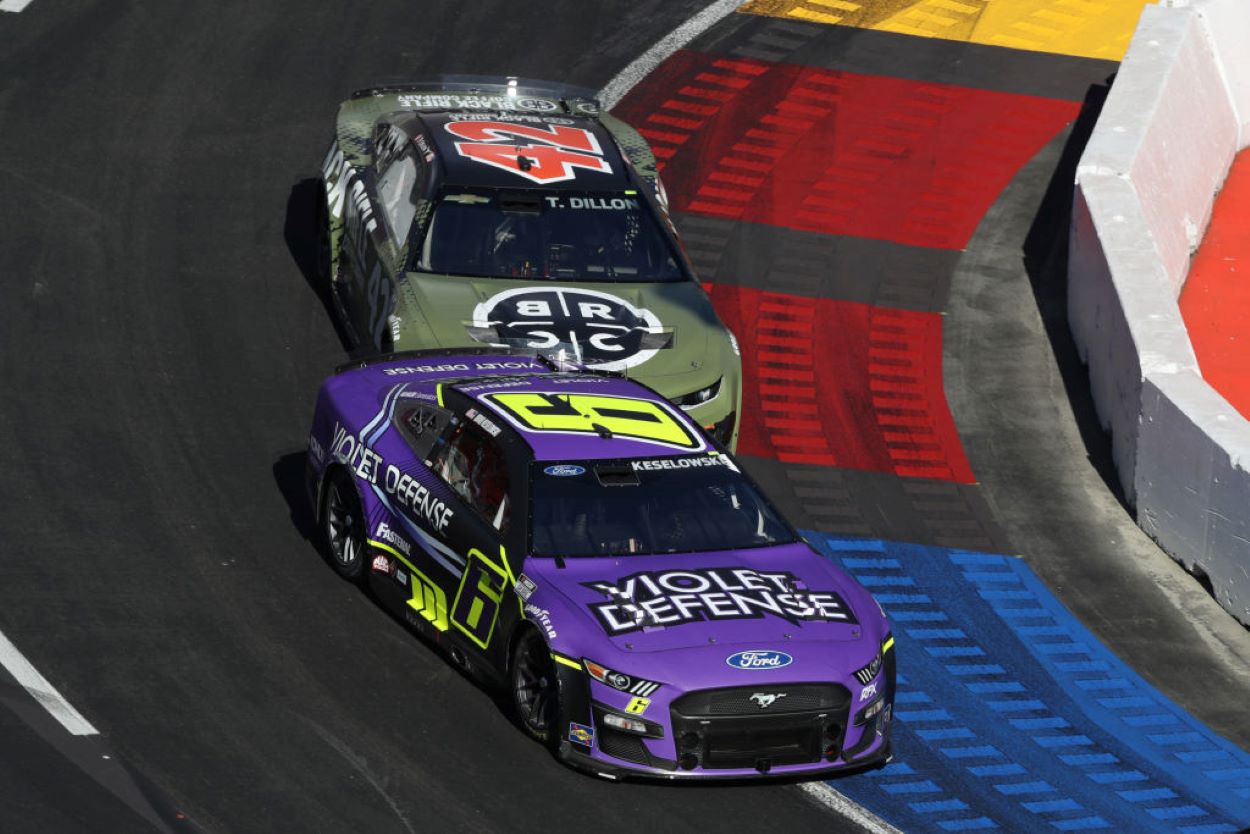 Signed to drive the No. 42 Chevrolet for Petty GMS Motorsports, Dillon understands the opportunity, saying it's "a second chance at a career, and I'm going to make the most of these guys (on the team)."
If that means taking out an opponent, so be it.
If that means taking two or three or …
Look out.
The situation matters little if Dillon can gain track position.
Take his actions with four laps to go on Feb. 6. Racing in second place, he trailed Burton and fronted Ryan Preece in his debut driving the No. 15 Ford. All the trio had to do was run a clean mile, and they would have qualified for the high-profile Clash.
But, as he warned, that's not Dillon's style this season. He caused Burton to spin out, creating the race's eighth caution period. Dillon caused most.
On Lap 42, Dillon took out Rookie of the Year candidate Cindric, whose machine spun around twice before coming to a stop on the temporary quarter-mile track.
Asked if his moves were "fair game," Dillon replied: "Yea."
Dillon: 'How many last chances do you get in life?'
Austin Dillon, who placed third in the Clash, should feel fortunate that his little brother was issued a DQ. It's doubtful that brotherly love would have prevented Ty from treating him like everyone else.
If Dillion had not jumped the final restart and instead qualified for the Clash, he almost assuredly wouldn't have made it through 150 laps unscathed. 
Dillon is out to prove he belongs on the Cup circuit. In 166 career starts, he has just six top-10 finishes. In 157 Xfinity Series races, he has just one win.
"How many last chances do you get in life?" Dillon said. "I wasn't worried about anyone being mad."
That was more than evident.
Like Sportscasting on Facebook. Follow us on Twitter @sportscasting19.
RELATED: How Mild-Mannered Martin Truex Jr. Made Epic NASCAR Short-Track Turnaround