Before Emmitt Smith and Tony Dorsett, the Dallas Cowboys Had Don Perkins
The Dallas Cowboys have had some talented running backs play for them. Emmitt Smith and Tony Dorsett are two of the best running backs to ever play in the league, and they both played for the Cowboys.
Those two Hall of Fame players had remarkable careers and left their legacy in the NFL. Another player who had a successful career with the Cowboys before Smith and Dorsett played for them was Don Perkins.
Don Perkins missed his first year due to an injury but came back dominating the next year
The Cowboys did not draft Perkins. They were not an established franchise yet, and they were admitted to the league too late to participate in the 1960 NFL draft. Perkins was selected in the ninth round of the 1960 draft by the Baltimore Colts. The Cowboys signed Perkins to a personal-services contract for a $1,500 bonus and a $10,000 salary. That meant that he would play for the Cowboys if and when they received an NFL franchise. So when the Colts drafted him, he immediately joined the Cowboys.
Perkins had to miss the entire 1960 season after he broke his foot during training camp. His rookie season began in 1961, and he put together an impressive season. He rushed for 815 yards and four touchdowns. Perkins was sixth in the league in rushing yards, and he was named the NFL Rookie of the Year. He also was named to the Pro Bowl as a rookie.
After his rookie season, Perkins continued to have success playing with the Cowboys. Perkins was considered a fullback, but he had running back traits. He was very quick and made it difficult for defenders to stop him. Perkins was also a good blocker for his position as well. He played a vital role in the Cowboys offense during his time there.
Don Perkins was one of the top rushers in the league during his career in Dallas
Perkins spent eight seasons with the Cowboys, and in each of those seasons, he finished in the NFL's top 10 in rushing. He rushed for 945 yards during his second season, which was a career-high, and he finished with seven rushing touchdowns. In September of 1961, Perkins became the first running back in Cowboys' history to run for 100 yards in a game. He rushed for 108 yards on 17 carries against the Minnesota Vikings.
During his career in Dallas, he finished rushing for 6,217 yards and 42 touchdowns. He also finished with 1,310 receiving yards and three touchdowns. When he retired at the end of the 1968 season, he was fifth in NFL history in career rushing yards. Perkins was a three-time All-Pro selection and was selected to the Pro Bowl six times during his career.
Don Perkins is considered a Cowboys all-time great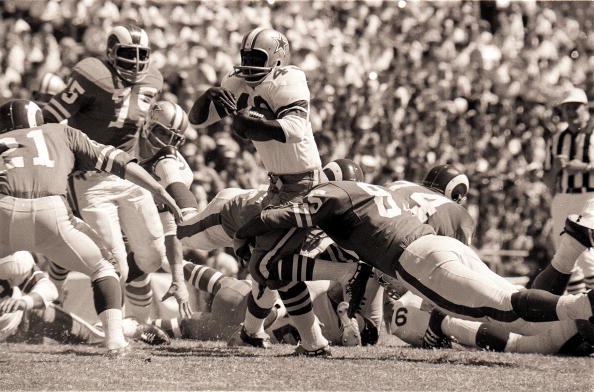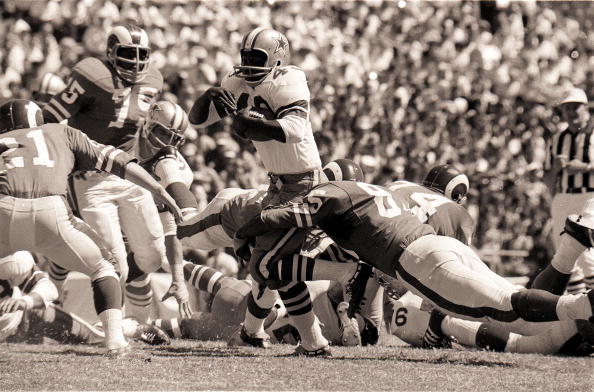 Perkins is currently third on the Cowboys all-time rushing list, and the two players ahead of him are Emmitt Smith and Tony Dorsett. In 1976, he was inducted into the Cowboys Ring of Honor. Looking at his career, Perkins was a dominant player each season. Though he did not have as many rushing yards as Smith or Dorsett, he paved the way for the running backs that would come after him.
Perkins left his legacy in Dallas after his career finished, and he will always be considered one of the top rushers to ever suit up for 'America's team.'