Before Football, Colts RB Jonathan Taylor Literally Had His Eyes Set on the Stars
Indianapolis Colts running back Jonathan Taylor likely feels right at home when he has open space ahead of him.
A touchdown machine at the University of Wisconsin, Taylor is no stranger to finding the end zone. But in another life, there's a chance he'd be locating stars instead of holes to exploit in head coach Frank Reich's offense.
Jonathan Taylor loved astrophysics before he became a star running back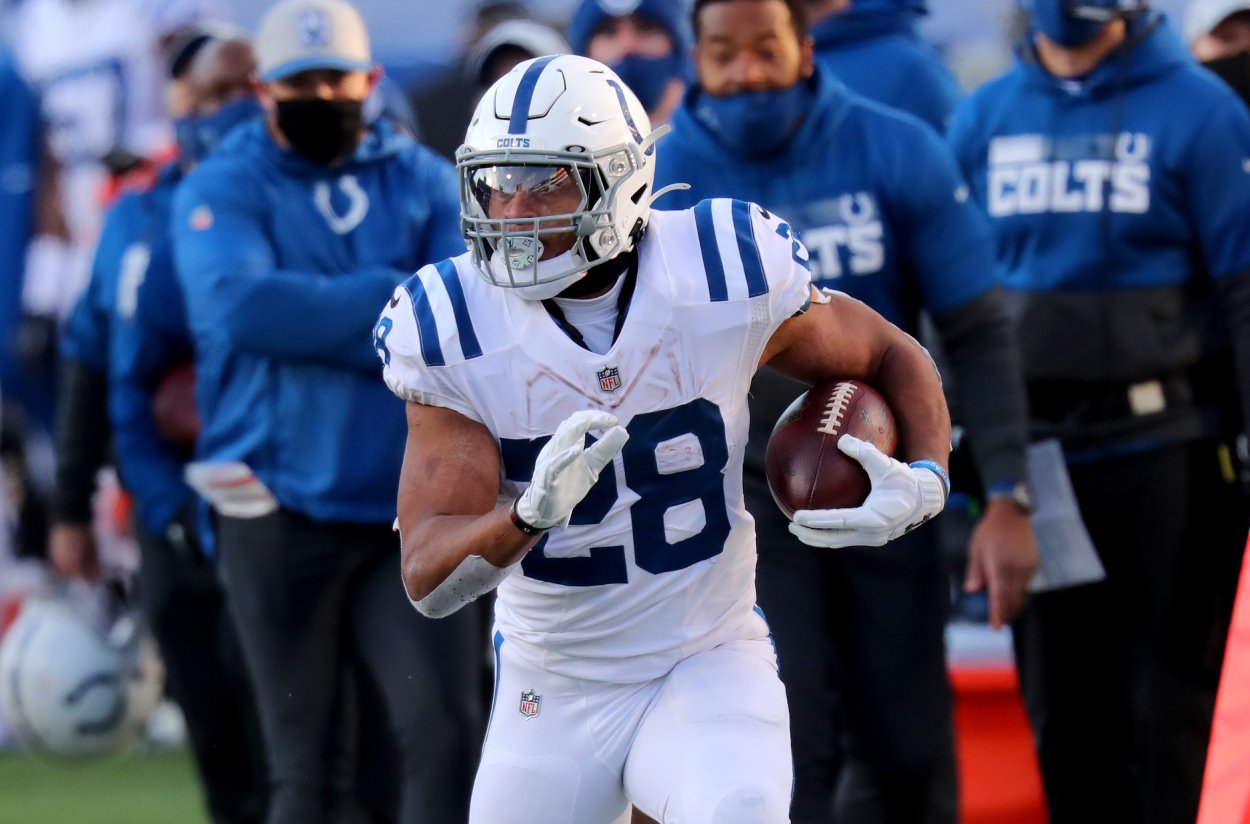 Many young NFL players will likely tell you they grew up loving Randy Moss or Kobe Bryant. Taylor spent his childhood fascinated with Neil deGrasse Tyson.
In a 2017 interview with the South Florida Sun-Sentinel, Taylor — who will play most of the 2021 season at 22 years old — reflected on his love for astrophysics. Immediately after enrolling at Wisconsin that year, the future NFL running back began double-majoring in astrophysics and physics.
Taylor explained that he fell in love with science and the stars during his freshman year of high school. That eventually led to Tyson, the famous astrophysicist, becoming one of the running back's idols.
"Just looking at space and exploring the different aspects and just the unknown, it definitely intrigues me. I just respect the way [deGrasse Tyson] talks about space and his studies. He talks about it not as 'I know this. I know that,' but 'this is exciting, and this is what I loved to do.' I really loved his passion about it."'
Taylor's parents clearly respected their son's passion, too. They bought him a telescope for Christmas in 2017, right before he and the Badgers capped off his true freshman season with a victory in the Orange Bowl over the University of Miami.
Taylor chose playing football at Wisconsin over studying astrophysics at Harvard
There exists another galaxy where Taylor may still have reached the NFL, but by way of Harvard.
Before he decided on Wisconsin in November 2016, Taylor visited Harvard three separate times. Remember, this is someone who ended his career as a two-time All-American at a Power 5 school and finished his college career sixth all-time in rushing yards. We understand the idea of him deciding between Wisconisn and Harvard may sound hard to believe.
So what made Taylor choose Wisconsin over Harvard?
"Harvard definitely has great academics," Taylor said. "They have some good football. Here [at Wisconsin], I just felt I would have a great balance between great academics and great football."
In other words, he wanted to play for an elite Power 5 college football team, which is totally understandable.
The Colts should be extremely grateful for Taylor's choice
Instead of becoming the next Ryan Fitzpatrick, Taylor followed in Ron Dayne's footsteps. Neither the Badgers nor the Colts are going to complain about that.
The 41st overall pick in the 2020 NFL Draft, Taylor rushed for 1,169 yards and 11 touchdowns in 15 games as a rookie. He also turned 36 catches into 299 yards and a touchdown.
After some early inconsistency, Taylor caught fire after missing a Week 12 loss to the Tennessee Titans while on the COVID-19 list. He ran for 651 yards and seven touchdowns in the Colts' final five games, a stretch that included a Colts-record 253 rushing yards in a Week 17 victory over the Jacksonville Jaguars.
Taylor also rushed for 78 yards and a touchdown in the Colts' 27-24 loss to Josh Allen and the Buffalo Bills in the Wild-Card Round.
The Colts are counting on their second-year running back to show the final six games of his rookie year weren't a fluke. New quarterback Carson Wentz's recent foot injury only means Taylor will need to contribute even more when the regular season begins.
With a strong sophomore season, Taylor could become only the 19th player in Colts history to rush for over 2,000 yards. Who knows? Eventually, Colts fans may feel so indebted to Taylor that they'll try naming a star after him.
Like Sportscasting on Facebook. Follow us on Twitter @sportscasting19.