After Belal Muhammad vs. Leon Edwards, the UFC Has No Excuse for Allowing the Current Gloves: 'Literally I Thought I Was Blind'
MMA fighters are just built differently than other athletes because of all the brutal things that happen inside the octagon. That's exactly what happened to Belal Muhammad recently. He was on the receiving end of a horrifying eye poke. Let's look at why, after UFC Fight Night: Edwards vs. Muhammad, the UFC simply has no excuse for using its current gloves.
Belal Muhammad vs. Leon Edwards on March 13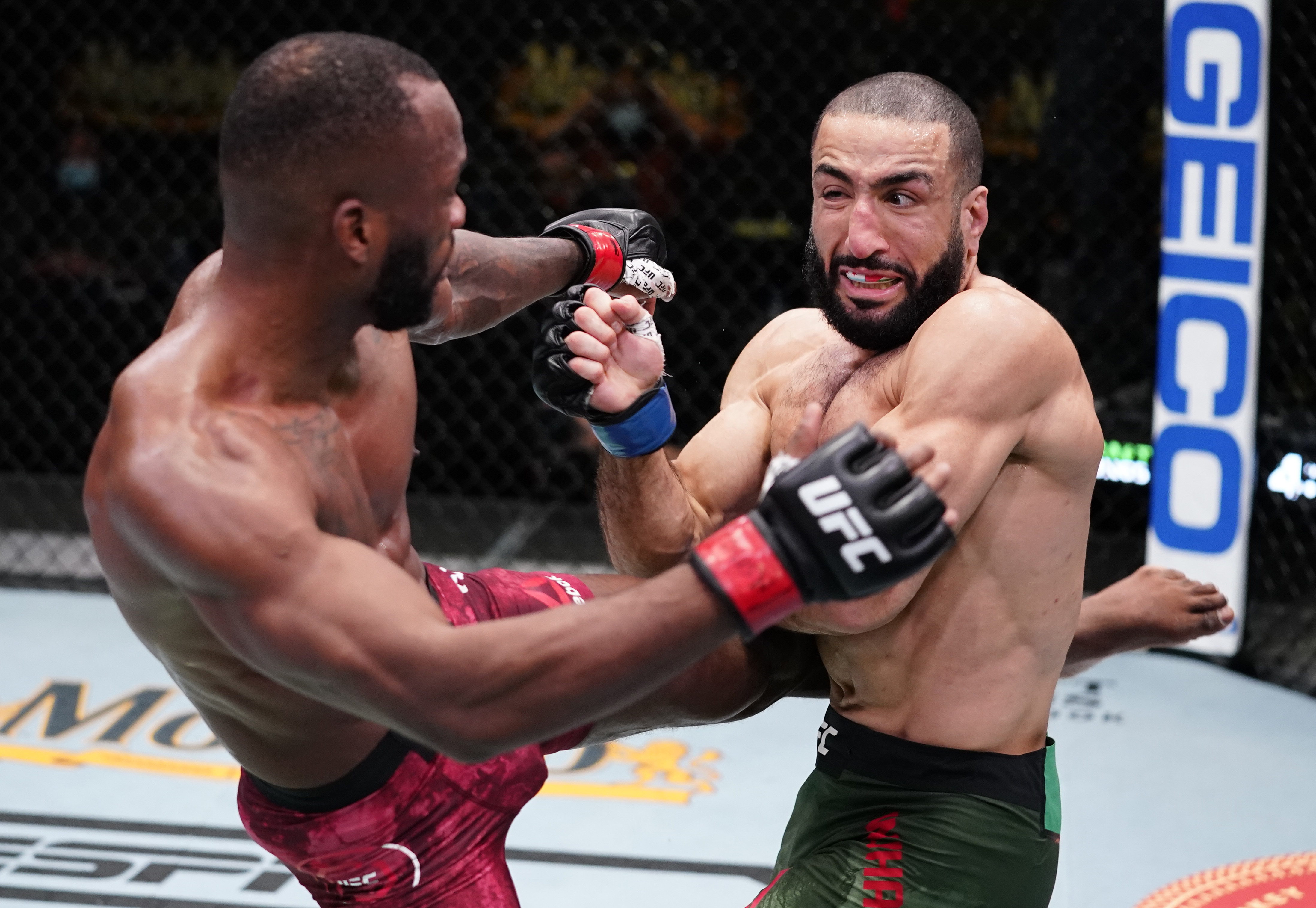 RELATED: UFC Fans Just Saw the Most Grisly Ear Injury Since Mike Tyson vs. Evander Holyfield
Edwards is probably one of the best fighters in the 170-pound welterweight division. But he simply didn't have a good 2020, as UFC.com details. With an 18-3 record, he has an eight-fight winning streak. The last time he lost, it was to current champ Kamaru Usman. Edwards was scheduled to fight Tyron Woodley in March 2020, but then the COVID-19 pandemic happened.
Although he wanted to stay active, other issues cropped up, and he ultimately didn't fight at all in 2020. That's where Muhammad came in. Muhammad was lower in the rankings, but he had built up a solid four-fight winning streak. Edwards wanted to fight anyone, so Muhammad got the call.
The first round of their fight was somewhat competitive, though Edwards was getting the better of Muhammad. However, after being warned by the ref about accidental eye-poking Muhammad, Edwards accidentally did it again in the second round. This second eye poke was so devastating that the ref had to waive the fight off, and it was declared a no contest.
The aftermath of the eye poke
RELATED: What Happened to UFC Fighter Sean O'Malley's Foot and Could His Career Be Over?
Like MMA Fighting reports, this second eye poke was just gruesome on all levels. Muhammad told MMA Fighting:
Honestly, literally I thought I was blind. I was moving my eye around, when you're trying to move your eye around, and I literally couldn't see nothing but black. I closed my other eye just hoping I could see something, and I couldn't see absolutely nothing.

Belal Muhammad on Leon Edwards' second eye poke
On top of that, fans watching at home could see what appeared to be blood pouring out of Muhammad's eye. Fans feared for the worst, as eye injuries have happened in the past inside the octagon. Fortunately however, Muhammad seems to be doing better as he said on Twitter that his "vision is coming back" and that there was "no permanent damage".
Eye pokes are a somewhat common foul in MMA, and many fighters have had to fight through them. For example, not that long ago, Yair Rodriguez's fight against Jeremy Stephens ended in the first round after Rodriguez accidentally poked Stephens in the eye. These unintentional eye pokes can largely be blamed on the UFC's gloves.
The UFC's current gloves enables eye pokes
According to ESPN, unlike boxing and other sports, the UFC can't use boxing gloves because wrestlers, like Khabib Nurmagomedov, need to use their fingers in order to wrestle. However, the UFC's current gloves allow fingers to be pointed out straight. And when their fingers are out straight, that's how fighters have accidentally poked their opponents in the past.
Other MMA organizations, such as Bellator, use a curvier glove that discourages a fighter's fingers from being straight. Like ESPN wrote, these curved gloves will hopefully reduce the likelihood of accidental eye pokes. ESPN also said that the UFC was looking into updating its gloves, but that clearly hasn't happened yet.
Not satisfied with the current gloves, former UFC champ Rashad Evans debuted new MMA gloves that were designed by a famous MMA coach, Trevor Wittman. Evans showed them off to Joe Rogan on The Joe Rogan Experience, and Rogan was impressed by them. Like the Bellator gloves, Wittman's gloves are curved too, and they may also reduce accidental eye pokes.
But once again, the UFC has not made any movement on changing its gloves just yet. Until then, horrific eye pokes will simply keep happening.