Ben DiNucci Reveals the Message Dak Prescott Gave Him Ahead of His First NFL Start
In a year where fans had very high expectations prior to the season beginning, Ben DiNucci will now, most likely, start at quarterback for the Dallas Cowboys in Week 8 of the 2020 NFL season. The Cowboys have gone from having one of the best young QBs in the NFL as the team's starter in Dak Prescott, to having Andy Dalton, to now, most likely, having Ben DiNucci. So, since Dallas is down to its third-string QB, what did the team's star — Prescott — say to him ahead of what will, most likely, be his first-ever NFL start? DiNucci recently revealed the message he has received from Prescott.
Ben DiNucci will most likely start for the Dallas Cowboys in Week 8
The 2020 Dallas Cowboys started their year with Super Bowl hopes. Those expectations diminished pretty quickly, though.
They began the season with one of the best young quarterbacks in the NFL in Dak Prescott. He had an incredible start to the year, too, as he threw for 1,856 yards, nine touchdowns, and four interceptions through the first four games and in part of another. Prescott's passing-yard numbers also ultimately led the NFL, as he was throwing for a league-leading 371.2 yards per game.
However, sadly, Prescott suffered a season-ending injury in Week 5 against the New York Giants. Andy Dalton then replaced him in that game, and he ended up helping the Cowboys get the win in Week 5. Dalton also ultimately played in the next game and in part of another game in Week 7. He has thrown for 452 yards, one touchdown, and three interceptions on the season. The Cowboys lost in those two games that he started in Weeks 6 and 7, though, falling to 2-5 on the year.
Additionally, in Week 7 against the Washington Football Team, Dalton got hit hard by linebacker Jon Bostic and had to leave the game. He is now not expected to clear concussion protocol by Week 8.
Rookie quarterback Ben DiNucci replaced Dalton in Week 7 and will now most likely get the start for the Cowboys in Week 8.
Ben DiNucci reveals what Dak Prescott has said to him
DiNucci never thought that he would play for the Dallas Cowboys this season. Stranger things have happened, though.
"I think in the span of 10 days I went from being in a sweatshirt and sweat pants to, 'Here we are, my number could be called,'" DiNucci said, according to The Dallas Morning News. "So I'm taking it in stride. I'm the most confident person in myself and the guys around us. So I've got no fear, no worries about being able to lead this team on Sunday night and doing what we got to do and get a win."
DiNucci — who has been taking first-team reps this week — is not doing this alone. He has ultimately received a message from Prescott ahead of what will most likely be his first-ever start.
"Kind of just walked up to him and said, 'Hey this isn't what you said my rookie year was going to be like,'" DiNucci said, according to The Dallas Morning News. "He laughed and gave me a hug and just said, 'We've talked about this. Go out there and do you. Take completions. Trust the guys around you. You'll be great. Don't overthink it. Football's football.'"
Prescott, who has been the leader of this Cowboys team the past few seasons, continues to prove how valuable his leadership is to the organization.
Who is Ben DiNucci?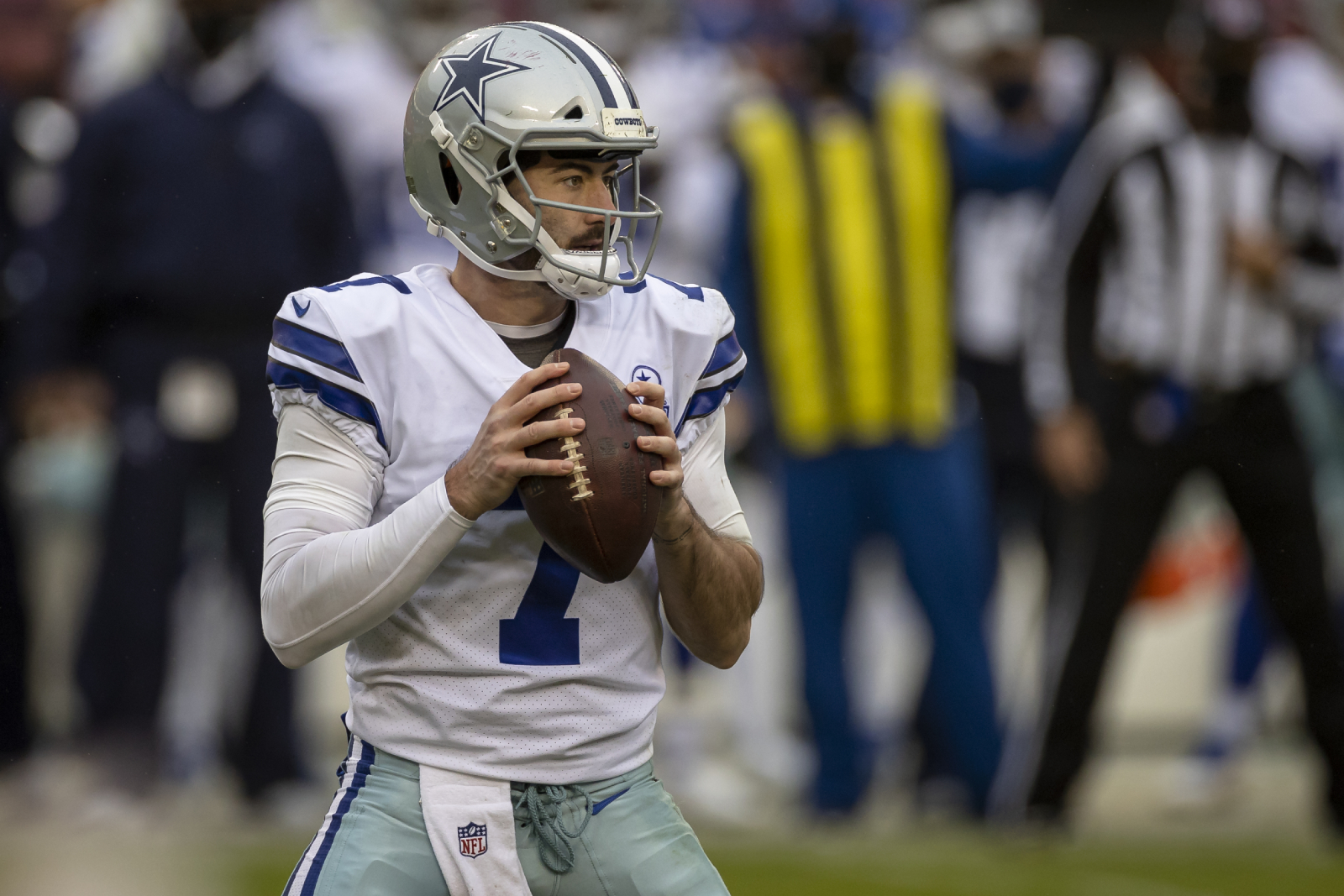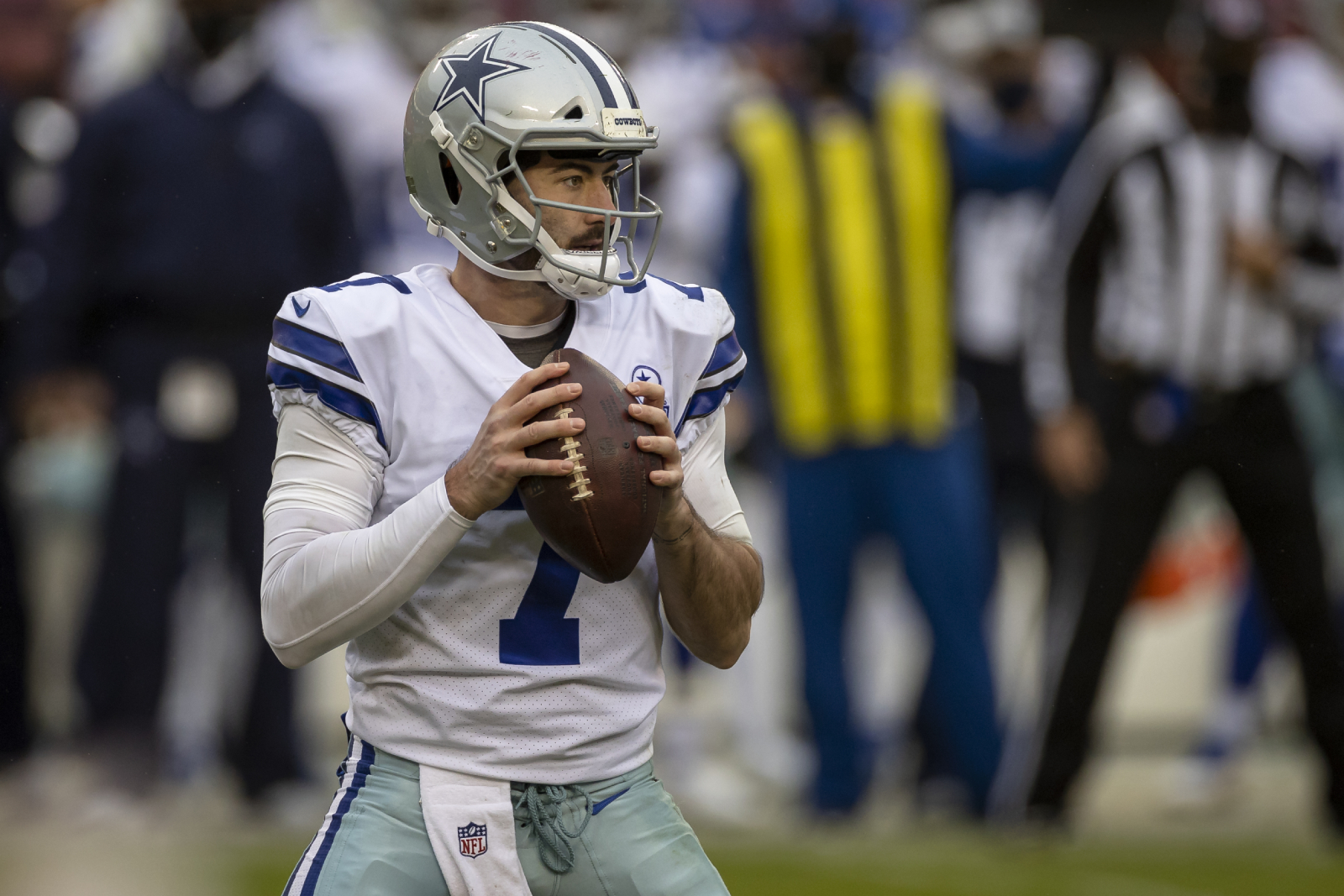 Prior to becoming a Dallas Cowboy, DiNucci spent three seasons in college at Pitt before ultimately transferring to James Madison.
He had a decent season for James Madison in 2018 but became a star in 2019. During the 2019 season, DiNucci threw for 3,441 yards, 29 touchdowns, and six interceptions, according to James Madison's site. He also ran for 569 yards and seven touchdowns.
DiNucci's play helped him earn the Colonial Athletic Association's Offensive Player of the Year award. He also led James Madison to the FCS Championship Game in 2019.
After his incredible senior season at James Madison, the Dallas Cowboys then ultimately selected him in the seventh round of the 2020 NFL draft. Now, he will most likely start a game for them.
Ben DiNucci proved at a low level in college that he has a lot of talent. It will be interesting to see, though, how he plays at the highest level for the Dallas Cowboys.
Stats courtesy of Pro Football Reference