Ben Roethlisberger: How the Cleveland Browns Can Ruin a Potential Retirement Party at Heinz Field
Ben Roethlisberger could very likely be playing his last game at Heinz Field this weekend, and it couldn't be a bigger contest for the Pittsburgh Steelers. The same can be said for their opponent and one of their AFC North rivals, the Cleveland Browns.
It's a playoff game before the playoffs. The best kind of regular-season football. One team will stay alive in the race while the other will be eliminated.
For the Browns, it's an opportunity to take one final shot at Roethlisberger, who is thinking about riding off into the proverbial NFL sunset.
Ben Roethlisberger has been with the Pittsburgh Steelers since 2004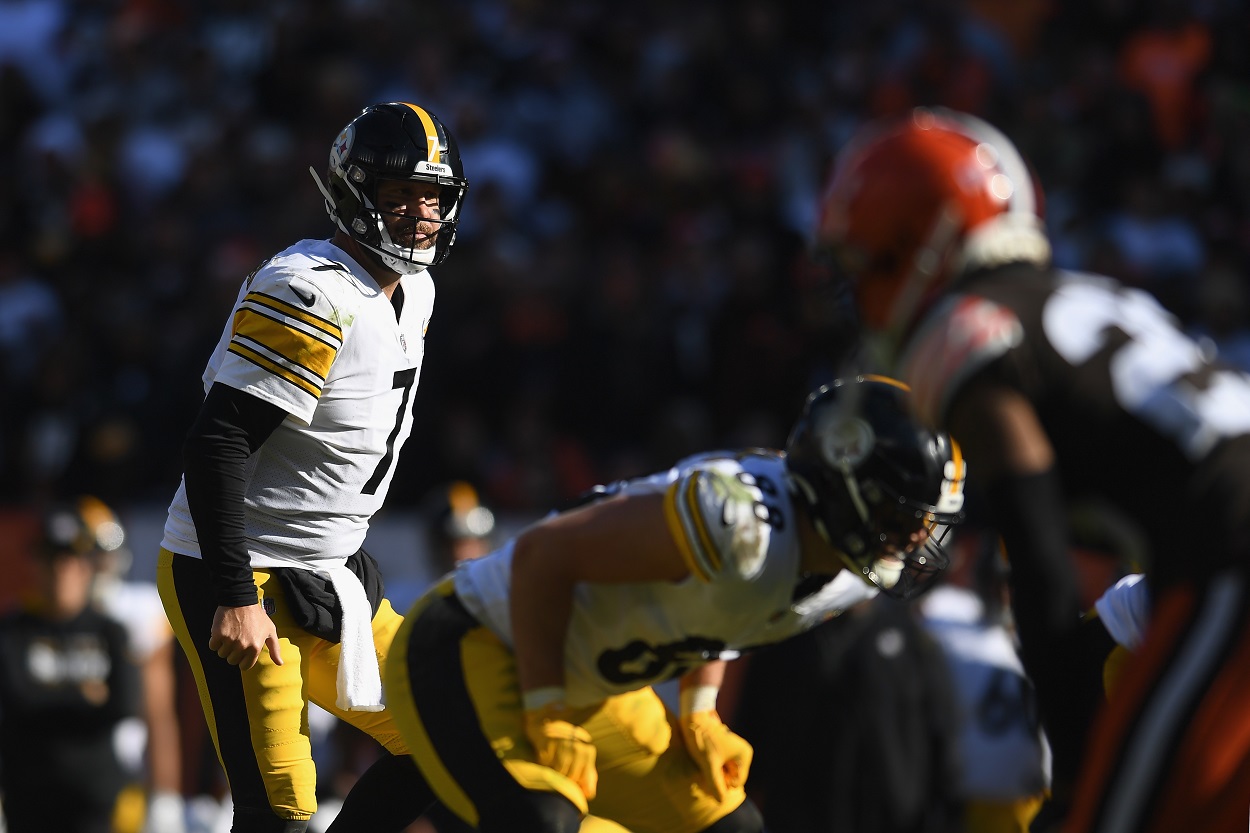 Roethlisberger has been with the Steelers since 2004, which is incredible when you think about it. He's had an elite 18 season career with the team that drafted him with the No. 11 pick of the 2004 NFL Draft. Joe Montana finished his career with the Kansas City Chiefs. Peyton Manning went from the Indianapolis Colts to the Denver Broncos. Even Brett Favre played for the New York Jets and Minnesota Vikings after a legendary career with the Green Bay Packers. The fact that Roethlisberger will hang his cleats up with the Steelers is quite notable.
It's impressive enough that Roethlisberger and Pittsburgh have been together for this long. That's a fact made even more impressive when you consider the success the quarterback has had in Pittsburgh, though.
It can be easy to forget because his play has declined as of late, but Roethlisberger has been one of the best quarterbacks in the league for almost two decades. He's won two Super Bowls with the Steelers and is a six-time Pro Bowler.
Ben Roethlisberger thinks this will likely be his final game at Heinz Field
If this will indeed be Roethlisberger's last go-round at Heinz Field, he couldn't have asked for a more meaningful send-off party. The Steelers are 7-7-1 and coming off a spineless 36-10 loss to the Chiefs. They're in a pack of AFC teams that still have a shot at making the playoffs if they keep winning and everything breaks right, but they have zero room for error against the Browns.
According to Five Thirty Eight, the Steelers have a 12% chance to make the playoffs. If they beat Cleveland, that jumps to 22%.
If they lose, they have no chance.
That's what's on the line for the Steelers in Week 17. Throw in that the game is on Monday Night Football, and the stakes couldn't be any higher. That's the backdrop for what Roethlisberger told reporters on Thursday. Heading into this huge matchup, the long-time quarterback thinks this could be it.
"Looking at the bigger picture, I would say all signs are pointing to this could be it — regular season, that is," Roethlisberger said via ESPN. "I know we still have a chance to potentially get a playoff game there if things fall our way and we take care of business and things have to happen. In the grand scheme of things, in terms of regular seasons, signs are pointing that way that this could be it.
"It's 18 years, almost half my life I've given to this city and this team and these fans," the 39-year-old quarterback said. "But the fun thing is, I know I still have it in the tank to go out there this week and next week and give it everything I have to do everything I can to get us into the postseason. That's always the ultimate goal, to win us a Lombardi. That's still my goal. We're not out of this thing yet."
Cleveland can ruin Roethlisberger's potential retirement party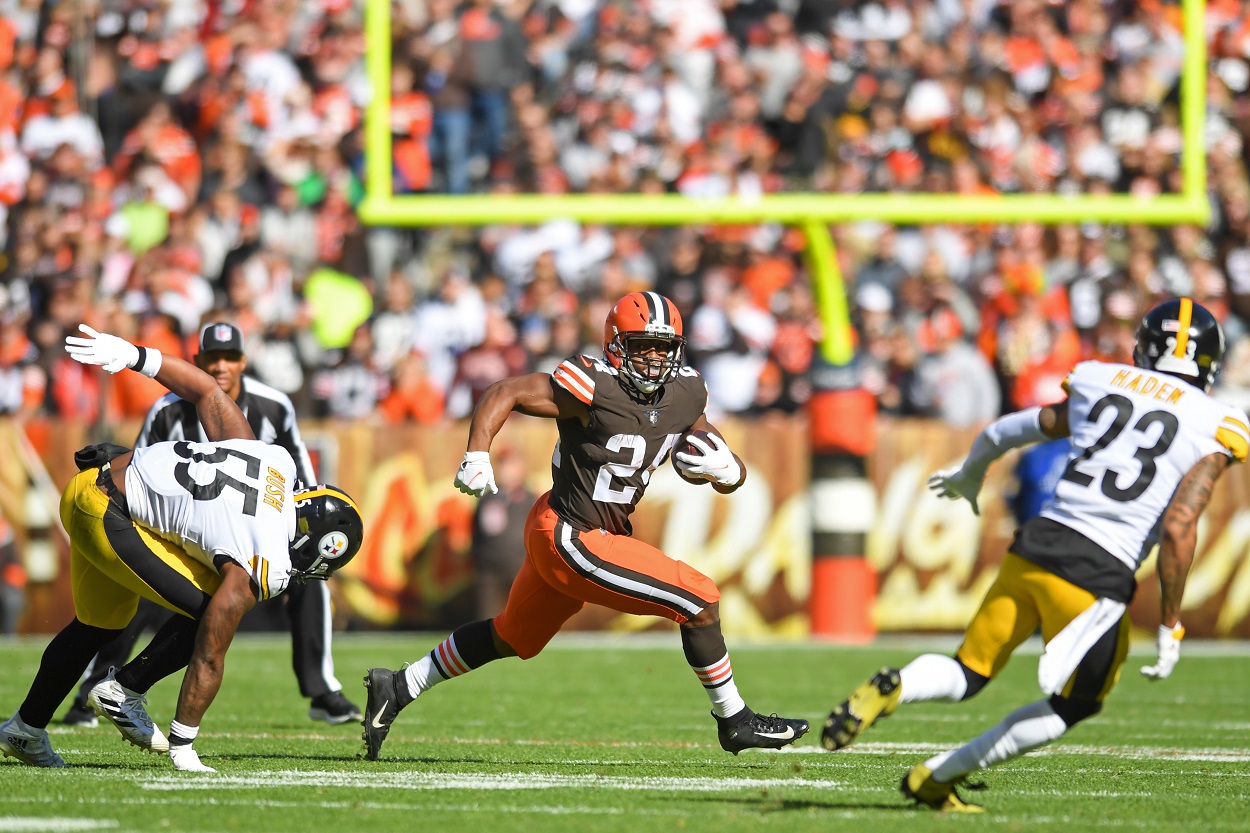 Roethlisberger thinks the Steelers still have a shot, but standing in the way of that shot is a Browns team that could be sneaky competitive in this contest. Yes, Cleveland is coming off two-straight losses, including a Christmas Day loss to Aaron Rodgers and the Packers, but the Browns have lost their last two games by a combined four points. They actually looked like the better team at Lambeau Field on Christmas, and if it weren't for a terrible four-interception showing from Baker Mayfield, they probably would have beaten the Packers, the top team in the NFC.
This is a team that can still play good defense, ranked seventh league-wide in yards allowed per game, and they've got the third-best rushing offense in the NFL behind the strength of Nick Chubb, who's averaging 95.25 yards per game in 12 games. The Browns proved against the Packers that they can play winning football…with the right formula. Airing the football out and trusting Mayfield not to throw interceptions is not going to work, especially in a big spot on the road and on national television.
With that said, if the Browns play possession football and lean on Chubb, with a dash of D'Ernest Johnson or even Kareem Hunt, who has been activated off the reserve/COVID-19 list and could play on Monday, there is a pathway for Cleveland to pick up a huge win.
Keep in mind; the Steelers are the worst team in the league in terms of defensive yards given up per game with 142.7. If there were ever a week for Cleveland head coach Kevin Stefanski to focus on pounding the rock, this would be it.
The Browns currently have an 11% chance to make the playoffs. Beating the Steelers would not only knock out a bitter AFC North rival, but it also more than doubles their chances of making the dance, from 11% to 24%.
Those still aren't great odds, but it's much better than being eliminated with a game to go.
Throw in the opportunity to ruin what could be Roethlisberger's last game on his home turf, and you bet the Browns will be motivated to come out and win on Monday night.
Stats courtesy of ESPN and Pro Football Reference.