Ben Roethlisberger's Dramatic Decline Came At The Worst Possible Time For 1 Steelers Teammate With Money On His Mind
The Pittsburgh Steelers are in a world of trouble right now. Mike Tomlin's team is 1-3, good for last place in the AFC North. The defense has underachieved, and the offense has struggled to get into any rhythm. Quarterback Ben Roethlisberger has a lot to do with Pittsburgh's offensive woes.
Big Ben's lackluster performance to begin the 2021 season could have long-term implications for JuJu Smith-Schuster.
Steelers QB Ben Roethlisberger continues to trend downward
One day, Ben Roethlisberger will be inducted into the Pro Football Hall of Fame. He's passed for 61,381 yards and 400 touchdowns so far in his 18-year NFL career.
Roethlisberger has given his entire career to the Steelers organization. Still, there's no good excuse for his poor performance through the team's first four games.
Pittsburgh has struggled to move the ball and put points on the board thus far in 2021. The offense ranks No. 28 in team offense, averaging just over 301 yards and 16.7 points per game.
Roethlisberger has played poorly. He's thrown for 1,033 yards and four touchdowns while also throwing four interceptions. His decision-making has been an enormous question mark. Big Ben has also missed a lot of throws he usually makes with ease.
Inconsistent offensive line play is a factor, too. The unit has not played up to par and certainly doesn't deserve a pass. The front office did not accurately gauge its inventory heading into the season.
Still, Big Ben is the leader of this team, and his mediocre play has trickled down to the rest of the team. The Steelers have dropped three straight, including one to the division rival Cincinnati Bengals.
JuJu Smith-Schuster's production has taken a hit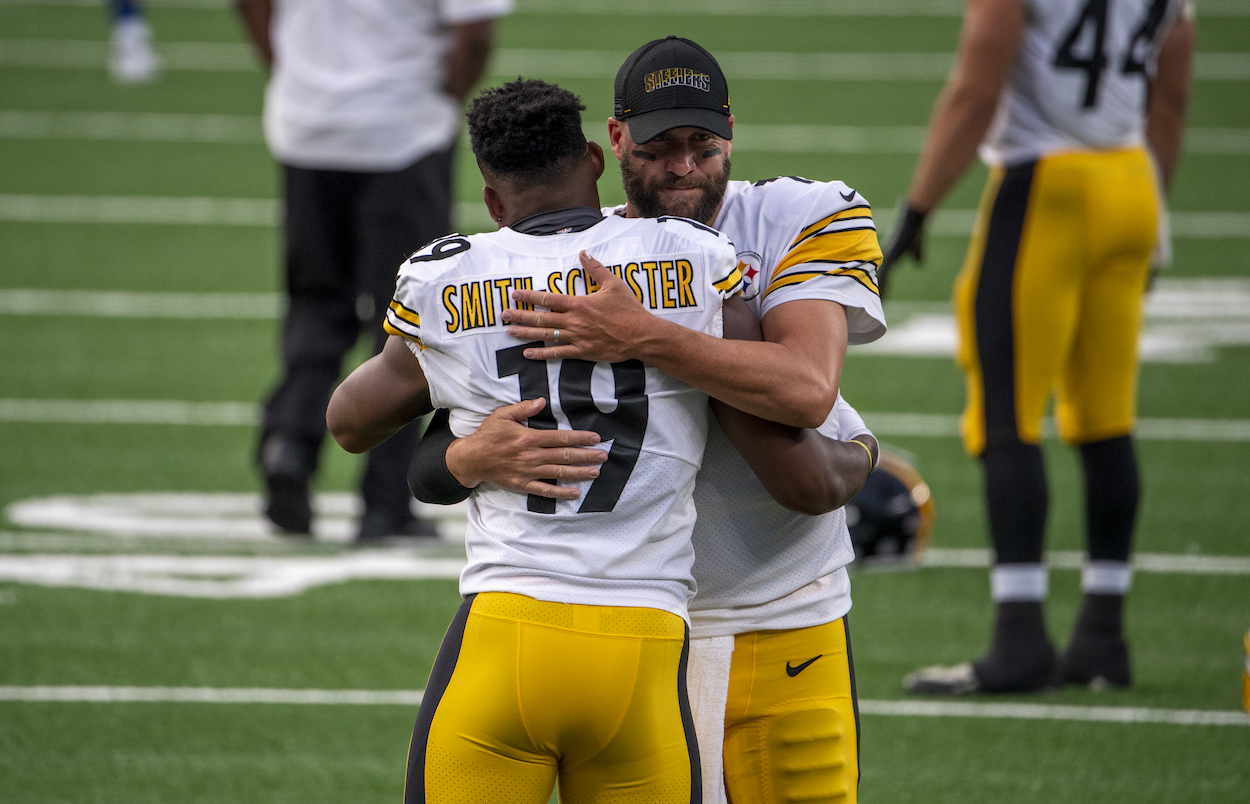 JuJu Smith-Schuster is consistently one of the most targeted players in the Steelers offense. He hasn't turned into the No. 1 receiver the team expected when Antonio Brown left, but he's still been productive.
Smith-Schuster is coming off a 2020 campaign that saw him catch 97 passes for 831 yards and nine touchdowns. While the yardage was concerning given that Ben Roethlisberger targeted him 128 times, his touchdown number was encouraging.
The USC product's numbers early in 2021 are not encouraging, though. Roethlisberger has targeted him 27 times. It's translated into 15 receptions for 129 yards and zero touchdowns.
Diontae Johnson, Chase Claypool, and Najee Harris all have received more targets than Smith-Schuster. Big Ben has also failed to connect with the fifth-year wideout on some routing throws.
The Steelers signal-caller has completed just 55.6% of passes thrown to JuJu Smith-Schuster. Their lack of connection right now is alarming.
Smith-Schuster is in a contract year with the Steelers
The 2021 season means everything for JuJu Smith-Schuster. He was a free agent after 2020 and turned down enticing contract offers from the Baltimore Ravens and Kansas City Chiefs.
Instead, Smith-Schuster opted to return to Pittsburgh on a one-year deal worth up to $8 million. He undoubtedly could've made more money elsewhere but demonstrated loyalty to the Steelers organization.
The honorable act may end up being a foolish one, however. The Steelers offense looks terrible and is showing no signs of picking up anytime soon.
Smith-Schuster is banking heavily on Ben Roethlisberger turning things around. That's a big gamble to make, but he doesn't have a choice. If he wants a new contract, the offense has to get going.
Big Ben acknowledged some of the missed throws while also putting some blame on the receivers. "Honestly, it's a little bit of both of us: the receivers and the quarterback," he told The Athletic. "For a deep ball to be successful, both parties have to be on the same page. They have to understand the coverage and what's going on. "
There's no chance that Mike Tomlin benches Roethlisberger, so they'll need to get on the same page. Otherwise, JuJu Smith-Schuster's offseason decision will haunt him.
All stats courtesy of Pro Football Reference.
RELATED: The Steelers Foolishly Doubling Down on Their Biggest Offseason Mistake Will Cost Mike Tomlin a Shot at NFL History