Ben Roethlisberger Has Played Himself Into the MVP Discussion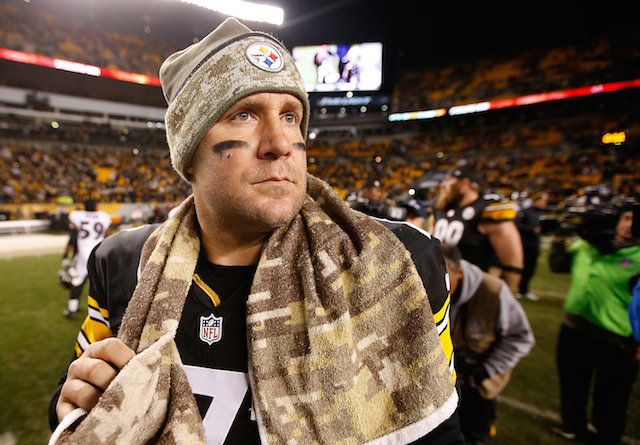 Pittsburgh Steelers quarterback Ben Roethlisberger's record-setting two-week stretch has catapulted him right into the thick of the 2014 NFL Most Valuable Player race. His 22 touchdown passes are good for a three-way tie with Tom Brady and Andrew Luck for the second most in the league behind Peyton Manning, and his 110.6 quarterback rating is good for third in the league.
More importantly, Roethlisberger has led the Steelers to a 6-3 record, which puts them in contention for both the AFC North title and the AFC wild-card spots. Here is an in-depth look at how Roethlisberger's play compares to the other top quarterbacks and MVP candidates around the league, as well as a look at the potential for Big Ben to continue his hot steak throughout the remainder of the Steelers' schedule.
All statistics are courtesy of Pro-Football-Reference.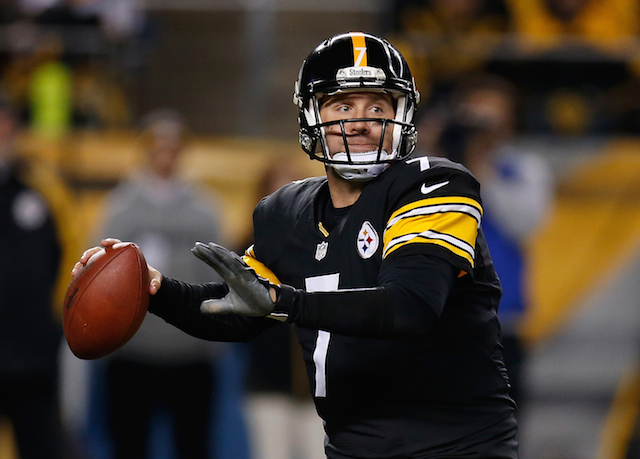 In his last two games, Roethlisberger has completed 75.6% of his passes for 862 yards and 12 touchdowns. Those totals account for 31.7% of his passing yards and 54.5% of his touchdown passes for the entire year. They also bumped his stats up into the top five of nearly all major passing categories. Here is a look at how Roethlisberger compares to the other top quarterbacks, who also happen to be among the top MVP candidates, in the league.
NFL quarterback statistics (top 5, minimum of 200 pass attempts)
Completion percentage:
Drew Brees – 69.6%
Ben Roethlisberger – 68.3%
Tony Romo – 68.2%
Aaron Rodgers – 67.6%
Kyle Orton – 67.4%
Passing yards:
Andrew Luck – 2,731
Ben Roethlisberger – 2,720
Peyton Manning – 2,572
Drew Brees – 2,524
Tom Brady – 2,392
Yards per pass attempt:
Kirk Cousins – 8.38
Aaron Rodgers – 8.37
Peyton Manning – 8.32
Tony Romo – 8.26
Ben Roethlisberger – 8.05
Touchdown passes:
Peyton Manning – 24
Ben Roethlisberger – 22
Tom Brady – 22
Andrew Luck – 22
Philip Rivers – 20
Quarterback rating:
Aaron Rodgers – 113.6
Peyton Manning – 112.0
Ben Roethlisberger – 110.6
Kyle Orton – 104.0
Tony Romo – 103.6
Passing yards per game:
Andrew Luck – 341
Peyton Manning – 322
Drew Brees – 316
Ben Roethlisberger – 302
Matt Ryan – 288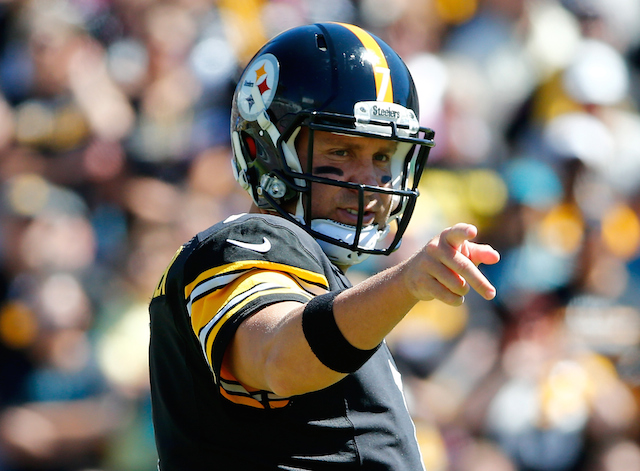 The Pittsburgh Steelers are in the thick of the AFC playoff picture, and if Roethlisberger can continue on his torrid pace, there is a great chance he makes a serious push for the league MVP award and an even greater chance the Steelers could make a push for one of the AFC's top two seeds and get a first-round playoff bye. With the way he's played in his last two games, it's hard to imagine that there is a defense in the league that can slow him down. That being said, there is a tremendously small chance that he continues on his current pace for the rest of the season. Here is a look at the remaining games on the Steelers' schedule and how their defenses have stacked up against the pass in 2014.
Week 10: At New York Jets (1-8)
Jets against the pass:
231 yards per game (12th in the NFL)
24 passing touchdowns allowed (32nd in the NFL)
8 quarterback rating for opposing quarterbacks (32nd in the league)
1 interception (32nd in the NFL)
25 sacks (5th in the NFL)
Week 11: At Tennessee Titans (2-6)
Titans against the pass:
241 yards per game (16th in the NFL)
13 passing touchdowns allowed (12th in the NFL)
2 quarterback rating for opposing quarterbacks (12th in the league)
8 interceptions (14th in the NFL)
23 sacks (8th in the NFL)
Week 12: Bye
Week 13: New Orleans Saints (4-4)
Saints against the pass:
268 yards per game (28th in the NFL)
12 passing touchdowns allowed (5th in the NFL)
1 quarterback rating for opposing quarterbacks (20th in the league)
6 interceptions (19th in the NFL)
17 sacks (19th in the NFL)
Week 14: At Cincinnati Bengals (5-2-1)
Bengals against the pass:
255 yards per game (22nd in the NFL)
10 passing touchdowns allowed (2nd in the NFL)
4 quarterback rating for opposing quarterbacks (1st in the league)
10 interceptions (4th in the NFL)
13 sacks (24th in the NFL)
Week 15: At Atlanta Falcons (2-6)
Falcons against the pass:
281 yards per game (30th in the NFL)
10 passing touchdowns allowed (2nd in the NFL)
2 quarterback rating for opposing quarterbacks (22nd in the league)
5 interceptions (22nd in the NFL)
7 sacks (32nd in the NFL)
Week 16: Kansas City Chiefs (5-3)
Chiefs against the pass:
199 yards per game (1st in the NFL)
13 passing touchdowns allowed (12th in the NFL)
8 quarterback rating for opposing quarterbacks (17th in the league)
4 interceptions (26th in the NFL)
27 sacks (3rd in the NFL)
Week 17: Cincinnati Bengals (5-2-1)
Bengals against the pass:
255 yards per game (22nd in the NFL)
10 passing touchdowns allowed (2nd in the NFL)
4 quarterback rating for opposing quarterbacks (1st in the league)
10 interceptions (4th in the NFL)
13 sacks (24th in the NFL)