Ben Roethlisberger Hints at His Steelers Future by Admitting He's Not Tom Brady: 'I Promise You I Won't Be Playing Football at 44'
Ben Roethlisberger has enjoyed a long and successful football career with the Pittsburgh Steelers. Father Time is coming for him, though. Tom Brady is the only exception to the rule, and Big Ben knows it.
The Steelers will likely begin their search for a new franchise quarterback whether Roethlisberger comes back or not. The 39-year-old hinted at his NFL future in a recent interview while paying respect to Brady.
Ben Roethlisberger's decline is evident
If he retired today, Ben Roethlisberger is already a Pittsburgh Steelers legend. He's spent his entire 18-year career sporting the black and yellow.
However, Roethlisberger is a far cry from the quarterback that carved up defenses for many years. He got off to a horrid start to the 2021 season. He threw for 1,033 yards, four touchdowns, and four interceptions through Pittsburgh's first four games.
After a fluke win over the Buffalo Bills in the season opener, the Steelers dropped three straight games. Roethlisberger accumulated yards through the air, but many of those were empty calories.
Big Ben wasn't the only issue with offense early on. The makeshift offensive line was abysmal. It became abundantly clear that the Steelers' front office failed to properly plan for the decline in the longtime franchise quarterback.
Poor offensive line play hindered rookie running back Najee Harris' production through the first few weeks. Roethlisberger also didn't strike fear in opposing defenses.
Head coach Mike Tomlin has rallied the troops, though. His team has won the last three games, and Big Ben has played better. Still, he's certainly lost a few steps. His lack of athleticism gets exposed now more than ever due to the decline in his arm talent and decision-making.
The Steelers quarterback admits he can't play as long as Tom Brady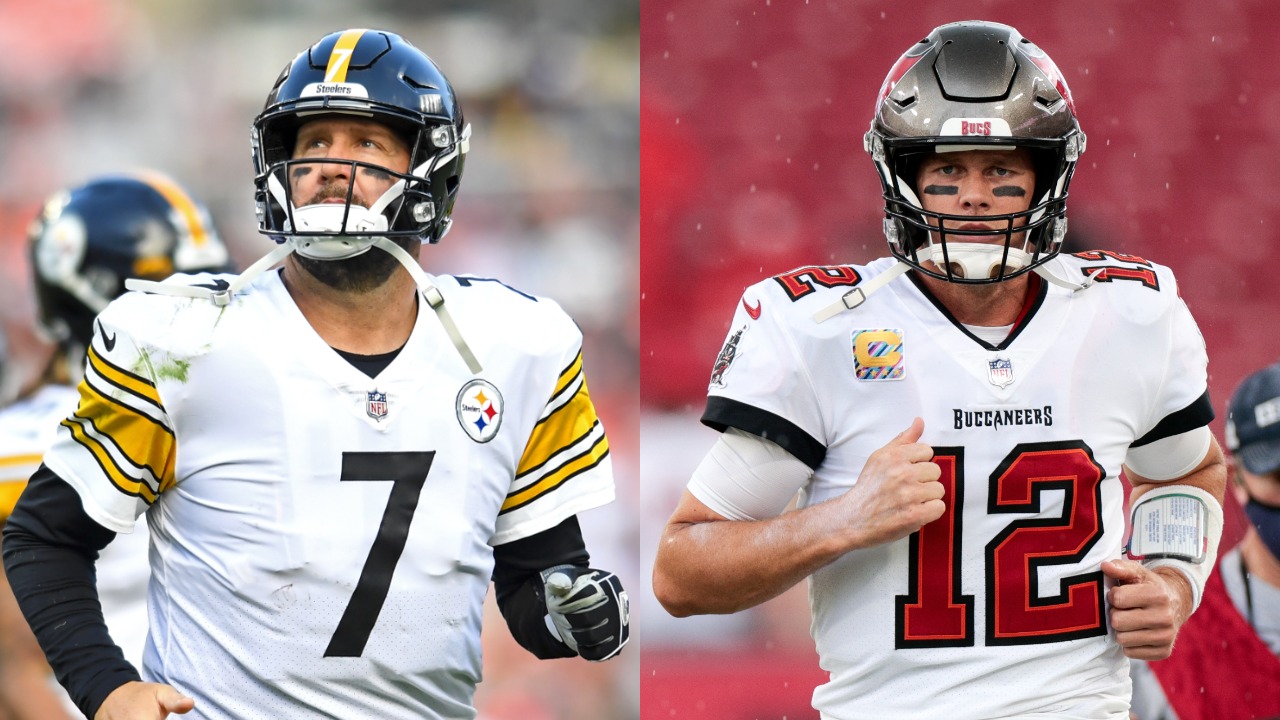 There's more emphasis on player safety in today's NFL, especially when it comes to quarterbacks. Ageless wonders come a dime a dozen, though.
Tom Brady is one of those ageless wonders. The Tampa Bay Buccaneers quarterback is 44 years old and in his 22nd NFL season. However, he's still playing at a high level. Ben Roethlisberger is still hanging around, but he's no longer making game-changing plays with his arm.
Roethlisberger was a recent guest on The Dan Patrick Show. The Steelers' signal-caller talked about his plans for life after football.
Patrick asked Big Ben what he thought he'd be doing at 44 years old. "Being a dad and a husband," he responded. "And probably coaching little league something. I don't know yet. That's a ways down the road."
The Lima, Ohio native started to catch onto what Patrick was doing. "That's the most unique way someone's asked me how long I'm going to play."
While Roethlisberger's future in Pittsburgh is uncertain, the six-time Pro Bowler knows he can't be Tom Brady. "I promise you I won't be playing football at 44," he said. "I'll be playing football in the backyard with my kids, probably."
The veteran quarterback gives off the feeling that his career will be coming to an end sooner rather than later.
Pittsburgh needs to think about life after Big Ben
Given the instability of the Pittsburgh Steelers' quarterback room, it would've been wise for the front office to consider looking for a legitimate backup quarterback. Now, they don't really have a choice.
Neither Mason Rudolph nor Dwayne Haskins is the future franchise quarterback for the Steelers. That's a sad reality, especially given that both players enjoyed productive college careers.
The front office misjudged the offense's trajectory with Ben Roethlisberger at quarterback in 2021. The unit features talented skill players like Najee Harris, Diontae Johnson, and Chase Claypool. However, Big Ben is more of a game-manager at this stage of his career.
For 18 years, Roethlisberger has given his heart and soul to the Steelers organization. The front office hasn't needed to think twice about the quarterback position for quite some time. However, the team would be stubborn not to properly plan for the future after this season's wake-up call.
The 2022 NFL Draft quarterback class features talented names like Malik Willis, Matt Corral, and Sam Howell. Mike Tomlin's squad should do everything they can to land a potential franchise cornerstone as Big Ben was for so many years.
Not everybody can be Tom Brady. And there's nothing wrong with admitting it.
All stats courtesy of Pro Football Reference