Ben Roethlisberger's Impending Retirement Could Provide Salvation for an Infamous NFL Draft Bust
Article Highlights:
ESPN suggested the Pittsburgh Steelers pursue Mitchell Trubisky to replace Ben Roethlisberger in 2022
Trubisky, the second overall pick in 2017, is currently Josh Allen's backup on the Buffalo Bills
The North Carolina product makes more sense in Pittsburgh than you might think
Pittsburgh Steelers fans might officially be in the endgame, at least regarding the Ben Roethlisberger era. Whether or not that is a good thing given his age and recent diminished play is another conversation entirely.
Reports emerged before the Steelers' Dec. 5 victory over Lamar Jackson and the injury-plagued Baltimore Ravens that Roethlisberger, who turns 40 in March, intends to retire after this season. His impending departure, which could conceivably come as early as January, could pave the way for a notable NFL draft bust to revive his career in Pittsburgh.
ESPN suggested the Steelers pursue Mitchell Trubisky as Roethlisberger's potential replacement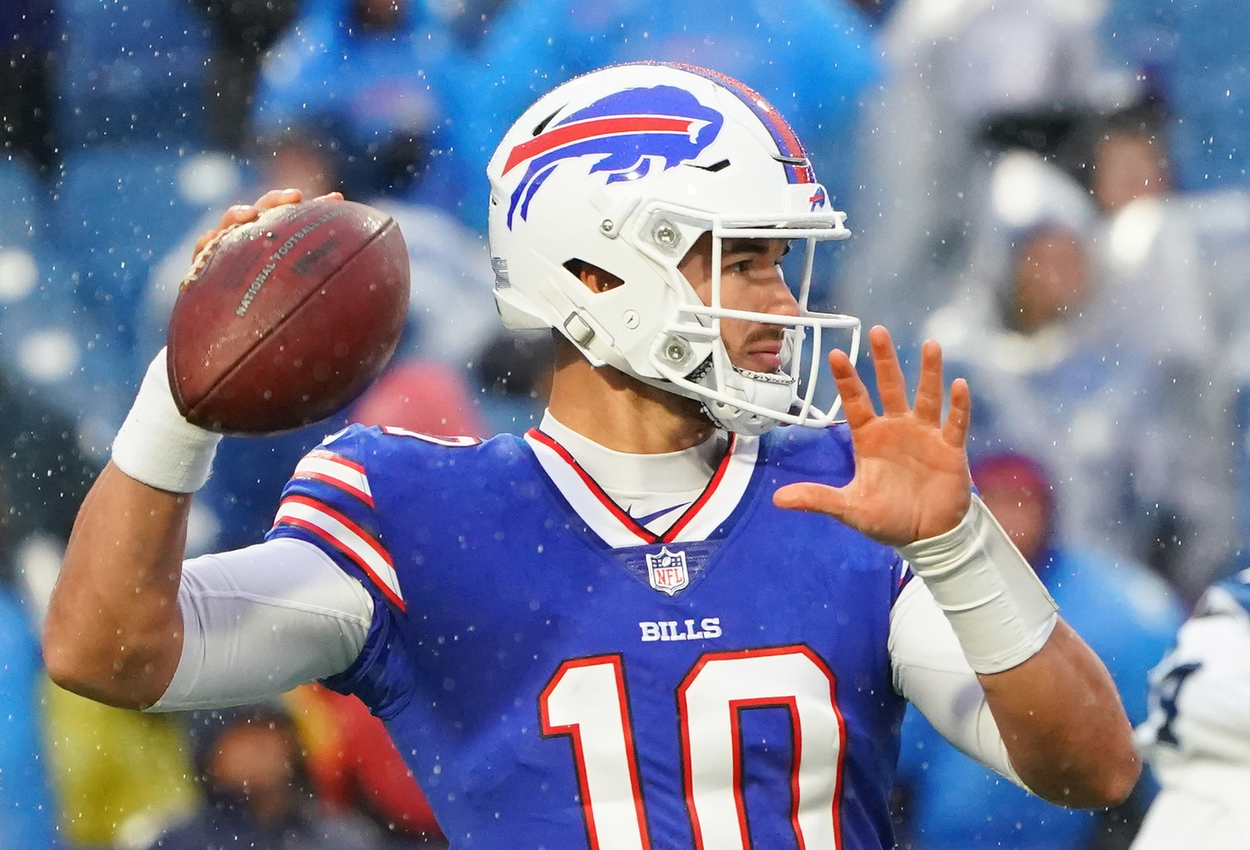 With respect to Roethlisberger and all that he's accomplished over the last two decades, he's not exactly going out in style. The six-time Pro Bowler has completed 64.8% of his passes for 2,758 yards, 16 touchdowns, and six interceptions on an inconsistent 6-5-1 Steelers team.
After the Week 13 win, Roethlisberger didn't publicly commit to this being his final season but did tell reporters he'd address his future when the Steelers' season ends.
Steelers fans are free to fantasize about the likes of Aaron Rodgers or Russell Wilson torching AFC secondaries next season. However, ESPN recently proposed a far more boring, yet possibly more realistic name as Roethlisberger's replacement: Mitchell Trubisky.
Yes, we mean the very same Trubisky who is among the most significant draft busts in modern memory. Or, at least, social media refers to the North Carolina product as a bust because the Bears selected him before Deshaun Watson and Patrick Mahomes in the 2017 NFL Draft.
Trubisky, who went 29-21 and reached the postseason twice as the Bears' starting quarterback from 2017-20, is currently backing up Josh Allen on the Buffalo Bills. The 2018 Pro Bowl selection has completed five of seven passes this year for 28 yards and an interception. He also rushed for a touchdown in a 40-0 rout of the Houston Texans in Week 4.
Trubisky and the Steelers make far more sense than one might think
When Roethlisberger's replacements come up in conversation, Trubisky won't be the sexiest name. Depending on how things play out in the coming months, multiple Pro Bowl quarterbacks, including Rodgers and Watson, could become available either via trade or free agency.
Trubisky is not Rodgers or Watson, and he's not even close. However, he is an experienced starting quarterback who gets a bad reputation largely because of where he was drafted. Football fans and critics would likely view Trubisky, who owns a 64.1 completion percentage and a 64-38 touchdown-interception ratio in 56 games, far differently had he been selected 22nd or 32nd overall.
Although the Steelers are currently in playoff contention, their holes have been apparent all season, especially on the offensive line. It doesn't make sense for the Steelers to add a marquee name at quarterback when they need to address the protection and ensure Roethlisberger's replacement has time to throw.
Right now, the Steelers are facing a transitional period rather than a rebuild. If the Steelers sign the inaugural NVP to a two-year deal, they can use 2022 as that transitional year, one where rookies and young players start seeing more playing time, but the team is still aiming to reach the playoffs, ahead of a potential playoff run in 2023. In that scenario, a stopgap quarterback like Trubisky is the right man to lead the team.
Don't be surprised if the Steelers learn from the Dan Marino mistake and draft Kenny Pickett
As of publication, Pittsburgh would pick 18th in the 2022 NFL Draft. Barring a trade-up, they likely won't be in play for Ole Miss star Matt Corral, who is a projected top-10 selection.
However, the same might not hold true for the University of Pittsburgh's Kenny Pickett. A redshirt senior from New Jersey, Pickett has completed 67.2% of his passes in 2021 for 4,319 yards, 42 touchdowns, and seven interceptions. The 6-foot-3, 220-pound gunslinger threw 39 touchdowns in his first four seasons combined.
Older Steelers fans may already be screaming at their screens or praying to the football gods. The organization famously passed on another Pittsburgh Panthers quarterback, Dan Marino, in the 1983 NFL Draft. 
No one is guaranteeing Pickett will be a solid starter in the NFL, let alone the league's next superstar quarterback. However, his rising draft value and his status as a potential hometown hero might make it difficult for the Steelers to pass on taking him, especially if Roethlisberger isn't around in 2022.
Like Sportscasting on Facebook. Follow us on Twitter @sportscasting19.