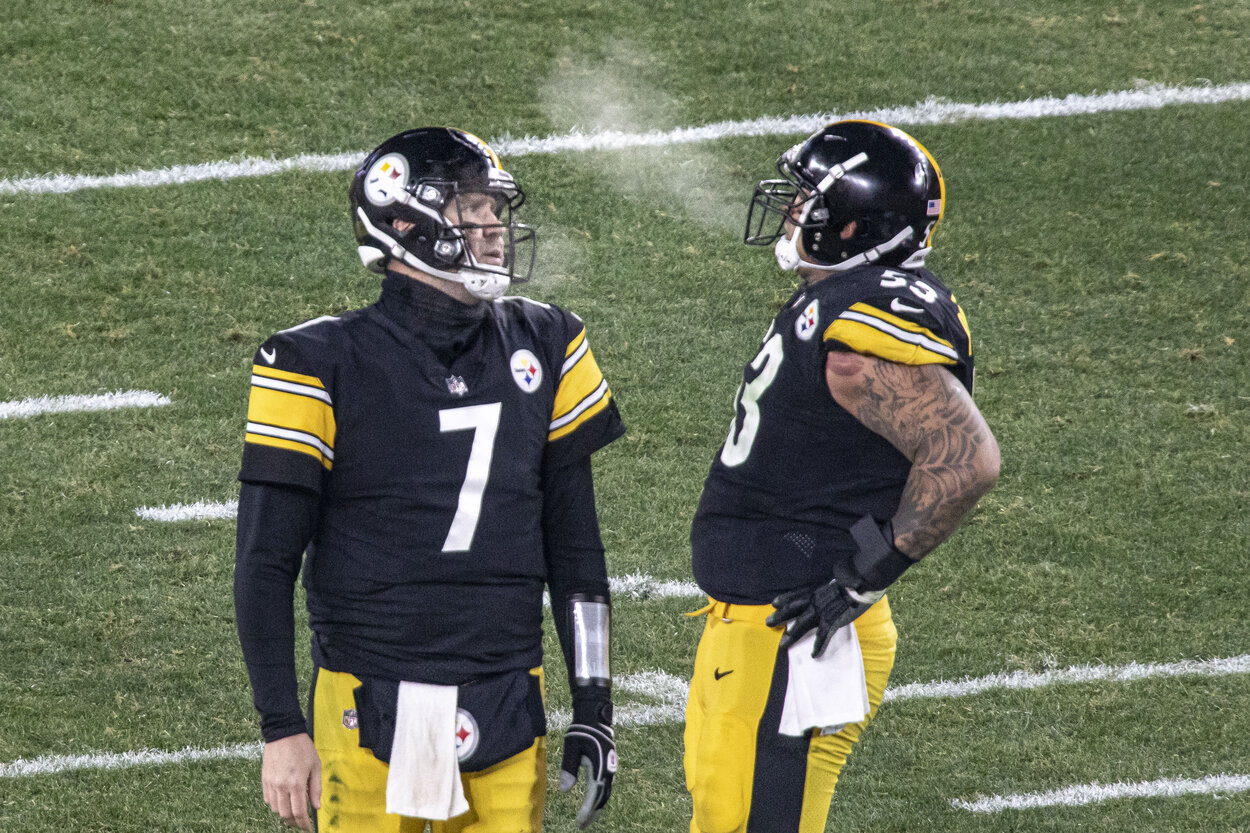 Ben Roethlisberger Just Received More Incentive to Immediately Leave the Pittsburgh Steelers
Pittsburgh Steelers quarterback Ben Roethlisberger wants to play in 2021, but he may have just received more incentive to retire immediately.
In his ideal world, Ben Roethlisberger will suit up for the Pittsburgh Steelers next season.
At least, that is what Roethlisberger has said publicly. A myriad of factors, including changes to the offensive personnel, could always steer Roethlisberger towards retirement.
Roethlisberger just received news that, if it comes to fruition, could mean Mike Tomlin and the Steelers add extra time and resources to finding a new quarterback this offseason.
Ben Roethlisberger isn't guaranteed to play next season
The old guard of quarterbacks is quickly changing in the NFL.
Longtime San Diego/Los Angeles Chargers quarterback Philip Rivers just retired after one season with the Colts. Saints star Drew Brees is expected to follow Rivers into retirement.
Tom Brady is in his first season with the Tampa Bay Buccaneers after 20 campaigns in New England. New York Giants legend Eli Manning retired after the 2019 season, his 16th in the NFL.
Ben Roethlisberger could be the next to call it quits. Roethlisberger turns 39 on March 2, and his contract expires after next season.
However, Roethlisberger's 2021 salary cap number is at an eye-popping $41.25 million. He is set to earn $19 million in 2021, barring a last-minute restructuring.
Veteran center Maurkice Pouncey may retire soon
If Ben Roethlisberger returns in 2021, he may be without one of his most important teammates.
The Pittsburgh Post-Gazette reported that Steelers center Maurkice Pouncey has told teammates that he intends to retire. 
Pouncey, who turns 32 in July, is a nine-time Pro Bowl selection and has earned first-team All-Pro honors twice. The veteran center also received second-team All-Pro honors in 2010, 2012, and 2018. 
Former Steelers offensive lineman Ramon Foster tweeted that the report of Pouncey's retirement is premature.
"Trust me…FAKE NEWS. No decision has been made."
As of publication, Pouncey had not yet publicly commented on the retirement rumors.
Pouncey's possible retirement hurts Ben Roethlisberger in a big way
If Maurkice Pouncey winds up retiring, Ben Roethlisberger needs to figure out if he'll be spending the fall of 2021 on the beach, in another country, or somewhere else entirely.
Although Pouncey struggled with snaps late in the 2020 season, he has played a crucial part in the Steelers' offense over the last decade. Pouncey and Roethlisberger are also two of the longest-tenured people still with the Steelers franchise.
Roethlisberger can afford to retire, financially and literally. The veteran gunslinger has done more than enough in the NFL to earn a spot in the Pro Football Hall of Fame.
According to Spotrac, Roethlisberger earned over $253 million through the end of the 2020 season.
Roethlisberger looked sharp for most of the 2020 season, completing 65.6% of his passes for 3,803 yards, 33 touchdowns, and 10 interceptions. With that said, the six-time Pro Bowler has plenty of mileage on his tracks, and he knows full-well how quickly regression can happen.
Roethlisberger would be wise to decide on his future soon, especially if Pouncey winds up calling it quits. With the rest of the AFC North Division quickly improving, neither may want to be around the Steelers next year.
All contract figures courtesy of Spotrac.