Ben Roethlisberger's Kids Aren't Allowed to Play Contact Football Until Fifth Grade
Ben Roethlisberger, or "Big Ben," as many NFL spectators and fantasy football owners call him, is not only the quarterback for the Pittsburgh Steelers, but also a husband and father of three kids. While balancing football and fatherhood requires a lot of work and effort, one steadfast rule has been maintained by Roethlisberger for years and it is that his children will not be allowed to play contact football until the fifth grade.
Ben Roethlisberger shares three kids with wife Ashley Harlan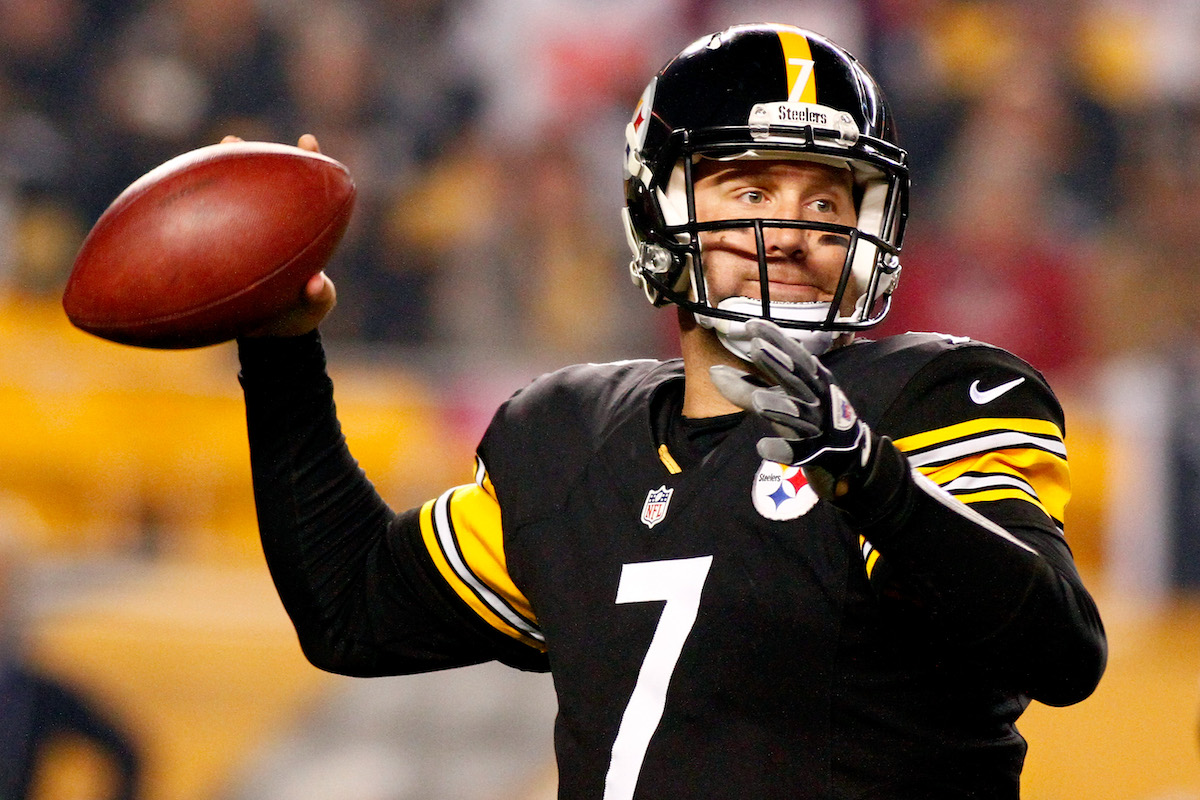 Roethlisberger is married to Pennsylvania native Ashley Harlan. The two met in 2005 when Harlan's brother, a huge Steelers fan, introduced her to Roethlisberger at a training camp. Harlan and Roethlisberger hit it off and dated for several years before tying the knot on July 23, 2011.
They went on to welcome two sons and a daughter. Their oldest, Benjamin Todd, was born in 2012; their daughter, Baylee Marie, joined the family crew in 2014; and their youngest, Bodie, came into the world in 2016.
Roethlisberger appears to love every facet of being a dad. And he makes no qualms about being protective of his three kids and doing what is best for them in any situation.
Roethlisberger's kids aren't allowed to play contact football until fifth grade
When it comes to the game of football, paternal protectiveness also kicks in for the NFL record holder and future Hall of Fame inductee. Roethlisberger has said that he will not allow his children to play tackle football until they are in fifth grade. Until then, flag football, two-hand touch, or a speedy game of freeze tag will have to suffice for his little ones.
"There's no pads out here, we're not tackling, we're not hitting," Roethlisberger told the Pittsburgh Post-Gazette. "We're learning the fundamentals. To me, when you learn the fundamentals of football, football becomes a safer game. Too many times I think the game of football is played too early in terms of full contact hitting. I've heard of second and third graders playing full contact football, that's too early." He continued:
I think early on, you need to teach the fundamentals of football — how to properly tackle, how to properly hit, throw and catch, all those things. When you learn those things early, then when football becomes what football is supposed to be, the kids are better prepared for it.

Ben Roethlisberger
His kids inspired him to finish his college degree
Roethlisberger played college football at Miami University in Oxford, Ohio. He was a starter and is considered the all-time greatest quarterback in the school's football history books. He was a starter for three consecutive years and forged his last year of eligibility to enter the NFL draft. It was a smart move because the Pittsburgh Steelers took him first in the draft as the 11th overall choice. And the rest is NFL gold.
While playing football was, and still is, Roethlisberger's priority, he also prioritized finishing his bachelor's degree at age 30. Entering the draft early left him a few credits short of graduating — but he was able to go back and complete his degree in between winning Super Bowl rings and playing in numerous Pro Bowls.
It was in May of 2012 when he earned his undergraduate degree in the field of education and made his parents, wife, and himself proud. "How could I tell my children one day how important an education is, if I didn't have one?" Roethlisberger explained at the time. "This is pretty special to me. I'm proud to not just say I'm an alum. Now, I'm a graduate."
RELATED: Ben Roethlisberger Has Earned Over $253 Million Despite Not Playing Quarterback Until His Senior Year of High School