Ben Roethlisberger's New Diet Is 'Stricter Than Tom Brady's' According to NFL Source
Ben Roethlisberger has been the Pittsburgh Steelers' quarterback for 17 years now, leading the team to three Super Bowl appearances and two victories. Around the Steel City, Roethlisberger is known as "Big Ben" in part because he's literally a large figure.
As the 39-year-old nears the twilight of his football career, he seems to understand that he needs to take better care of his body to prolong his time in the NFL. If new reports are to be believed, he's following an incredibly strict diet to get as lean and strong as possible. Let's look at Roethlisberger's new diet that is reportedly stricter than Tom Brady's limited food regimen. 
How Ben Roethlisberger became 'Big Ben' — literally
Roethlisberger has always been on the larger side, especially for a quarterback. According to Pro Football Reference, he's listed at 6 feet, 5 inches tall and 240 pounds. That's bigger than many quarterbacks. His large frame also may have helped the QB remain durable against big hits. Other than 2019, he's never missed more than four games in a season during his long, illustrious career. 
The fact remains that Roethlisberger is at an age when most players are long retired. For him to stay effective, he'll have to stay in top shape. There's been talk about his weight and that he's become more committed to losing some of it this offseason. 
Roethlisberger's new diet
Roethlisberger is looking slimmer heading out of training camp and into preseason games this year. A tweet thread from sports broadcaster Ryan Burr noted that Roethlisberger is reportedly in "the best shape of his life," going on to report: "Ben camp says biggest concern is weight loss. He has been so driven since season ended. Source says his diet is stricter than Brady." 
That would be quite an accomplishment.  Based on his success, Brady would be a good role model for the Pittsburgh quarterback. TB12 is highly regarded for his fanatical commitment to nutrition and fitness because of his desire to play until he is 45.
The Bucs quarterback eats about 80% vegetables for his meals, with a decent amount of lean meats. Brady also restricts food combinations, avoiding a mix of protein and carbs like potatoes. He generally avoids nightshade vegetables, such as tomatoes, and he won't consume olive oil that's been cooked.
Roethlisberger isn't in his 40s yet, but he's close. Perhaps his allegedly strict diet will help him play at a high level deep into the next decade.
How much longer will Roethlisberger be the Steelers' quarterback?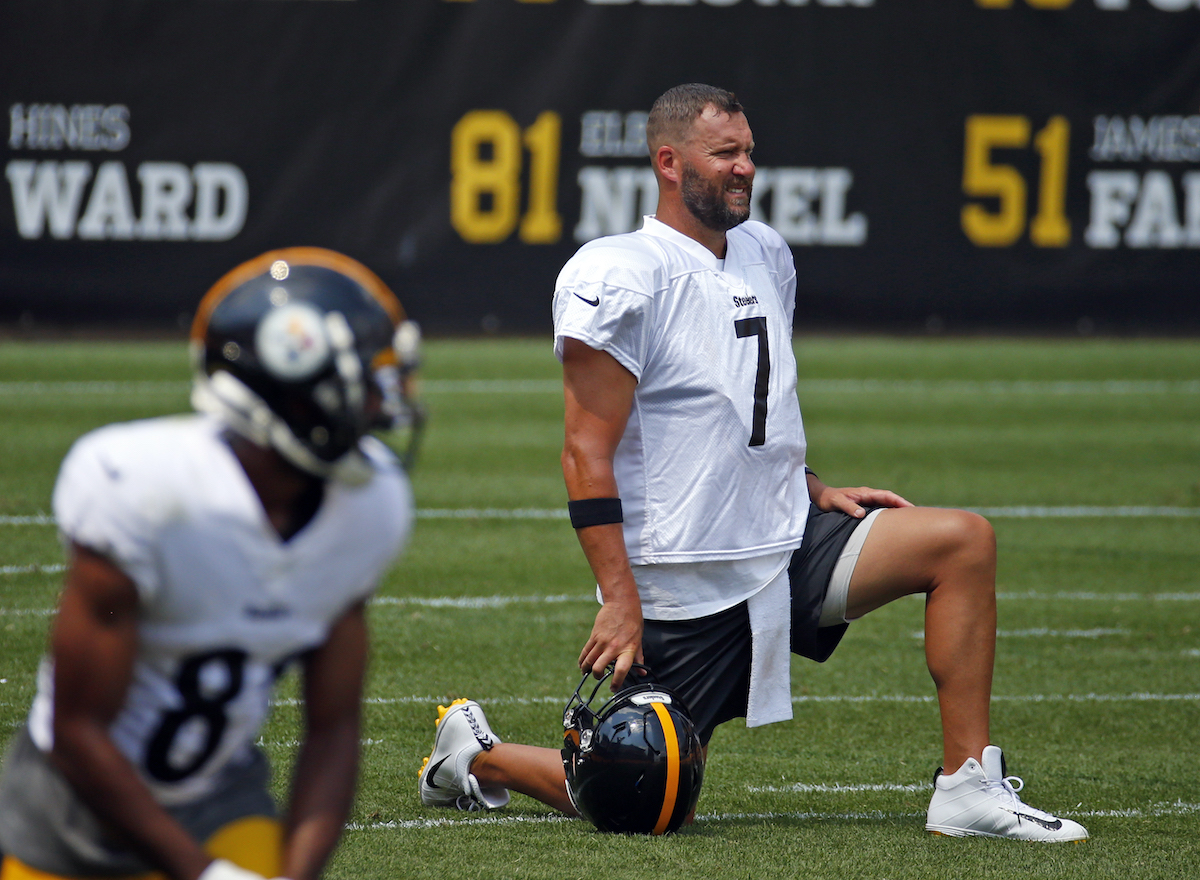 Another tweet from training camp saw Ben Roethlisberger looking comparatively trim, so it appears the rumors have substance. The 39-year-old has to know his days in Pittsburgh are numbered. According to ESPN, the Steelers' depth chart at quarterback has four options: 
Roethlisberger, who is still QB1
Mason Rudolph
Dwayne Haskins
Joshua Dobbs
Dobbs doesn't seem to be an imminent threat to Roethlisberger, but Rudolph and Haskins both have the potential to be. Pittsburgh used a 2018 third-round pick on Rudolph. That's fairly high to take a quarterback, especially one you don't intend to play. 
Haskins is more of a reclamation project; after two disappointing seasons in Washington, he's on his best behavior to try to hang on in Pittsburgh. But no one ever thought Haskins was short on talent. If he can refine his game under the tutelage of Pittsburgh's coaching staff, who's to say he can't still become an elite player? He's young and inexperienced enough to be able to turn it around. 
With 40 around the corner and two young, hungry players breathing down his neck in the quarterback room, Roethlisberger's weight loss couldn't come at a better time. But whether he actually dropped the weight, there's no question that right now, a healthy Roethlisberger gives Pittsburgh the best chance to compete.