Ben Roethlisberger and a Pittsburgh Steelers Team With Nothing to Lose Is a Major Threat to Patrick Mahomes and the Kansas City Chiefs
Ben Roethlisberger and the Pittsburgh Steelers are operating like they've gotten a second lease on life. They were headed for the exit and an abrupt end to the Roethlisberger era, but they'll live to fight another day.
That comes in the playoffs, and the fight won't be an easy one.
Having slid in as the final seed in the AFC, Pittsburgh will be tasked with taking on the No. 2 seed on the road. That means the Steelers will have to square off with Patrick Mahomes and the Kansas City Chiefs at Arrowhead in the Wild Card Round.
The Pittsburgh Steelers have a tough playoff draw in the Kansas City Chiefs
Finishing the season at 9-7-1, the Steelers were good enough to make the playoffs, but it's worth noting they're only in because of the expanded seventh seed. They're not going to apologize, but in years past, they would not be a playoff team.
That's essential context because the Steelers are going up against a bonafide playoff team in the Chiefs.
Head coach Andy Reid and Mahomes have led the Chiefs to two straight Super Bowl appearances, winning Super Bowl 54 and losing Super Bowl 55 to Tom Brady and the Tampa Bay Buccaneers. Though Mahomes is only 26, he's a veteran gunslinger with a ton of big-game experience at this point.
He also operates one of the most explosive offenses in NFL history when everything is clicking. The Chiefs finished this season with the No. 3 offense in yards per game (396.8) and No. 4 in points per game (28.2). Though they did start the season uncharacteristically slow, they have rounded out (especially defensively) and look like a legitimate Super Bowl contender once again. Kansas City won nine of its last 10 games, averaging 29.2 points per contest and giving up just 16.1.
One of those victories was a 36-10 win over the Steelers. Notably, the Chiefs were without Travis Kelce and Tyreek Hill. Mahomes still threw for three touchdowns while Roethlisberger threw one score but also had a pick and a lost fumble.
Ben Roethlisberger and the Steelers are going to play like they have nothing to lose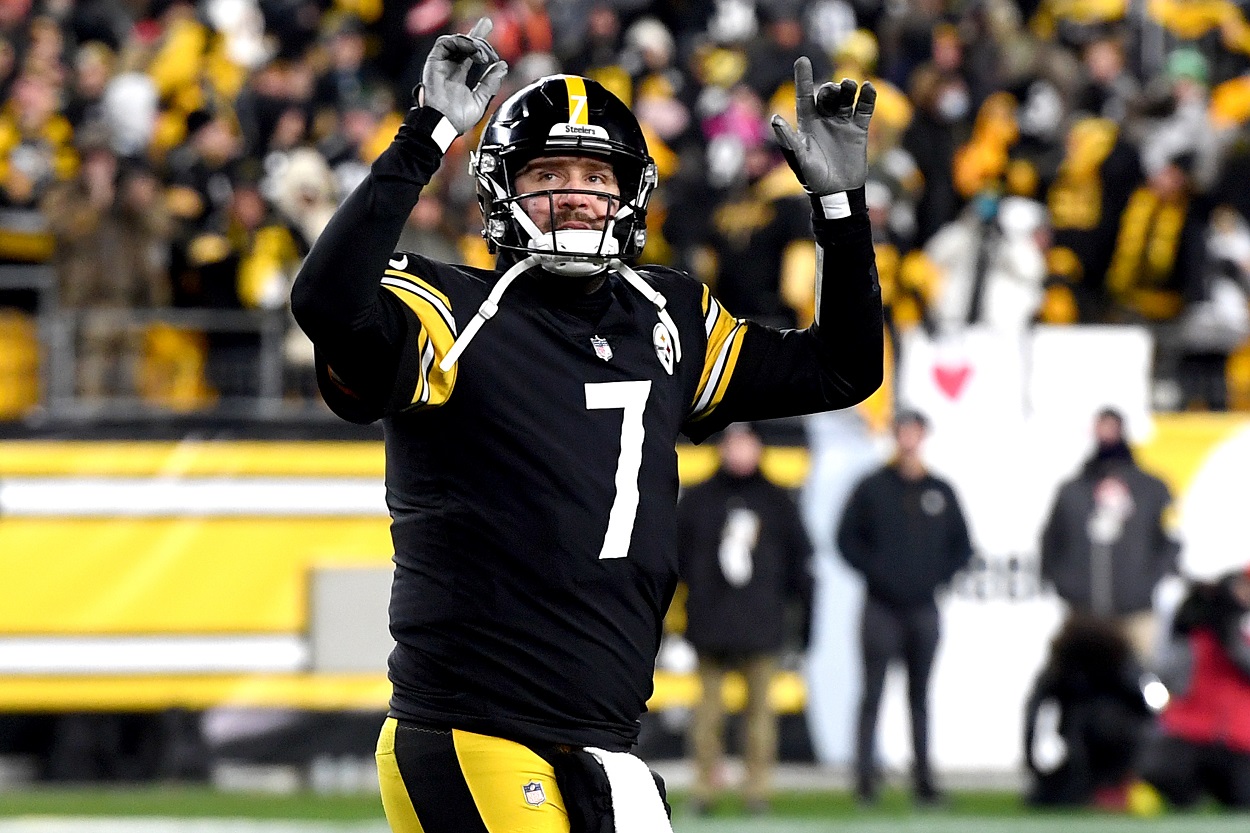 We've already gone over the fact that the Steelers wouldn't be a playoff team in years past, but the past doesn't matter right now.
All that matters is that before Week 18, the Steelers had little-to-no chance to make the big dance. Things broke their way, though, including a huge upset of the Indianapolis Colts by the Jacksonville Jaguars, and the Steelers earned their dancing shoes despite all the odds being against them. Speaking of, Pittsburgh will again be facing steep odds against the Chiefs, but at this point, that's become a rallying cry for Roethlisberger and his team.
He knows they're in a tough spot. He knows they're matched up with a very good team and, at least on paper, they're not that great of a team. The ESPN matchup predictor gives the Chiefs a 75.9% chance of winning. FanDuel says the Steelers are almost 13-point underdogs.
Roethlisberger knows all these realities, but frankly, he doesn't seem to care.
"I would assume, as a group, you understand that we probably aren't supposed to be here. We probably are not a very good football team. Out of 14 teams I think are in, we're probably number 14," he told the media, according to ESPN. "We're probably 20-point underdogs, and we're going to the No. 1 seed, the No. 1 team. I know they're not the No. 1 seed, obviously, but they're the No. 1 team that has won the AFC the last two years, arguably the best team in football.
"We don't have a chance. So, let's just go in and play and have fun."
A loose Steelers squad could be a major threat to the Chiefs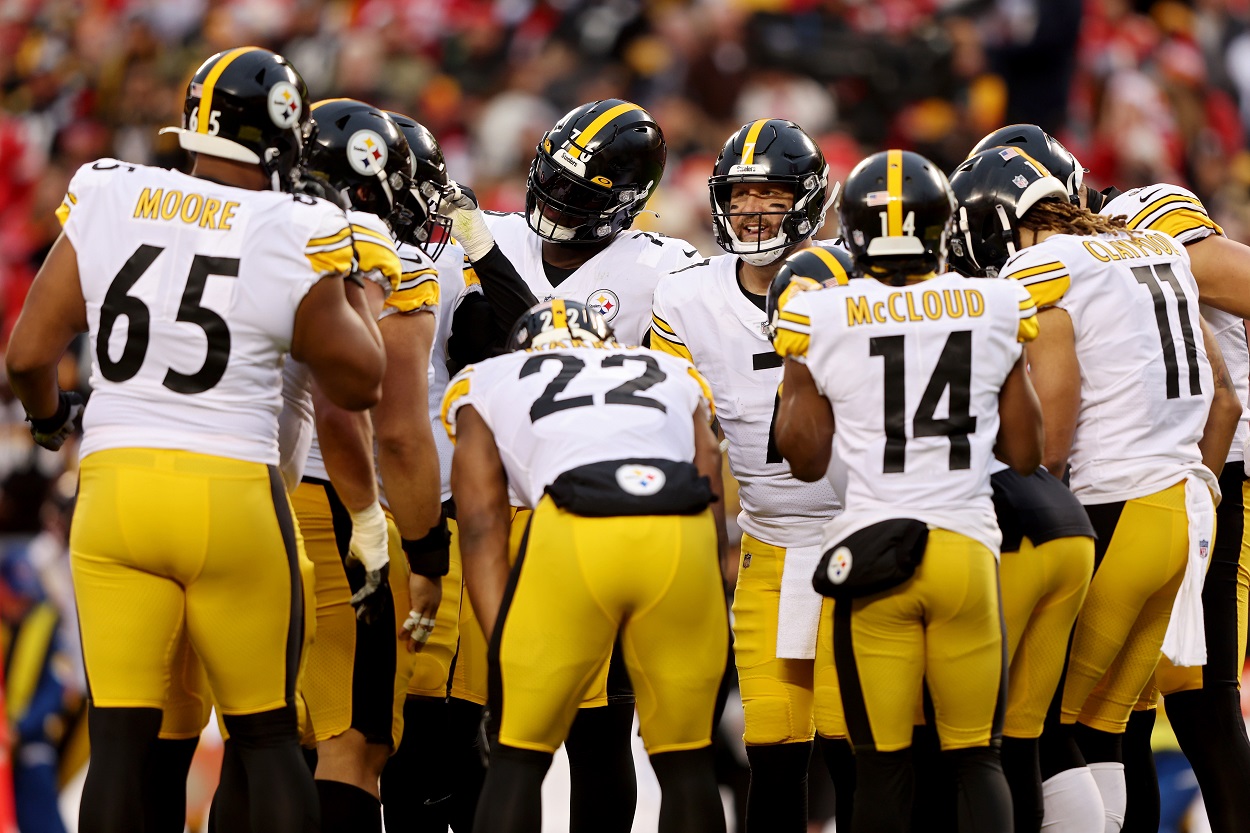 The Steelers shouldn't be in this position, but they are.
If they lose, so what? They were expected to anyhow.
If they win, though, perhaps they can lasso some of the momentum from Big Ben's last proverbial ride into the sunset and go on to shock the world. Stranger things have happened in the NFL, after all.
No matter how it shakes up, a loose Pittsburgh squad is actually in a unique position to threaten the Chiefs on Wild Card Weekend.
There's something about expectations that can stiffen a team up and make it crumble under pressure. Conversely, a lack of expectations can really open up a game. That's when it stops being a job and once again becomes a game. That's when it becomes fun. That's when you take chances and try to make big plays, because why not?
We've all seen it in sports. Underdogs are dangerous because that's the only thing they're able to be. They're able to take chances and go for broke. They're able to laugh at the good plays and shrug off the bad ones.
Again, why not?
They're playing with house money. Everything is gravy.
That's not to say the Chief will crumble under the pressure of trying to make a third straight Super Bowl, but that's undoubtedly the expectation in Kansas City. With that in mind, every play becomes that much more pressure-packed. Every mistake becomes that much more critical, and we know Mahomes and the Chiefs have been prone to making mistakes this season.
You can bet Big Ben and the Steelers are going to come out and sling the ball around the yard on offense. Defensively, all it takes is one mistake from Mahomes because the Steelers are built to capitalize. They may not be an elite squad, but this is still a unit that features T.J. Watt, Cameron Heyward, Devin Bush, and Minkah Fitzpatrick.
Maybe, just maybe, this is setting up to be a game that could be a big problem for the Chiefs.
American novelist James Baldwin once said, "The most dangerous creation of any society is the man who has nothing to lose."
The Chiefs are about to find out just how true that sentiment really is.
Stats courtesy of ESPN and Pro Football Reference.
RELATED: The Pittsburgh Steelers Should Replace Ben Roethlisberger Not With Aaron Rodgers, but With Jordan Love
Related post url: