Ben Roethlisberger's Play Doesn't Appear to Be Impressing a Hall of Famer Who Believes the Steelers Have No Chance at Winning a Championship With Him: 'They're Going Nowhere'
The Pittsburgh Steelers surprised everyone in Week 1 of the 2021 NFL season when they beat the high-powered Buffalo Bills. In Week 2, though, the Las Vegas Raiders brought them back to reality with a convincing 26-17 win.
Statistically, Ben Roethlisberger has been OK so far this year, but he hasn't been dominant by any stretch of the imagination. In fact, the quarterback's play has Pro Football Hall of Famer Michael Irvin feeling uneasy about the Steelers' chances moving forward.
Ben Roethlisberger and the Steelers lost to the Raiders in Week 2
The Steelers surprised everyone in Week 1 by defeating the Buffalo Bills, who went to the AFC Championship Game last season, 23-16.
Ben Roethlisberger and the offense didn't help much in the win, though, as the six-time Pro Bowler only threw for 188 yards and a touchdown, and Pittsburgh racked up just 252 total yards. The offense also only reached the end zone once before a blocked punt led to the team's other TD.
However, in Week 2, the Steelers' defense couldn't mask the team's offensive woes, and Pittsburgh lost to the Las Vegas Raiders 26-17. The Raiders outgained them in total yards, 425-331, and Pittsburgh only ran for 39 rushing yards. Roethlisberger was better statistically, completing 27-of-40 passes for 295 yards, one touchdown, and an interception, but he was hard on himself after the game.
"It's frustrating because I put a lot of stinkin' time in, more than I probably ever have," the quarterback said after the loss, per ProFootballTalk. "I'm not really sure. We've got to get it figured out, though, because I'm frustrated that I'm not playing well enough."
But whether his stats were better or not, Roethlisberger — who is also working through a pectoral issue, per ESPN — certainly isn't the same player he used to be; he's 39 years old and can't make the throws he did a few years ago. In fact, last year, the Miami of Ohio product averaged 6.3 yards per attempt, and this year so far, he's averaging 6.7 per throw. From 2016–2018, he averaged 7.6, and going back a little further in 2014 and 2015, he averaged 8.3.
So, given Big Ben's inability to make the plays he used to make, Michael Irvin recently had some strong criticism for him and the Steelers.
Michael Irvin thinks the Steelers have no championship hopes with Big Ben
Former Dallas Cowboys wide receiver Michael Irvin is almost always opinionated. And while recently appearing on ESPN's First Take, he shared the concerns he has for a Steelers team with Ben Roethlisberger as its quarterback.
"There's nothing worse than being in that game unsure, trying to muster up the same things that you used to have inside of you like Big Ben standing in the pocket with people at his feet and still letting that ball go," Irvin said on the Sept. 20 episode. "We remember all them great days and the great things Big Ben did … but now those throws are interceptions because he thinks he can still do it, but your body can't do it."
Irvin then essentially said the Steelers have no chance at winning a championship with Roethlisberger as their quarterback, especially given the fact that their run game has struggled so mightily through the first two weeks. They need someone who can cover up their deficiencies, and Big Ben is no longer the type of guy who can do that.
"Pittsburgh is about championships; that's what they're about; they've always been about it," Irvin added. "…They're about championships, and if they really want to get to another championship — this team [as currently] constructed — Ben Roethlisberger cannot be the quarterback. He cannot be the quarterback. … As Ben is, right now, with that team, right now; they're going nowhere."
The Pittsburgh Steelers don't have a better option than Ben Roethlisberger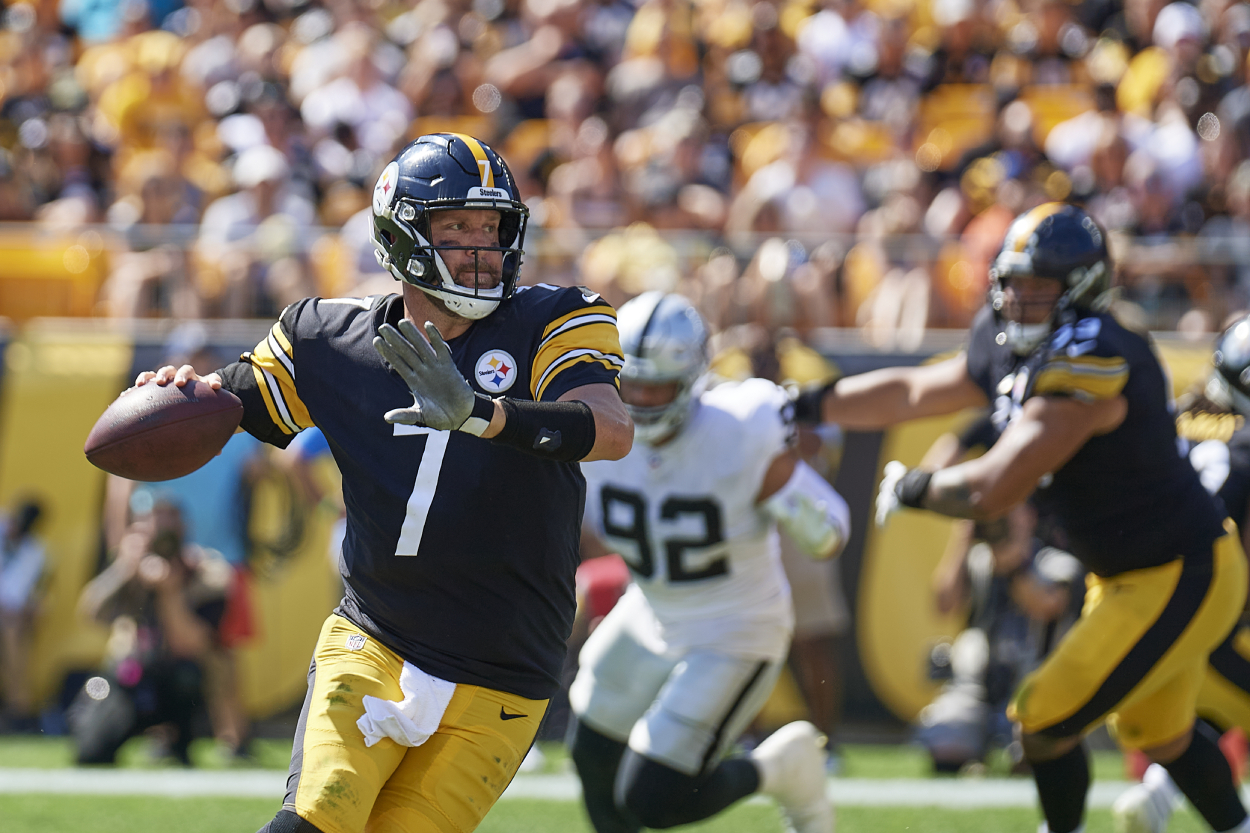 Although Irvin doesn't think Ben Roethlisberger can lead the Steelers to another championship, he admitted they don't have a better option right now.
And he might be right.
While Roethlisberger is 39 years old and a future Hall of Famer, his backups are the opposite: unproven.
Mason Rudolph is only in his fourth season and has thrown for 2,089 yards, 15 touchdowns, and 10 interceptions in 15 games and nine starts in his career. Dwayne Haskins, on the other hand, has the potential to be the heir apparent to Big Ben after throwing for 50 touchdowns and eight interceptions in 2018 at Ohio State. But Haskins has struggled in the NFL through his first two seasons, recording 2,804 yards, 12 touchdowns, and 14 interceptions in 16 games and 13 starts.
Sure, either Rudolph or Haskins may have the potential to be decent QBs eventually, but they aren't going to help the Steelers win a title now, similar to Roethlisberger. So, as Irvin said, the aging star might just be their best option.
All in all, though, Big Ben has given Pittsburgh stability at the quarterback position for years, but the team must figure out who its future is sooner rather than later so that it can actually contend for Super Bowls.
Stats courtesy of Pro Football Reference
RELATED: Terry Bradshaw Felt His Entire Life Changed During a 'Monday Night Football' Game He Didn't Even Play In