Ben Roethlisberger: Ranking the 10 Players Selected Ahead of the Steelers Legend in the 2004 NFL Draft
The end of the Ben Roethlisberger era is finally upon us. Barring a sudden change of heart, the Pittsburgh Steelers legend will retire after the 2021 season, officially ending an incredible 18-season run in the Steel City.
Before his resume included two Super Bowl rings and assorted legal issues, Roethlisberger went 11th overall in the 2004 NFL Draft. Ten teams, ranging from the New York Giants to the Houston Texans, went in another direction; some already had franchise quarterbacks, and others chose to address other holes. Obviously, the Giants and San Diego Chargers went with quarterbacks, albeit in the respective forms of Eli Manning and Philip Rivers.
Of the 10 players who went before Roethlisberger, who had the best careers? For this list, we are only ranking players based on their on-field achievements and numbers. We did not consider any off-field issues.
Based on consideration of the aforementioned prerequisites, the best players stack up as follows:
10. Reggie Wiliams, WR, Jacksonville Jaguars (No. 9 overall)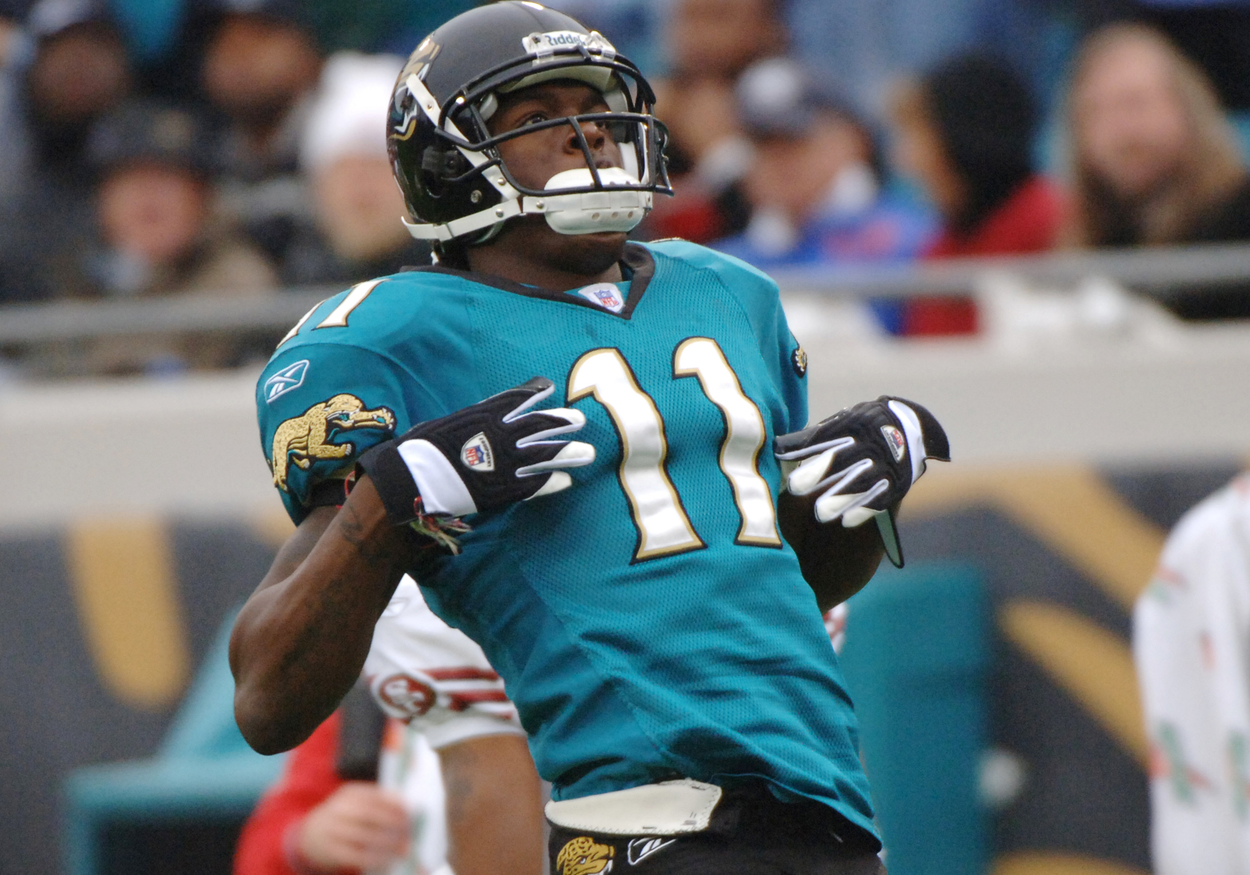 Add Reggie Williams to the long list of busts the Jacksonville Jaguars have had in the 21st century. An All-American receiver at Washington, Williams recorded 189 catches, 2,322 yards, and 18 touchdowns in 79 games and 53 starts with the Jaguars from 2004-08.
Although he impressed at points and even averaged 16.6 yards per catch in 2007, he also lacked ball control and didn't earn a second contract in Jacksonville … or anywhere else. After playing his final NFL down at 25 years old, the 6-foot-4 receiver spent time in the United Football League and the Canadian Football League before hanging his cleats up for good.
9. Robert Gallery, OT, Oakland Raiders (No. 2 overall)
The then-Oakland Raiders believed Robert Gallery, the nation's top offensive lineman in 2003, would fit right in as the franchise left tackle. Those hopes didn't last long, and the All-American played three different line spots — both tackle positions and left guard — from 2004-10.
Although he finally found a home at left guard in 2007 under Lane Kiffin's watch, the Iowa product never had a chance of living up to his predraft expectations. Prone to penalties, Gallery battled injuries in his final seasons and retired in 2012, only months after signing with the New England Patriots.
8. Dunta Robinson, CB, Houston Texans (No. 10 overall)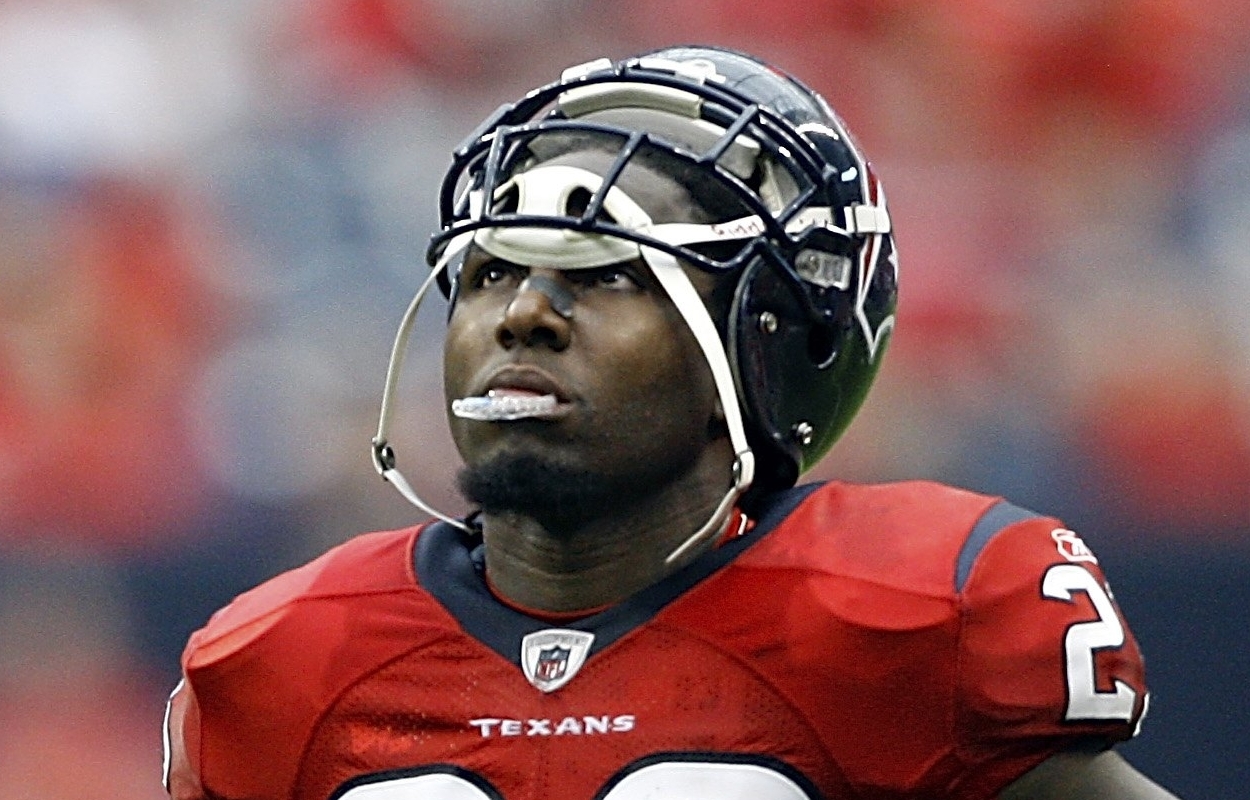 Dunta Robinson is one of those players who, everything considered, didn't have a bad NFL career. He only ranks so low on this list because of what others achieved in their careers. In 10 seasons, Robinson snagged 17 interceptions, forced seven fumbles, and drew 139 starts for three teams.
Seemingly destined for stardom after totaling six interceptions and three forced fumbles as a rookie, Robinson spent the next nine seasons as a capable starter and even signed a six-year, $54 million contract with the Atlanta Falcons in 2010. He might not rank too high on our list, but the South Carolina product retired with plenty to celebrate.
7. Roy Williams, WR, Detroit Lions (No. 7 overall)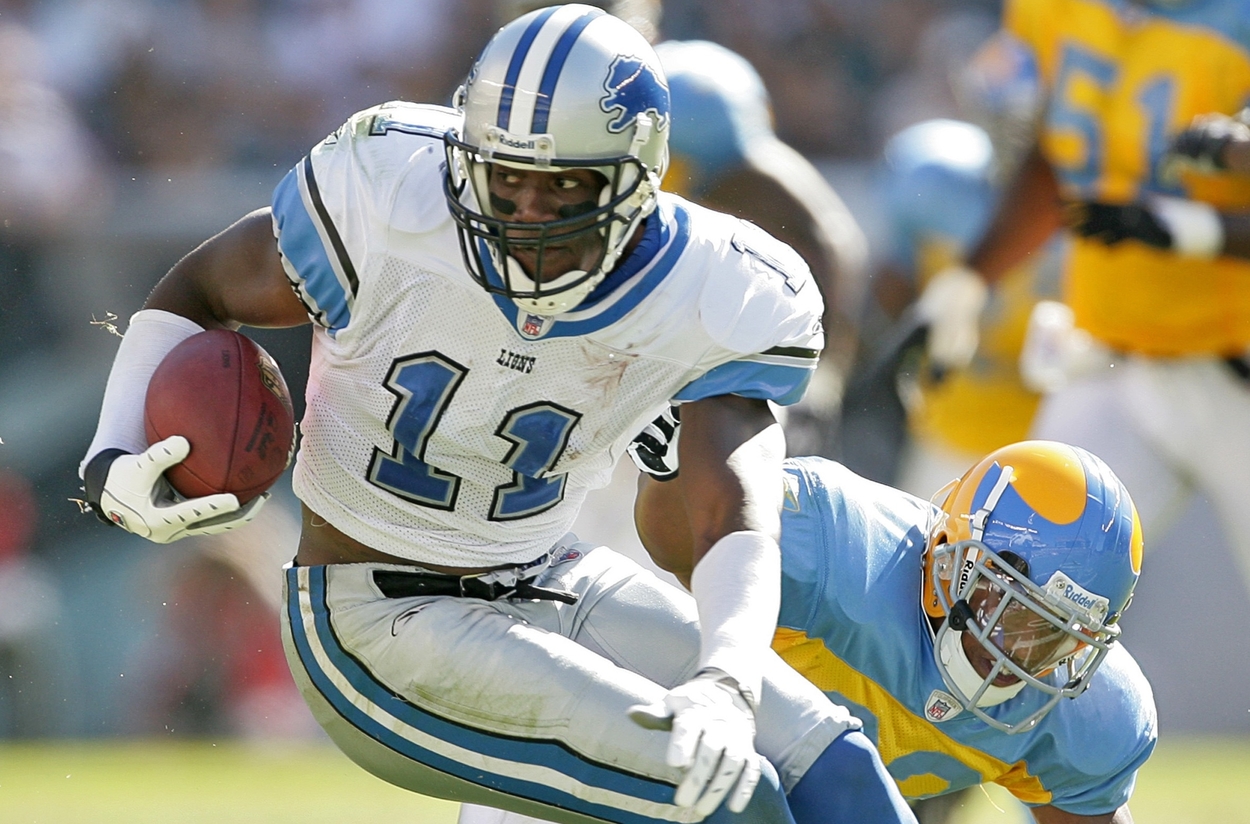 For a time, it appeared Roy Williams was the Detroit Lions' only bright spot in the post-Barry Sanders era. The Texas product totaled 245 catches, 3,652 yards, and 28 touchdowns in his first four seasons and reached the Pro Bowl in 2006.
A 2008 trade to the Dallas Cowboys spelled the end for Williams, who was a non-factor in his first 10 games with the Cowboys and averaged 37 catches, 544 yards, and five touchdowns from 2009-11. The disappointing end to his career keeps him from finishing higher here.
6. Kellen Winslow, TE, Cleveland Browns (No. 6 overall)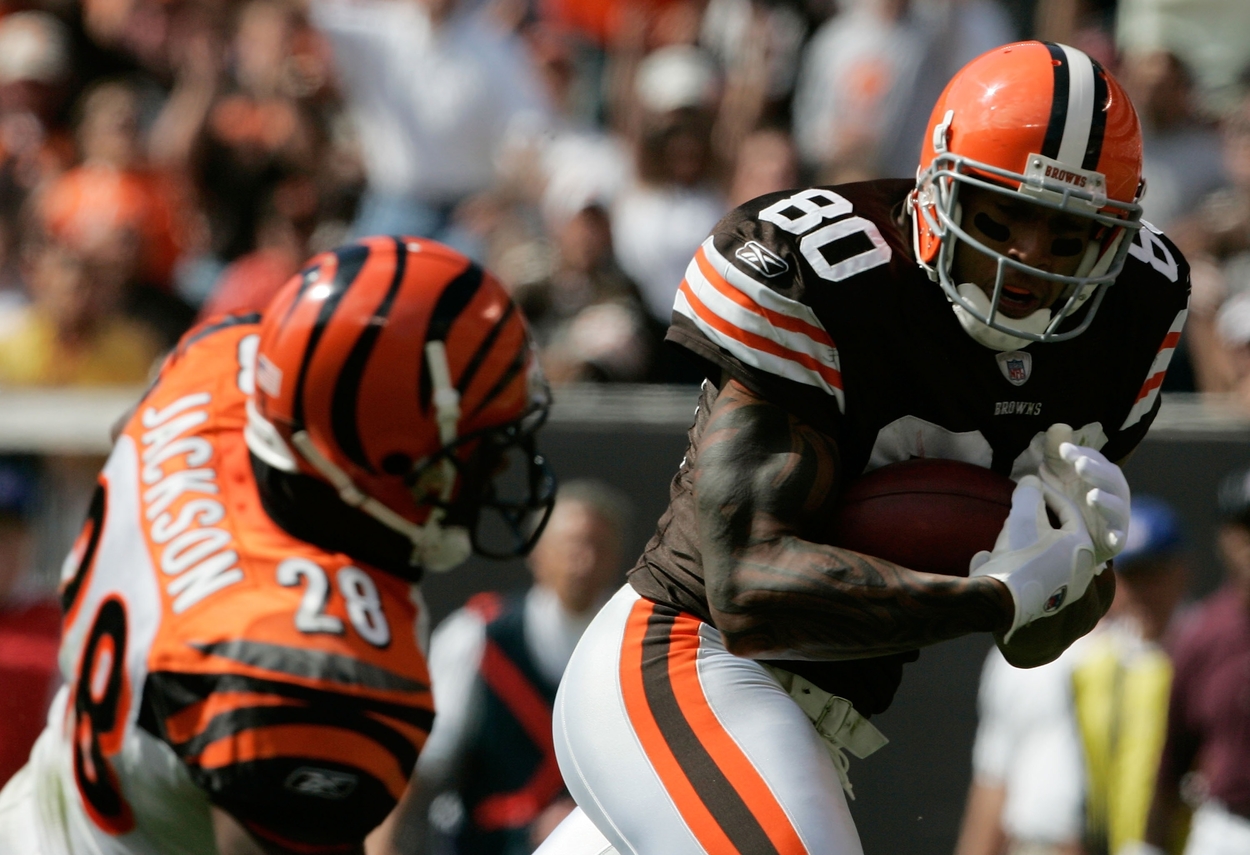 Kellen Winslow is exactly why we included the disclaimer about only factoring in on-field achievements when ranking these 10 players. After only totaling five catches in two games across his first two seasons, the former Miami Hurricanes star averaged 72 catches, 798 yards, and four touchdowns per season from 2006-11.
Winslow earned Pro Bowl honors in 2007 after hauling in 82 catches, 1,106 yards, and five touchdowns on an upstart Cleveland Browns team. Over a year later, he signed a six-year, $36 million contract with the Tampa Bay Buccaneers, then the biggest deal for a tight end in NFL history.
After playing his final NFL down in 2013, Winslow dealt with various legal issues, including multiple charges of sexual assault. He received a 14-year prison sentence for one count of rape and two counts of assault in March 2021.
5. Sean Taylor, S, Washington (No. 5 overall)
From a pure football perspective, there are certainly questions about ranking Taylor, who tragically died midway through the 2007 season after being shot in a failed home invasion, so high on this list when he only played three full seasons. However, the Miami product was among the NFL's best safeties when he died, and he deserves the proper recognition.
Taylor, a two-time Pro Bowl selection, had 12 interceptions and eight forced fumbles in four seasons. He was playing at an All-Pro level at the time of his death and remains among the most celebrated players of his generation.
4. DeAngelo Hall, DB, Atlanta Falcons (No. 8 overall)
Although DeAngelo Hall likely won't find himself in the Pro Football Hall of Fame (pun not intended), he had a far better prime than many might remember. From 2004-13, the former Virginia Tech standout snagged 43 interceptions, forced four fumbles, recovered another 13, and scored nine defensive touchdowns.
A three-time Pro Bowl selection, Hall even inked two contracts worth over $50 million within a 12-month span. No, that isn't a misprint.
The Falcons traded Hall to the Raiders in March 2008, and he promptly signed a seven-year, $70 million extension with the Raiders. However, the Raiders cut him midway through the season after he struggled in the man-to-man defensive scheme and reportedly refused a pay cut. After finishing that season in Washington, he signed a six-year, $54 million deal with $22.5 million in guarantees.
All in all, Hall earned over $76 million in the NFL. We should all be so lucky.
3. Eli Manning, QB, New York Giants (No. 1 overall)
A list like this mandates the top three include Eli Manning, Larry Fitzgerald, and Philip Rivers. The question becomes who goes where, and at least with our list, Manning ranks third overall. Not even the Manning Cast saved him.
The Ole Miss legend had a terrific career, and, as much as some Giants fans might not want to admit it, he remains extremely underrated. More time away from the field and throwing bad interceptions will possibly convince football observers how productive Manning truly was throughout his 16 NFL seasons.
A two-time Super Bowl MVP, Manning retired with 366 touchdowns and 244 interceptions, the 11th-highest total in league history. If you're still skeptical, we only have three words: Kiss the rings.
2. Philip Rivers, QB, San Diego Chargers (No. 4 overall)
What Rivers lacks in playoff success (5-7 and only one AFC Championship Game appearance), he more than makes up for in durability and consistency. The NC State legend retired with a 64.9 completion percentage, 63,440 yards, 421 touchdowns, and 209 interceptions.
An eight-time Pro Bowl selection, Rivers will have an intriguing Hall of Fame case in the coming years, one held back by his missing Super Bowl ring. Then again, maybe we haven't seen the last of him after all…
1. Larry Fitzgerald, WR, Arizona Cardinals (No. 3 overall)
At first glance, Fitzgerald might be a shocking option to rank first among the 2004 NFL Draft's best players. If so, we don't understand the skepticism. The Pittsburgh Panthers great, who still has not officially retired, totaled 1,432 catches, 17,492 yards, and 121 touchdowns in 17 seasons.
An 11-time Pro Bowler, Fitzgerald dominated regardless of who was his quarterback, whether it was Kurt Warner or Ryan Lindley. Across four playoff games in 2008, he hauled in 30 catches, 546 yards, and seven touchdowns and nearly led the Cardinals to a Super Bowl victory over, fittingly, Roethlisberger and the Steelers.
If his playing days are done, Fitzgerald will retire with 41 tackles to 29 drops. Roethlisberger might have won Super Bowl 43, but the Arizona Cardinals legend is the greatest player from the 2004 NFL Draft, bar none.
Like Sportscasting on Facebook. Follow us on Twitter @sportscasting19.