Ben Roethlisberger Throws Massive (and Hilarious) Shade at Cleveland When Discussing the Steelers-Browns Rivalry
One of the biggest NFL rivalries is back this weekend as the Cleveland Browns and Pittsburgh Steelers duel it out. The AFC North division rivals always step it up an extra level when they face-off, and let's keep in mind that the last time these teams met was in the AFC Wild Card Round in January — a game which the Browns won.
Surely the Steelers remember that feeling. Moreover, Pittsburgh lost two straight to the Browns, including a Week 17 defeat after an undefeated start to the year for Ben Roethlisberger and company.
But none of that matters now. The Steelers are 3-3 and coming out of their bye week with lots of energy, and Roethlisberger got brutally honest and threw some shade at the Browns when asked about the rivalry.
Steelers-Browns is an all-time great rivalry
No matter how good each team is, two times a year this game is a must-watch. Hard-fought, tough-nosed football is played, and the fans go wild in whichever stadium they are in. It doesn't matter, and everybody on both sidelines understands that.
For years, the Steelers ran through the Browns and the revolving door at quarterback. Things are different now as Cleveland is widely examined as a playoff team with Baker Mayfield, Kareem Hunt, Nick Chubb, and Myles Garrett leading the charge.
Kevin Stefanski has worked his magic in Ohio, and this makes the rivalry even more magnified. Unfortunately, the Browns are banged up and could be without Hunt and Chubb for another week, although nothing is finalized.
Mayfield himself is dealing with a shoulder injury that held him out of the Thursday Night Football game against the Denver Broncos. No word has been made on his playing status, either, although it would be surprising to see him sit this one out.
The all-time record between the two is 77-61-1, although the past few years have been as back and forth as it could get with the Browns executing a 48-37 victory in the playoffs less than a year ago. Sunday should be another fun one.
Ben Roethlisberger hits Cleveland with some massive shade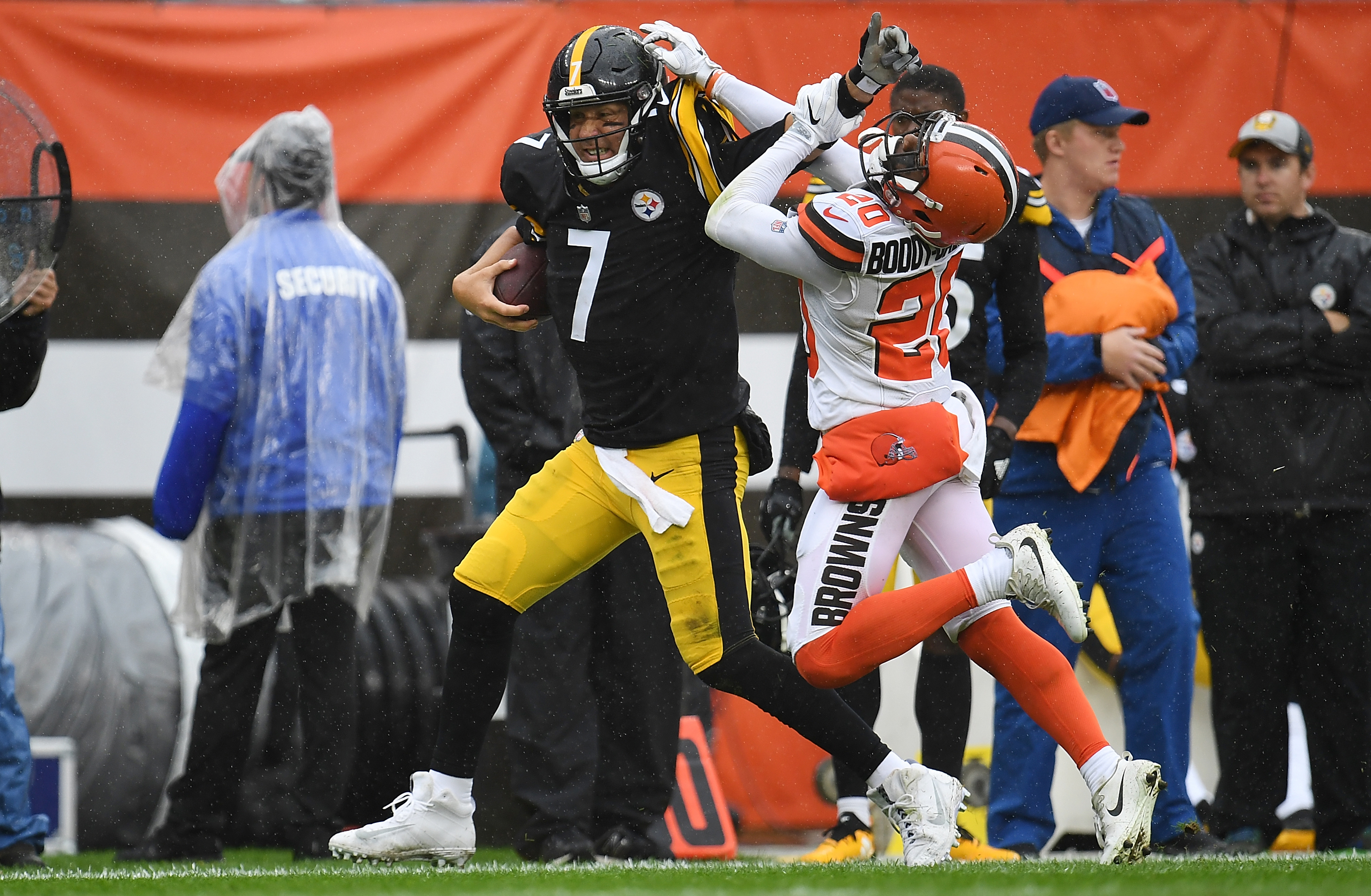 Despite the Browns' recent success, the Steelers quarterback still managed to give a jab toward Cleveland ahead of the matchup (h/t Brooke Pryor of ESPN).
"We're always going to be rivals and it's always going to be great games … I'm glad that I'm not the most winning quarterback in their stadium history anymore."

Ben Roethlisberger on Steelers-Browns rivalry
Oh, Big Ben is not going to make the Browns or the fans happy with that jab. But it is hilarious.
Over his career, Roethlisberger has owned the Browns. He has compiled a 24-3-1 record in his career against Cleveland, which is absurd on all accounts.
Even more painful for the Cleveland faithful is the list of quarterbacks during the time Roethlisberger has been under center for the Steelers. Somehow, the Browns have suited up 31 starting quarterbacks since 1999 (h/t Scott Patsko of Cleveland.com).
So yeah, Roethlisberger owns the Browns in and outside of Cleveland — it doesn't matter. On the other hand, the last time they met, the Steelers season ended at the hands of Mayfield and company.
Buckle up for another leg of one of the best rivalries in sports
Despite the struggles of the Browns over the past couple of decades, things are looking much brighter in Cleveland for the time being. Sure, they are dealing with a ton of injuries on both sides of the ball. It took a monster showing from D'Ernest Johnson — who filled in for Chubb — to overcome a struggling Broncos team.
Nonetheless, Steelers-Browns is always a good game, and Pittsburgh still has that bad taste in its mouth after getting ousted in the Wild Card round last postseason. Tight end Eric Ebron remembers that feeling too well (h/t Joe Rutter of TribLive).
"They whooped our a** at our home and sent us home. If you all can't get motivated for that, you probably shouldn't be playing football."

Eric Ebron on Browns-Steelers matchup after playoff loss
Everybody remembers that. Mike Tomlin, Ebron, Roethlisberger. You name it. The taste is there, and things will be interesting when Sunday rolls around.
Moreover, Roethlisberger's time in the NFL is ticking by the day. Both of these teams desperately need a win to gain ground on the Baltimore Ravens and division-leading Cincinnati Bengals (yes, you read that right).
So sit back and enjoy another hard-fought game between the Browns and the Steelers.
Stats Courtesy of Pro Football Reference
RELATED: Terry Bradshaw Calls out His Pittsburgh Steelers for not Building the Team Right: 'Put Ben in Tampa Bay, He's Firing It Away