Ben Roethlisberger's Franchise-Altering Decision Needs to Force the Steelers to Make a Long-Overdue Roster Move
Many believed longtime starting quarterback Ben Roethlisberger would consider retirement after a 2020 season that saw the Pittsburgh Steelers embarrassingly throw away an 11-0 start. He was battling multiple nagging injuries, and his play was severely declining. 2020 felt like the year for him to hang up the cleats.
However, such a reality did not occur. Partly due to Roethlisberger's desire to keep playing and partly due to the Steelers' lack of a contingency plan at the position, Big Ben returned for his 18th season, at 39 years old.
The Steelers re-signed WR JuJu Smith-Schuster and drafted running back Najee Harris in the first round, signaling their desire to be competitive in 2021.
The Steelers' 2021 season is off to a shaky start
Despite the Steelers running back a similar group that helped them secure a 12-4 finish in 2020, the results have not been as impressive this season. They're 5-5-1 through their first 11 games, and they've primarily performed like a below-average team, especially on the offensive side of the ball.
Heading into their Week 13 matchup with the Baltimore Ravens, the Steelers rank 24th in expected points contributed by the offense, 24th in points scored, and 27th yards per play. Even with Najee Harris living up to the expectations of being a first-round running back, their offense can't get going consistently.
Most of the blame rightfully falls on Roethlisberger's shoulders. He's still battling nagging pains and injuries, and his arm strength has declined at a rapid rate. He currently ranks 22nd in passer rating and 25th in quarterback rating. It's hard for any offense to score points when their quarterback plays at such a low level.
Ben Roethlisberger is finally ready to leave Pittsburgh
With the Steelers' hopes of making one last run with Big Ben at quarterback starting to fade, it appears the veteran QB is finally coming to grips with reality. According to ESPN's Adam Schefter, the long-time Steelers quarterback is telling people 2021 will be his last season with Pittsburgh.
Ben Roethlisberger privately has told former teammates and some within the organization that he expects this to be his final season playing quarterback for the Pittsburgh Steelers, league sources told ESPN on Saturday.

Roethlisberger has not made any such public proclamations, and likely won't, since he doesn't want the latter part of the season to be about him as Pittsburgh tries to make a playoff push.

But sources say he and those within the organization are now operating as if he is entering the final five games of his Hall of Fame career, with two of them fittingly coming against the Baltimore Ravens, Pittsburgh's opponent Sunday and in the final regular-season game.

Adam Schefter, ESPN.com
The Steelers need to replace Ben Roethlisberger the right way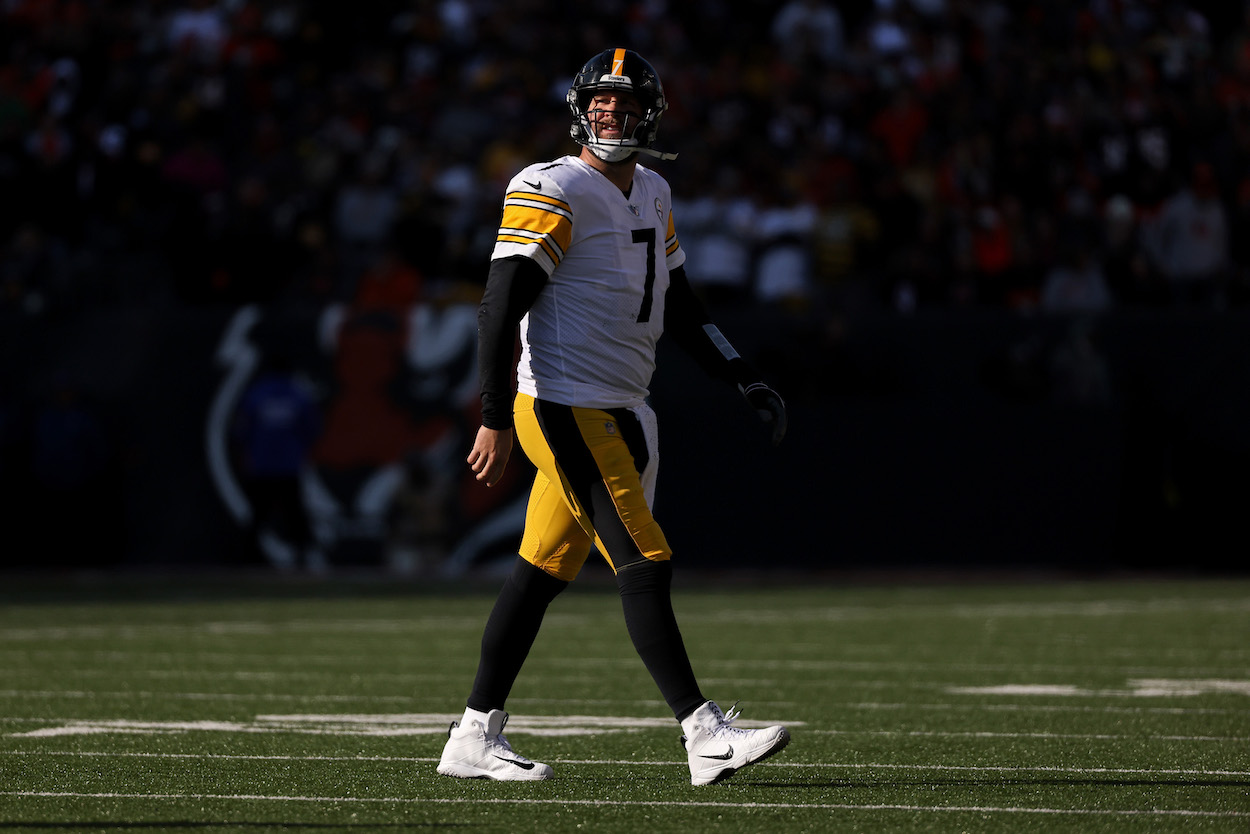 Roethlisberger has been the Steelers' starting quarterback since 2004. Replacing him and his presence will be no easy task. However, the organization needs to go about it the right way. They need to draft his replacement and look to the future instead of slapping a bandaid on the situation and kicking the can down the road.
The New England Patriots, for example, tried the shortcut approach of replacing Tom Brady with an aging veteran on the backend of his career (Cam Newton). It was a botched experiment, forcing the team to target a rookie via the draft instead. Through 12 weeks, Mac Jones looks like a much better fit.
The New Orleans Saints also replaced their retiring franchise QB (Drew Brees) with a veteran (Jameis Winston). Winston was OK during his first few games as a stater, but nothing special. They, too, need to draft an actual replacement.
If the Steelers want to skip the growing pains that come with saying goodbye to a historic franchise QB like Big Ben, they need to act swiftly and aggressively. Skip the nonsense — draft your next franchise starter as soon as possible.
All stats courtesy of Pro Football Reference.