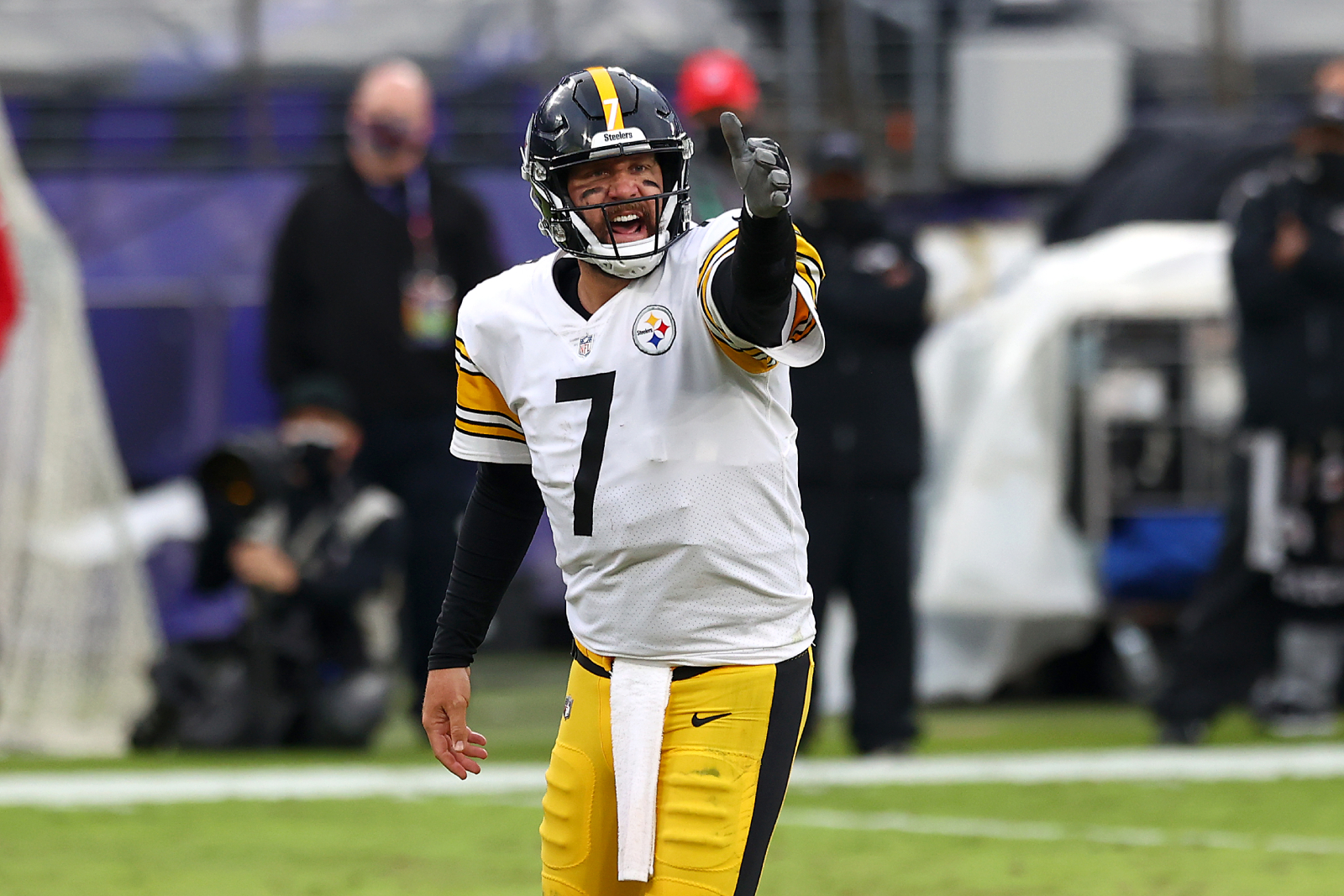 Ben Roethlisberger's Recent Move Epically Proved Why He Is an NFL GOAT
Ben Roethlisberger has already become an NFL legend in his career. His recent move with the Steelers, though, just proved why he is a GOAT.
Ben Roethlisberger and the Pittsburgh Steelers have been one of the best teams in the entire NFL so far this season. They are 7-0 and have a real chance to go on a deep playoff run. Roethlisberger isn't a stranger to finding success in Pittsburgh, either. He has won two Super Bowls there and has played in three. Recently, though, Roethlisberger proved that he is an NFL GOAT by making an epic in-game move.
Ben Roethlisberger and the Pittsburgh Steelers rallied to defeat the Baltimore Ravens
There was a great AFC North battle on Sunday, as the 6-0 Pittsburgh Steelers took on the 5-1 Baltimore Ravens.
The Ravens got off to a good start in the first half, too, as they led 17-7 at halftime, and their defense absolutely dominated Roethlisberger and the Steelers. Pittsburgh's offense only racked up 64 total net yards in the first half, and Roethlisberger struggled, only throwing for 24 yards on 4-of-10 passing.
However, the Steelers came back and played really well in the second half. Pittsburgh outscored Baltimore 21-7 in the second half and ultimately won 28-24 to improve to 7-0.
Roethlisberger played much better in the second half, too, as he threw for 158 yards on 17-of-22 passing in the third and fourth quarters, according to Steelers.com.
So, what was the difference in the second half? Roethlisberger actually made an epic in-game adjustment that ultimately proves why he is one of the NFL's GOATs.
Ben Roethlisberger drew up plays in the huddle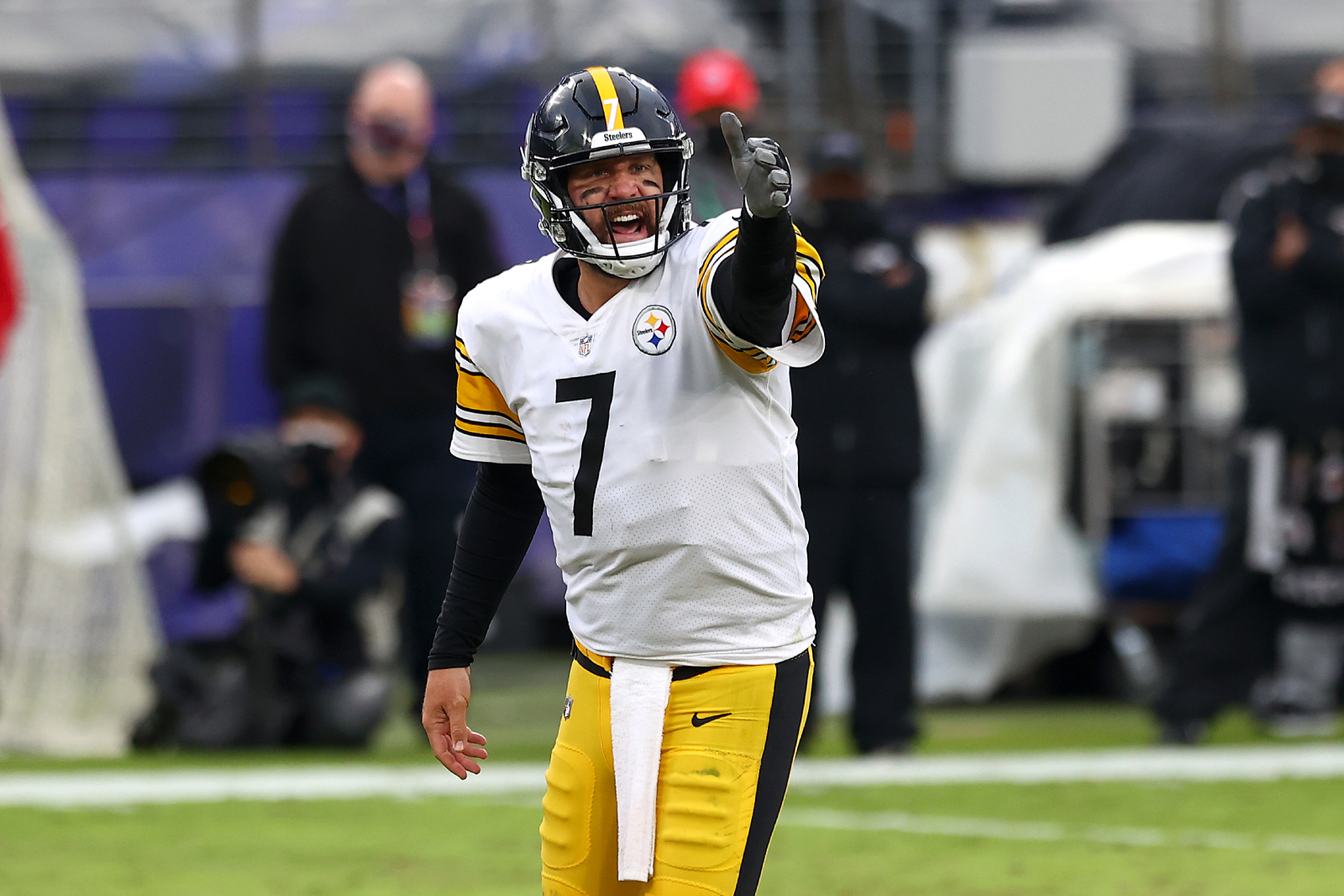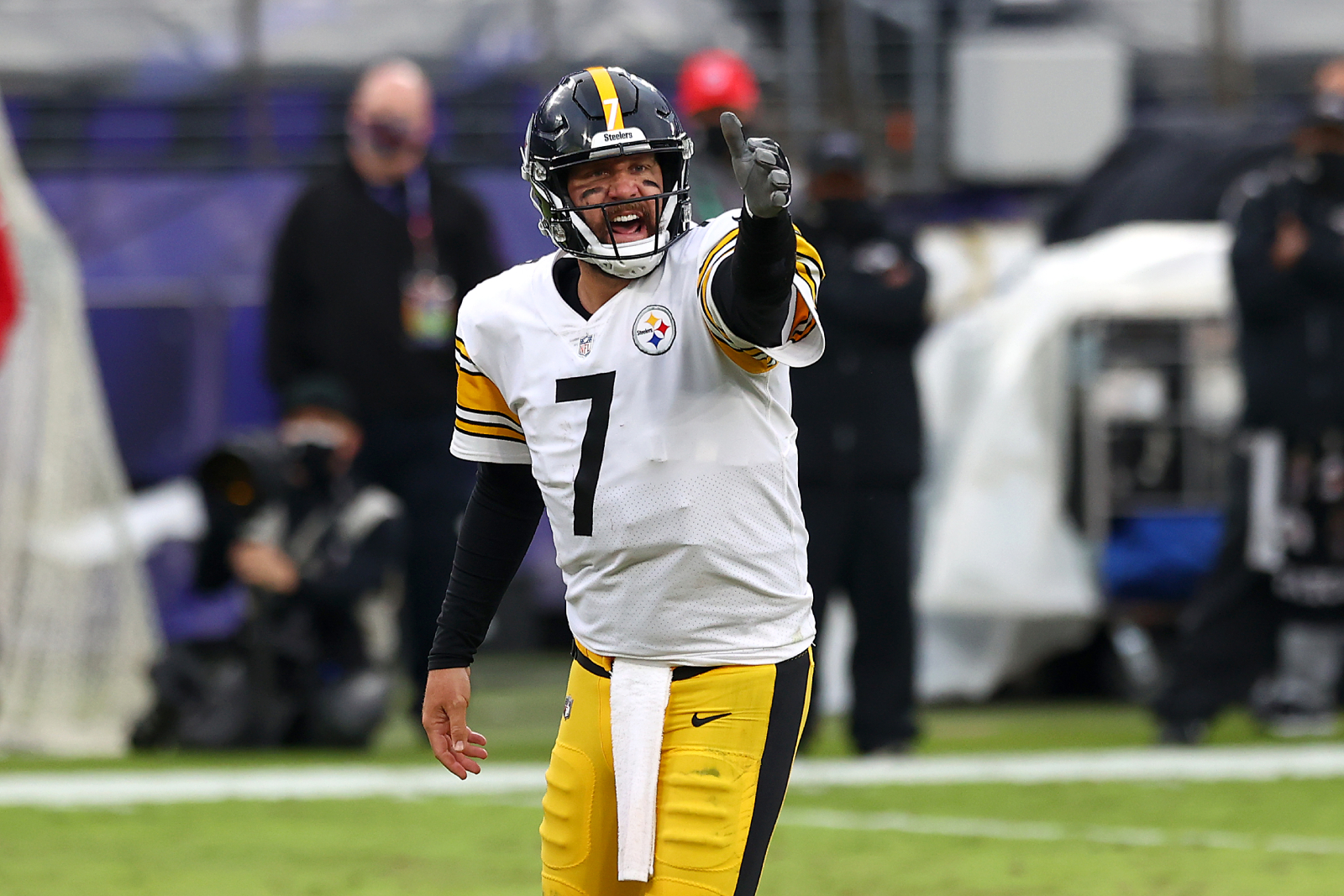 With things not going well in the first half for the Steelers, Ben Roethlisberger chose to draw up plays in the huddle for Pittsburgh during the second half.
"I was telling the line the protection and moving guys around and playing backyard football, if you will," Roethlisberger said, according to Steelers.com. "I don't know that we called too many quote-unquote plays in the second half when we were in that mode."
It obviously worked. Roethlisberger had two touchdown passes, one to Eric Ebron and one to Chase Claypool, in the second half, and James Conner scored the team's other second-half TD on the ground.
"We threw a personnel group at 'em that we hadn't done much before, no (running) backs, and emptied things out," Roethlisberger said, per Steelers.com. "It just created things, defensive looks and opportunities for us."
He continued: "I know my whole career people say that I've always kind of had the playground, backyard football. Today it was in its truest form. There were plays when I would say, 'Hey, JuJu you run this, Ray-Ray you run this,' and they didn't blink and eye. They were able to just do things on the fly and I think that's what makes me most proud today."
Being able to draw up plays in the huddle and have them ultimately work is pretty incredible. Not many NFL quarterbacks in league history have had the ability to do that successfully. Roethlisberger — who already has two Super Bowl rings, six Pro Bowl selections, and is in the top 10 in NFL history in both passing yards and passing touchdowns — just continued to prove on Sunday why he is one of the NFL's GOATs.
The Pittsburgh Steelers are one of the best teams in the NFL
They are 7-0, and the Steelers are proving that they are serious Super Bowl title contenders so far this season. Pittsburgh has one of the best defenses, and one of the best offenses, in the NFL this year.
On defense, Pittsburgh is sixth in the NFL, only allowing 20.3 points per game. It has some great stars on that side of the ball, too, in Vince Williams, Mike Hilton, Joe Haden, T.J. Watt, and Minkah Fitzpatrick. Additionally, after losing one of its top players for the rest of the season to injury, linebacker Devin Bush, the Steelers traded for Avery Williamson on Sunday to fill that hole on its defense.
Pittsburgh's offense is also one of the best in the NFL, as it is fifth in points per game, averaging 30.1. Roethlisberger has ultimately played well, too, throwing for 1,628 yards, 15 touchdowns, and four interceptions. He also has some excellent weapons around him. James Conner has run for 498 yards so far this year, and Chase Claypool and JuJu Smith-Schuster both have over 340 receiving yards so far.
Not many people knew how good Ben Roethlisberger and the Steelers would be this season, but they have proven to be one of the best teams in the NFL so far.
Stats courtesy of Pro Football Reference