Ben Simmons' Latest $3.1 Million Power Move Is Likely Another Firm Signal That He's Absolutely Done With the 76ers
Arguably the biggest storyline in the NBA right now is Ben Simmons and his situation with the Philadelphia 76ers. Will they trade him soon? If they do, what team will he go to? Both sides currently have very unclear futures.
Simmons, though, is making a power move, as his latest $3.1 million decision is likely just another signal that he's absolutely done in Philadelphia.
So, what move did Simmons make? The two-time All-Defensive team honoree recently put his home up for sale and is reportedly thinking about putting his other one on the market as well.
Ben Simmons wants the 76ers to trade him
Since the final buzzer of the 76ers' 2020-21 season sounded, it has felt as if a Ben Simmons trade is inevitable.
The three-time All-Star struggled tremendously in the postseason for Philly, averaging just 11.9 points in 12 playoff games. He also scored just 9.9 points per game in the Eastern Conference semifinals, which led to Philadelphia losing to the Atlanta Hawks in seven games.
Speculation about the guard's future then began spreading like wildfire shortly after the season ended. But no one realized just how frustrated he was until reports said he told team management that he never plans to play for the Sixers again.
A standoff has since ensued between Simmons and the franchise that drafted him with the No. 1 overall pick in 2016. Everyone is just waiting for one side to give in first.
The 25-year-old didn't show up to training camp, which led to the team withholding an $8.25 million payment from him and placing it into an escrow account, per ESPN. The 76ers then fined Simmons for not attending their first preseason game and took about $360,000 from that account, according to Bleacher Report.
The massive financial hit could very well force Simmons to show up to Sixers practice. For now, though, it appears he's trying to make some money in a different way while also potentially signaling to the franchise that he's absolutely done in Philly.
He listed one of his homes for $3.1 million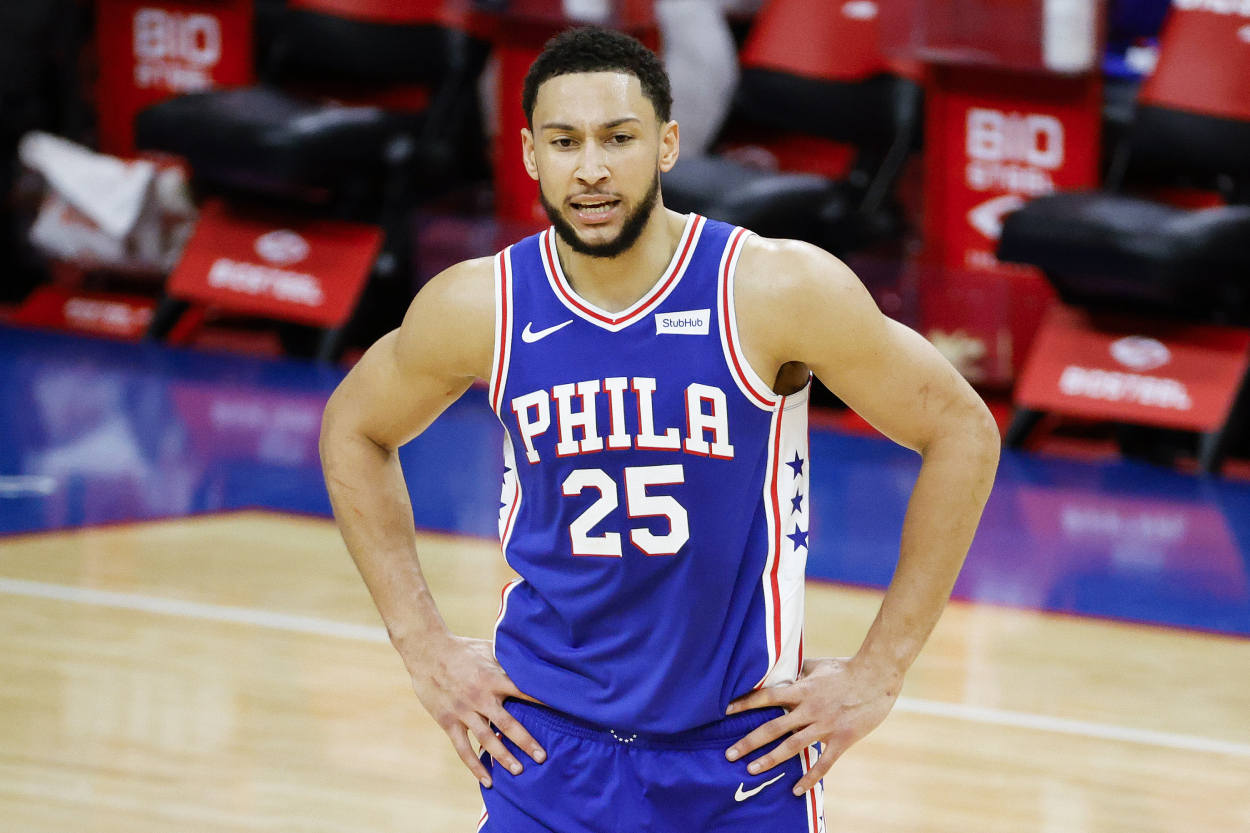 While currently trying to force a trade from the 76ers, Simmons has also put one of his homes in the city up for sale.
According to The Philadelphia Inquirer, the 2017-18 Rookie of the Year has a place at The Ritz-Carlton Residences and listed it for $3.1 million on Sunday.
So, just how nice is his home?
The Inquirer reported that he bought the three-bedroom, 4.5-bath home for $2.54 million in 2018, and it measures out to 3,079 square feet. Included with the residence are two underground parking spaces with valet parking as well as access to the fitness center and pool.
That's not all Simmons is thinking about doing, though. The Inquirer reported that sources said he has talked about selling his other Philadelphia area home as well, a 10,000 square-foot place in Moorestown, New Jersey.
He would reportedly want to put it up for $4.9 million after making various upgrades, which includes finishing the basement and adding a new kitchen, since purchasing it for $2.275 million. Simmons also replaced the flooring in the home, put in a pool, and furnished it.
Sure, people sell homes all the time, and that might be what Simmons is doing. Maybe, he just wants a new home in the Philadelphia area. But given the events that have transpired in the past few months, this certainly seems to be more than the NBA star just searching for a new place to live in the city. It's likely a firm signal that he's ready to move out of Philly and leave the 76ers in his rearview mirror.
Ben Simmons could buy an even nicer home in whatever city the 76ers trade him to
According to the Inquirer, Simmons bought a farmhouse in Southern California this summer. That will likely have to be somewhere he lives in the offseason, though, because it doesn't appear that any of the California teams are interested in trading for him.
Keith Pompey of the Inquirer reported that the Indiana Pacers, Minnesota Timberwolves, Detroit Pistons, Cleveland Cavaliers, San Antonio Spurs, and Toronto Raptors all have an interest in the guard.
Yes, his ability to pass and defend at elite levels could help any of those teams seriously contend in their respective conferences. But moving to one of those cities would also allow Simmons to find a nice home, especially since Move.org has Philly listed as the second-most expensive town to live in of the U.S. cities listed above (Minneapolis is the only one ranked higher and Toronto isn't on the list).
So, say he would want to spend close to the amount he is hoping to make on his Ritz-Carlton home ($3.1 million), Simmons could purchase a 14-bedroom, eight-bathroom house that's 15,379 square feet for close to $3 million in Detroit (per Zillow). Or if he ends up going to the Pacers, he could buy a six-bedroom, eight-bathroom home that's 11,847 square feet for $2.2 million in Indianapolis (also according to Zillow).
Of course, given the estimated $56.6 million Simmons has made on the court (plus anything he has made off it), he can likely afford a nice home in any city. But moving to a smaller market could help him upgrade a little bit while also potentially playing for a team he enjoys playing on.
Hopefully, for his and the Sixers' sake, they find his new hometown sooner rather than later.
Stats courtesy of Basketball Reference; Career earnings courtesy of Spotrac
RELATED: Stephen A. Smith Bluntly Blasts Ben Simmons for His Latest Reported Decision, Passionately Questions His Heart: 'You've Got to Be Kidding Me'