Ben Simmons Must Be Broken Down, Not Traded, by the 76ers, According to Metta World Peace: 'He's a Superstar'
Ben Simmons is receiving most of the blame for the Philadelphia 76ers' loss in the Eastern Conference semifinals to the Atlanta Hawks, and rightfully so. He had essentially zero production in the fourth quarter during the series and didn't even come close to living up to his No. 1 overall pick title from five years ago.
Simmons' struggles have many people calling for the Sixers to trade him, despite the fact that his value has certainly dropped in recent months. That's not what the team should do, though, according to 2010 NBA champion and 2003-04 Defensive Player of the Year Metta World Peace. The former Los Angeles Lakers star has a different idea.
Ben Simmons trade speculation is at an all-time high
Although the 76ers had the No. 1 record in the Eastern Conference in 2020-21, Simmons arguably had the worst season of his career offensively.
He averaged career-lows in points (14.3), rebounds (7.2), and assists (6.9). He also shot the worst shooting percentage since his rookie season at 55.7%.
His play then got worse in the playoffs, especially in the conference semifinals against the Hawks. The Sixers lost 4-3 in a tough seven-game series, and Simmons was only the fourth-leading scorer on the team, behind Joel Embiid, Seth Curry, and Tobias Harris. He averaged 9.9 points, 6.3 rebounds, and 8.6 assists.
Simmons also only shot 33% from the free-throw line, which played a significant role in the series, as he put up the second-most free throws on the team.
The former LSU star, however, really shrunk in the fourth quarter. He attempted just three fourth-quarter shots throughout the entire series and none in Games 5–7.
Simmons' recent failures have led to many fans and experts calling for the Sixers to trade him. But World Peace doesn't think that's the smartest decision.
Metta World Peace thinks the 76ers should keep him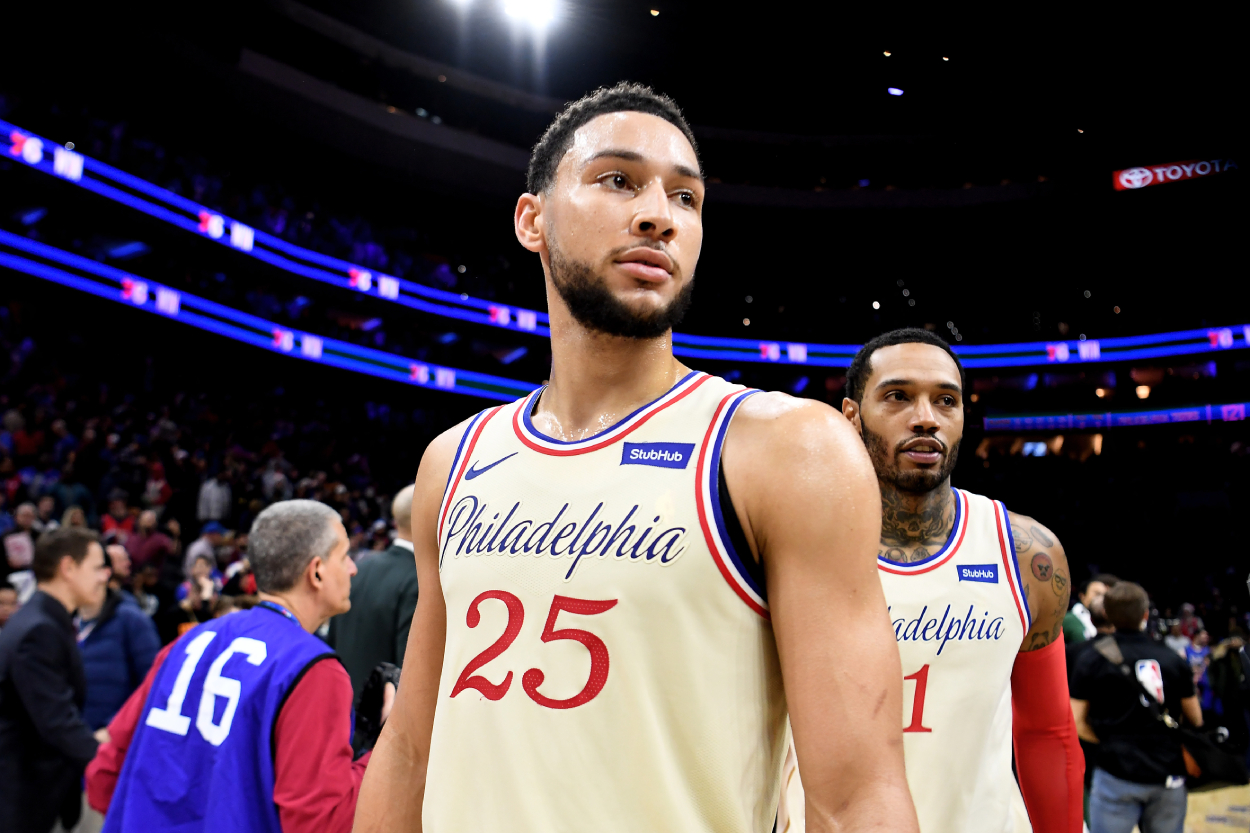 World Peace recently appeared on The Max Kellerman Show, and while he thinks Simmons played horribly in the playoffs, he actually stood by the guard a bit, especially more than most people have of late.
"If you're smart, I wouldn't move Simmons," World Peace said on the June 22 episode. "You gotta think about it, Simmons is going to be 25 next year; right now, he's 24. He had a horrible playoffs, we know that, but a lot of people have. The thing with Simmons is, they were the number one team in the East … so that's something to build on. I don't think you panic and get rid of Simmons."
OK, so World Peace is on the "don't trade Simmons" train, but he has another idea for what the 76ers should do with the guard.
"But you definitely, you take him in a room and chew his ass out, for sure," World Peace said. "… And then you build him back up. But you gotta break his ass down."
World Peace added that he thinks Simmons is still a superstar-caliber player.
"I would never get rid of him because he's a superstar," World Peace said. "… I think he has a lot of upside; he can only go up from here."
So, is World Peace right, or should the 76ers trade Simmons?
Should the 76ers trade Ben Simmons?
World Peace's comments are definitely correct in the sense that Simmons still has some upside. He's essentially a 7-foot point guard that can defend and facilitate. 
However, the 76ers should still probably trade him, but not because of his postseason struggles. Philadelphia needs someone who complements its roster and Embiid better.
Embiid is the Sixers' best player, but he's a big man who works best inside the arc, as only 17.1% of his field-goal attempts came from 3-point range this season. Simmons, on the other hand, also operates near the basket. Over 52% of his shots came from within zero to three feet this season, and more than 90% of his attempts came from within zero to ten feet.
Philadelphia may be one of the only teams in the league whose two best players predominantly work inside the arc, making them easier to defend than other teams. If the 76ers do, in fact, decide to trade Simmons, it's in their best interest to acquire a guard who can beat teams from the perimeter. This would make them a much more versatile team and one that would be able to compete with some of the best of the best squads in the postseason.
So, World Peace is right; the 76ers still have a player in Simmons that has the talent to become a star. However, he's probably wrong about what Philly needs to do with the guard moving forward. He and Embiid aren't meant to work together and they should probably no longer be doing so in Philly.
It's time for the 76ers to trade Ben Simmons.
Stats courtesy of Basketball Reference
RELATED: Ben Simmons May Be Regretting Not Listening to Kobe Bryant Years Ago