Simmo the Savage? Ben Simmons Makes A Childish $5 Million Power Move in His Latest Attempt to Force Philadelphia 76ers Hand
While the Philadelphia 76ers blew out the New Orleans Pelicans in their opener on Oct. 20, pout point guard Ben Simmons was not in the Big Easy. Simmons got himself tossed out of practice a day earlier, and the 76ers suspended him for the old standby: conduct detrimental to the team. As if holding out of training camp, refusing to speak to the organization, and generally carrying on like a toddler denied a toy isn't detrimental enough.
Now Simmons is going to show the 76ers he's serious.
Simmons tried to send a passive-aggressive message earlier in October when he put his Philadelphia condo on the market for $3.1 million. But since the 76ers haven't given in to his ongoing tantrum for a trade, he'll show them. Now his Morristown, New Jersey, estate is for sale, too. Nothing sticks it to the boss like selling all your property and running up a massive hotel bill with the paychecks the team is withholding.
Trying to reason with Ben Simmons and his hurt feelings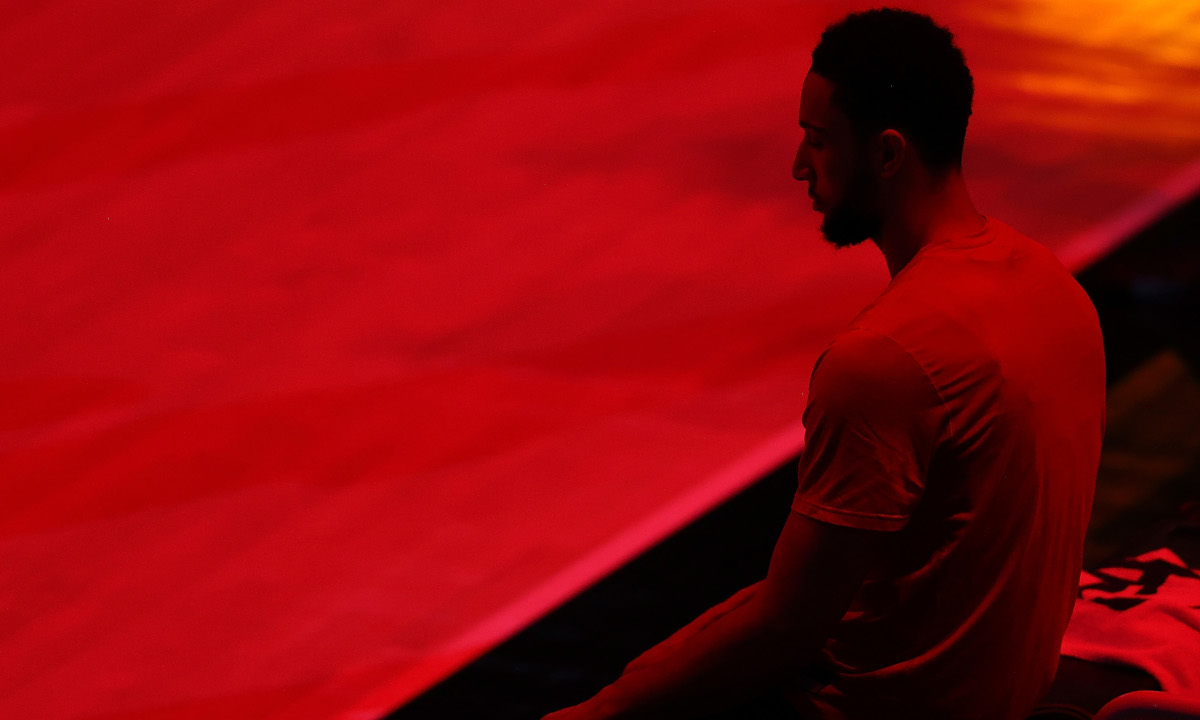 It's not a news flash: Ben Simmons wants the Philadelphia 76ers to trade him. Never mind that there's no market for a non-shooting point guard with $147 million and four years remaining on the max extension that just finished its first year.
Part of the problem is timing. More than 200 players were free agents last summer, and those players are exempt from trades until Dec. 15 or three months from the date they signed, whichever comes later. That takes a lot of potential pieces off the board for another two months or so.
The other issue is making the financial parts of a trade work.
The 76ers are almost $43.2 million over the salary cap and are over the luxury-tax apron. They could bring back as much as $41.35 million in a trade for Simmons (provided he's the only player in the deal). But that would increase their tax bill. That might be reasonable for president of basketball operations Daryl Morey and head coach Doc Rivers at this point, just to move Excedrin headache No. 25 to someone else's skull.
According to Larry Coon's NBA CBA FAQ, taxpaying teams can bring in 125% of the outgoing salary, plus $100,000. Hence the $41.35 million number.
However, if Philadelphia tries to bring back more players than it sends out, it needs to clear roster spots. The 76ers are at a full complement of 15 players. Only second-year forward Paul Reed is on a non-guaranteed deal, and it would only open $1.52 million in cap space.
Simmo the Savage? Tender-hearted star has some strange ideas about himself
According to the listing on Trulia, Ben Simmons' estate in New Jersey is on the market for $5 million (less a dollar because, hey, ending the sale price with a "nine" makes it seem so much cheaper).
The 10,476-square foot home has five bedrooms and six baths. But that's not all. According to a tweet by reporter Steve Keeley of Philadelphia's FOX 29, it also has a green neon sign that reads "Simmo the Savage."
"Simmo the Ultra-Sensitive" likely wouldn't have been as balanced top and bottom.
The overwhelming majority of holdouts are about money. Since Simmons already has the cash locked down, this one is because after a horrific playoff run last season, his feelings were hurt when fans, his coach, and his superstar teammate didn't, in Simmons' estimation, adequately have his back.
The Philadelphia 76ers are trying to move past the Ben Simmons drama
The latest reports say Ben Simmons skipped a workout with the Philadelphia 76ers on Oct. 21 because of what was called a "tight back," per ESPN. If it's because he's wound too tightly, that's not hard to imagine.
Before their opener in New Orleans, the 76ers enjoyed a team dinner. The morale boost appears to have worked, given Philadelphia pummeled the Pelicans.
The team had the day off, but Simmons didn't partake in his workout. And give him some credit; "tight back" sounds much more credible than "butt hurt."
At the end of the day, though, that's still what's at the center of Simmons' continued petulance. He's trying to be as disruptive as he can be to goad the 76ers into trading him for what they can get rather than what they want.
The Philadelphia 76ers have Simmons under contract for four seasons. Provided they can keep their sad star from upsetting the apple cart entirely, they have all the time in the world. But, hey, there's always the off chance he could buy some more property so he can put it up for sale. That'll show them.
Contract information courtesy of Spotrac.
RELATED: Shaquille O'Neal and Charles Barkley Waste No Time Demolishing Ben Simmons: 'Just 'Cause We Pay Certain Guys a Lot of Money, That Doesn't Mean You're a Great Player'